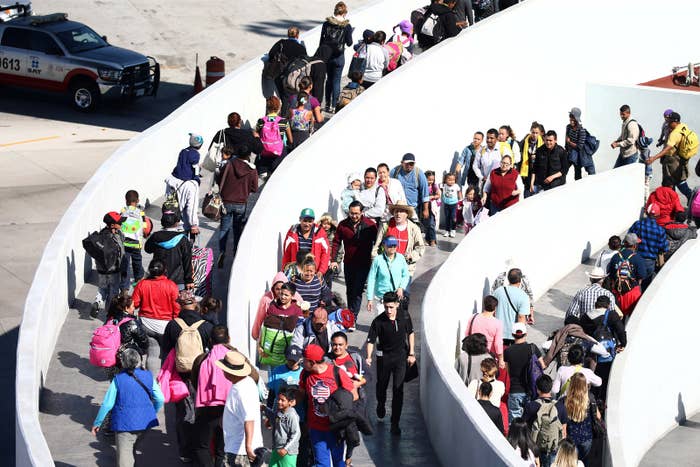 A Salvadoran mother who applied for asylum as part of a caravan of Central Americans who traversed Mexico for the United States this spring has had her two sons removed from her custody and placed in the care of the federal government in New York.
Officials offered no explanation for removing the children, the latest in what's becoming a growing pattern of separating immigrant parents from their children under the Trump administration's "zero tolerance" policy for undocumented migrants caught trying to sneak into the US along the southwest border.
But that policy shouldn't apply to the mother, who entered the United States legally when she requested asylum May 2. She apparently has passed the first step of the process to be granted asylum.
The mother, 24, who asked to be identified only by her first name, Maria, said her sons, ages 2 and 7, were taken from her May 8 while she was being held at the San Ysidro Port of Entry near San Diego.
"The official said you have 10 minutes to say goodbye, so I hugged them and they kept asking me why they were leaving me. I couldn't tell them why," Maria told BuzzFeed News. "I told them they couldn't take them away, that they were just kids. They said they couldn't do anything because it had been decided that I was going to be transferred."
Maria said she was told her children were being taken to a shelter because they weren't able to go where she was going. She was immediately transferred to the Otay Mesa Detention Center in San Diego. She said she did not know which agency had taken her children.
The federal government's Immigration and Customs Enforcement agency offered a confusing response when asked why Maria's sons had been taken from her. Initially, ICE said the Border Patrol had detained Maria trying to enter the US illegally without proper documentation.
But that story changed when BuzzFeed News pointed out that a government document bearing the signature of an asylum officer certified that Maria had passed a credible fear interview May 18. It also said she entered through a port of entry. A subsequent ICE statement described her as "in ICE custody pending immigration proceedings," but did not acknowledge her asylum request.
As many as 300 people from a caravan of 1,200 to 1,500 mostly Central American migrants eventually sought asylum at the San Ysidro Port of Entry after a trek through Mexico that began March 25. At least one of those asylum seekers, Roxsana Hernandez, 33, has died in ICE custody. A transgender woman, Hernandez had been taken to a hospital in Albuquerque, New Mexico, suffering from pneumonia, dehydration, and complications associated with HIV.
How US authorities deal with the caravan's members is likely to draw particular interest because of the focus President Donald Trump brought to them in a series of tweets demanding that Mexico prevent the caravan from reaching the US border.
Alex Mensing, a volunteer with the organization Pueblo Sin Fronteras, which organized the caravan, said he sees no reason for US immigration authorities to separate children from their parents.

"This traumatic separation has a terrible, often irreversible impact on the lives of the children, their parents, and their entire families and communities," Mensing told BuzzFeed News. He urged ICE to halt what he called "an inhumane attempt to criminalize all immigrants ... and cruelly terrorize families."

Maria declined to go into the specifics of her asylum case, but the government document shows a US asylum officer determined that she had demonstrated a credible fear of persecution or torture if she were sent back to El Salvador — the legal standard that leads to asylum.
Maria said that officials had asked her to surrender her children to an uncle who lives on the US East Coast.
Sobbing, she described the separation from her children as traumatic after the weekslong bus, train, and walking journey across Mexico to reach the United States.
"We made this entire journey together and in one moment they were taken away from me," Maria said. "I don't understand why they have to be so unjust and separate kids from parents...they're just kids."