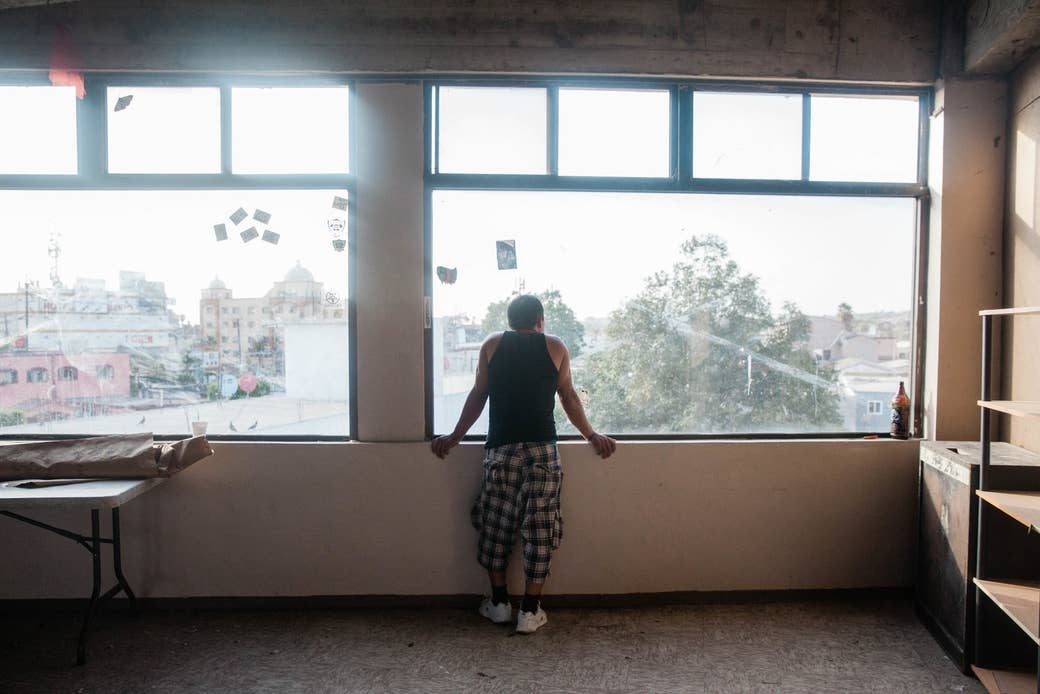 Yamileth feels rage whenever she recalls the night she was stabbed in the stomach.
It was also the same day the Honduran migrant found out she was six weeks pregnant, Aug. 6. A woman she recognized from the Tijuana, Mexico, apartment building she lived in started yelling outside her door, accusing her of sleeping with her husband, an accusation Yamileth denied. The woman, who Yamileth described as drunk or high, barged through the front door to the apartment the 23-year-old shared with friends and started to hit her. When the woman head-butted her, Yamileth saw something in her right fist and seconds later she felt something plunge into her stomach.
"I moved back and yelled, 'My baby,' and that's when my friends pushed her out," Yamileth told BuzzFeed News. "When the police finally arrived 40 minutes later they said they were expecting me to be more pregnant, to be showing more. They said, 'Don't worry about it. There's no point in arresting her if we're just going to let her go in a few hours.'"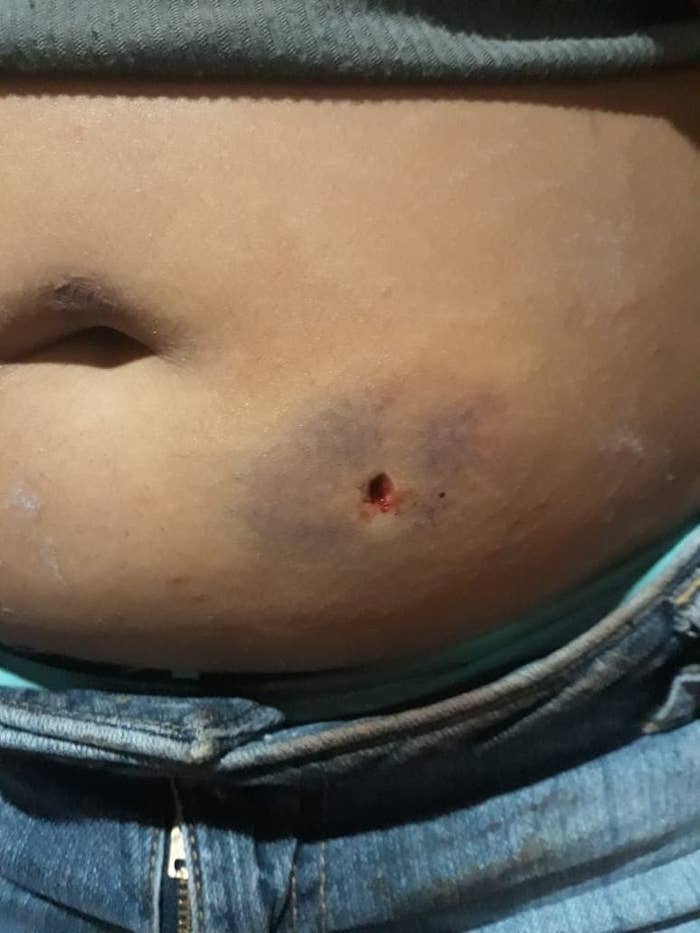 The dismissive response to assaults or other crimes from the Tijuana police is not uncommon for migrants who find themselves in the border city and often face harassment at the hands of local authorities. But unlike other migrants who are too scared or disillusioned to seek redress, Yamileth filed complaints against the police officers with both state and federal human rights commissions hours after she left the hospital.
"Not arresting her because she'll probably be released is not up to the police," Yamileth said. "That's for a judge to decide."
Yamileth arrived in Tijuana this spring as part of the Central American migrant caravan that angered the Trump administration. When the caravan left the Mexico–Guatemala border on March 25 it was made up of more than 1,200 people who have since been scattered to other parts of Mexico, the United States, or back home. As many as 100 members of the caravan are currently living in Tijuana, trying to make a life there or planning their next move.
Organizers with Pueblo Sin Fronteras, the group that set up the caravan, which ended in Tijuana in May, have been meeting twice a week with people from the caravan, hoping to prevent people like Yamileth from falling into the shadows like many Central Americans do when they find themselves in Tijuana. The group also has been helping migrants file complaints against mistreatment and exercise their rights in a region where migrants are often too fearful to file complaints against authorities.
People from the caravan have filed at least 10 complaints against Tijuana police with the State Commission for Human Rights and three with the National Commission for Human Rights.
"We don't know this country, so we have this fear of not understanding the law, and perhaps the authorities take advantage of that," Yamileth said. "I've learned a lot from these meetings. It's honestly something more people like me need here."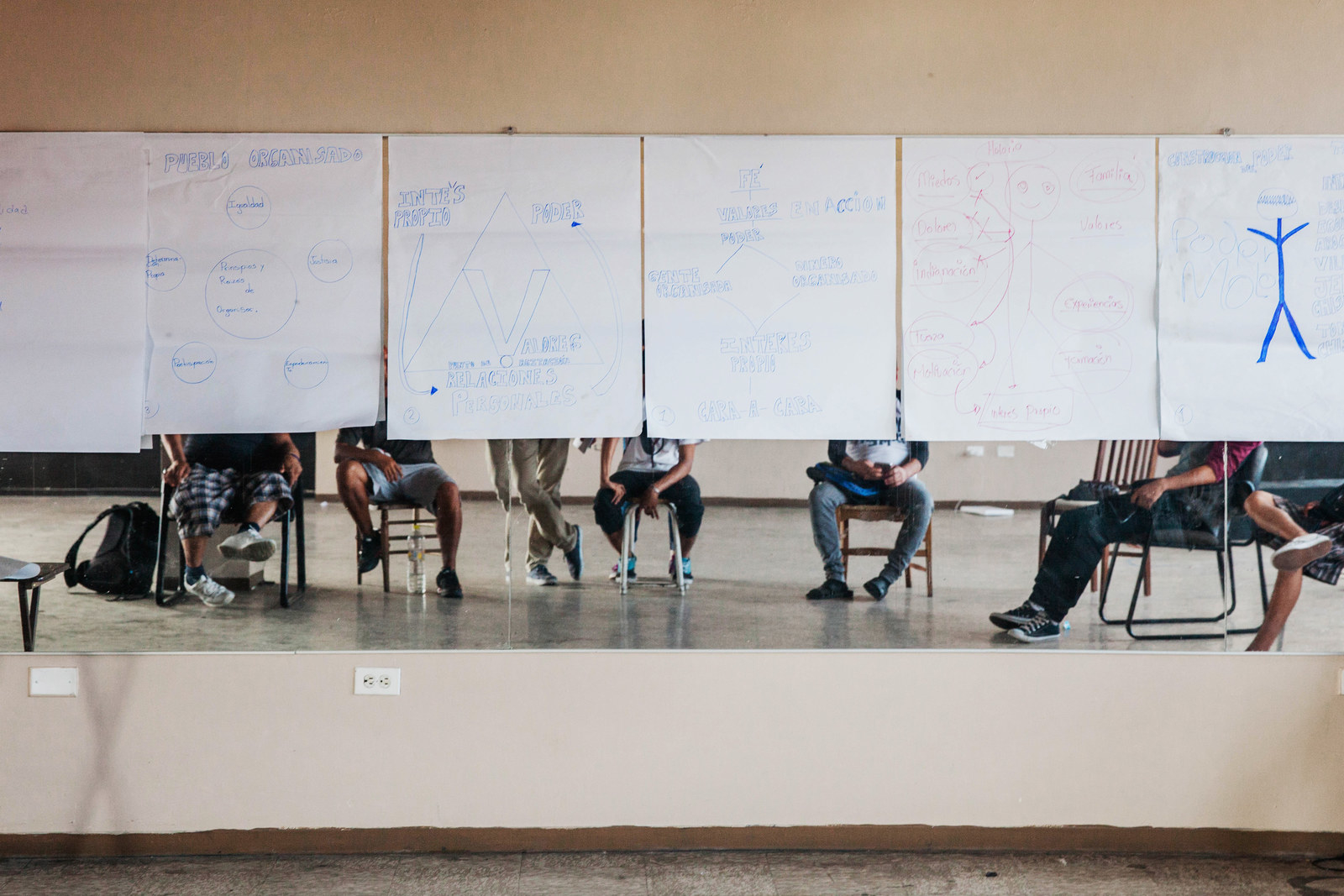 Yamileth hopes she won't have to deal with Tijuana authorities for long. She hopes to ask for asylum in the United States, but has to wait for her cousin in the US to have enough money to be able to support her financially.

Alex Mensing, Pueblo Sin Fronteras' project director, said it was not the organization's initial plan to build a grassroots team in Tijuana that could advocate for the rights of migrants, but that it made sense after they realized people from past caravans have remained in the area.
"Tijuana is a rough place. We heard stories about police abuse, people being turned over to Mexican immigration, people getting kidnapped, people getting robbed by organized crime," Mensing told BuzzFeed News. "All of those things combined have led us to build a local grassroots ownership so people can take care of themselves."
Tijuana is one of Mexico's fastest growing cities, drawing large numbers of immigrants, according to a policy brief from the University of San Diego's Justice in Mexico research initiative. In 2017, Tijuana had more homicides than any other city in Mexico, in a record year for homicides in the country. From 2016 to 2017 Tijuana saw the number of investigations on homicide cases rise from 872 to 1,618, an increase of roughly 86% in just one year, according to the Baja California Ministry of Public Safety.
Pueblo Sin Fronteras is planning a "march for dignity" on Saturday in Tijuana, demanding respect for human rights and a stop to detentions of migrants without reason at the hands of the Tijuana Police Department.
"If the municipal police actually has a commitment to reduce crime they should be working with people who are hardworking targets of crime and therefore often know what's going on and willing to participate with authorities to file reports," Mensing said. "You would think they would both be on the same side, then the question becomes which side is the police really on?"
The Tijuana Police Department declined multiple requests for comment.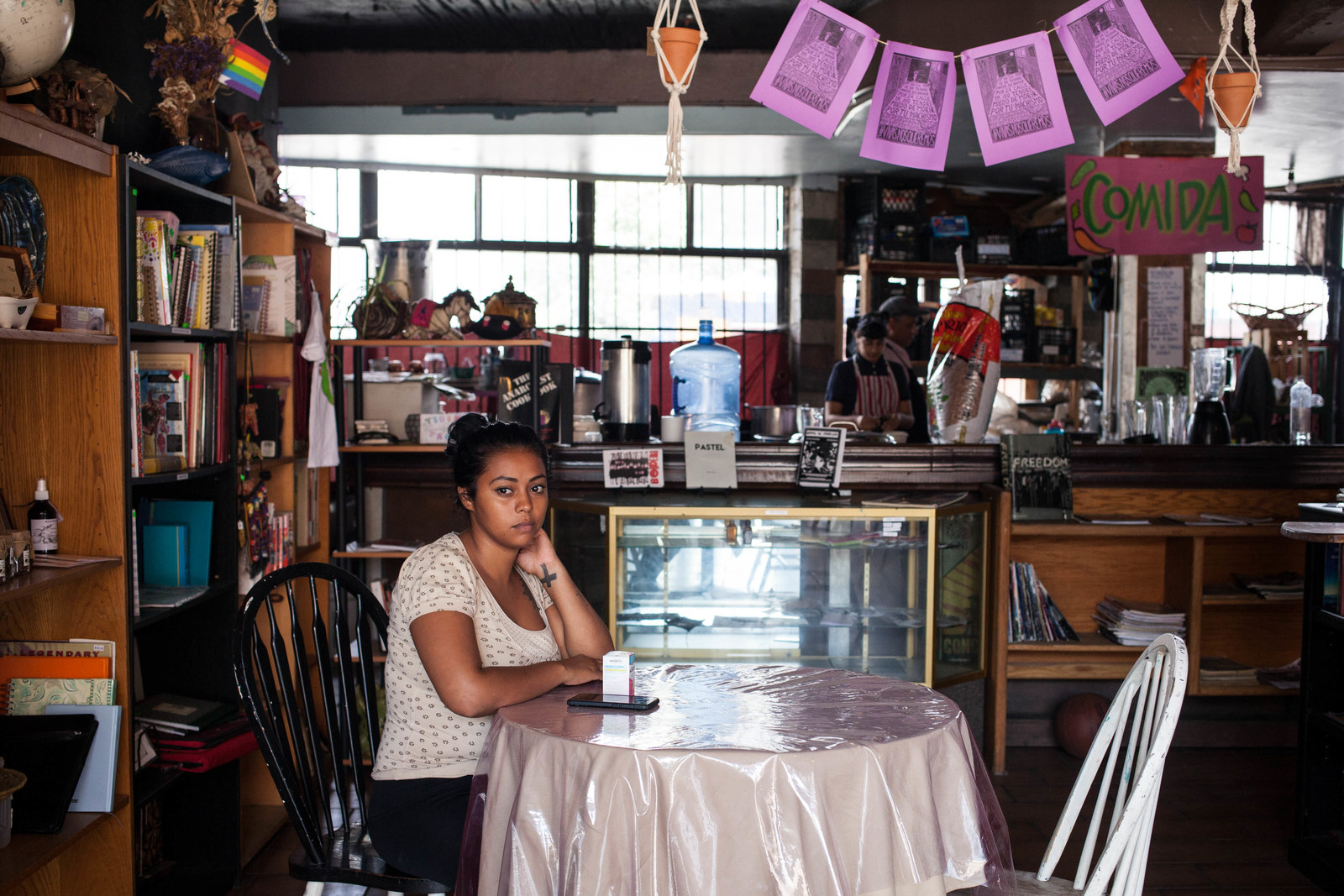 The people from the caravan who ended up in Tijuana aren't victims, Mensing said, and are slowly building the knowledge they need to respond when they believe they've been taken advantage of by authorities or criminals.

At a recent meeting on a weekend afternoon, about 30 people from Central America who'd made their way to Tijuana in the past two caravans sat on chairs, the tops of crates, or on the floor as they listened to a Pueblo Sin Fronteras organizer speak about the importance of justice, unity, and tolerance, and attracting more people to their cause through those values.
"Power only respects power," said the organizer, who asked not to be identified because they have been harassed by border authorities when they entered the US in the past over their work with the caravan. "We exercise our power to make change, and we need to grow our capacity by bringing in more people to our cause."
The caravan members, or caravaneros, as they sometimes refer to themselves in Spanish, listened as the organizer recounted the numerous obstacles they had lived through this spring: how President Trump had tried to destroy them, how the group refused to bend the knee to the US and Mexican governments, and how ultimately more than 320 people were able to ask for asylum.
"They tried to destroy us, but they couldn't because there is power in unity," the organizer said. "We had more power because our numbers got the attention of the world, and the world identified with our values."
On one side of the room sat Argelia, a 33-year-old woman who was recently arrested by Tijuana police. The Guatemalan-born woman, who identifies as Honduran because that's where she was raised, said she was walking with two male friends to catch a bus back to their apartment when a young guy claiming to be an MS-13 member tried to rob them. She found it ironic that the same threats she and others were fleeing managed to find them so far from home.
When the young guy pulled a knife, one of Argelia's friends pushed him to the ground right before the cops arrived. They arrested all of them, despite Argelia telling the cops they were the ones being attacked.
"Being locked up were the worst 12 hours of my life," Argelia told BuzzFeed News.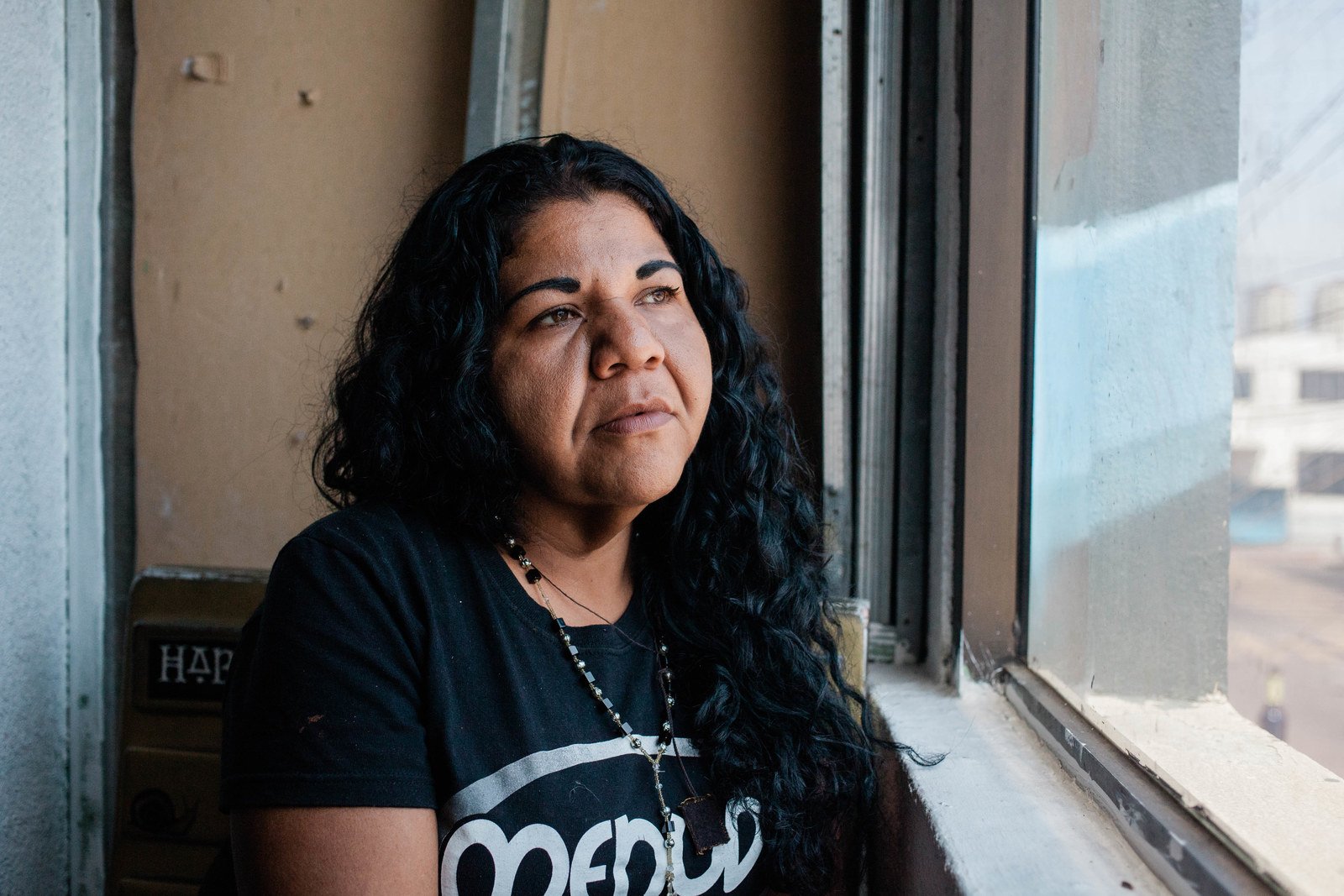 Argelia said she refused to let herself be strip-searched and threatened to report the officers to Mexico's Human Rights Commission if they did. Argelia was put in a cold cell and wasn't allowed to use the restroom for three to four hours.
"When I told them, one of the officers said 'Migrants don't have rights in this country, you're all delinquents,'" Argelia said. "Another one told me he was going to put out his cigarette on my forehead. I told him to do it if he dared, and he just laughed."
Hours later, the police told her the National Institute of Immigration (INM), the government agency in charge of enforcing immigration laws, was coming to pick her up and deport her. She didn't say anything, including that she was in Mexico legally on a humanitarian visa.
When Argelia arrived at an INM building and they discovered she had a visa, they released her. She knew the way home; she'd once met up with a friend in the same location after he'd been detained by police for no apparent reason while standing under the arches of the Avenida Revolucion, a popular boulevard for tourists.
She said the police will sometimes rifle through immigrant's bags and throw their belongings on the floor.

"If we do something bad, then, sure, pick us up, but too often they just grab us for no reason," Argelia said. "I've lived in other border towns, like Juarez, and it's nothing like this."

She had traveled up and down Latin America before, usually with family, before returning to Honduras, but this last spring was different. Argelia said she loves the people in the caravan; the sense of unity is unlike anything she's ever experienced before, even after the caravan has in some ways ended.
"I learned how to have the same pain and sadness as those around me, the other women, the kids, the men, and I also got to see their happiness and victories," Argelia said. "I'm proud to be an immigrant and for me, my life now is about helping immigrants."