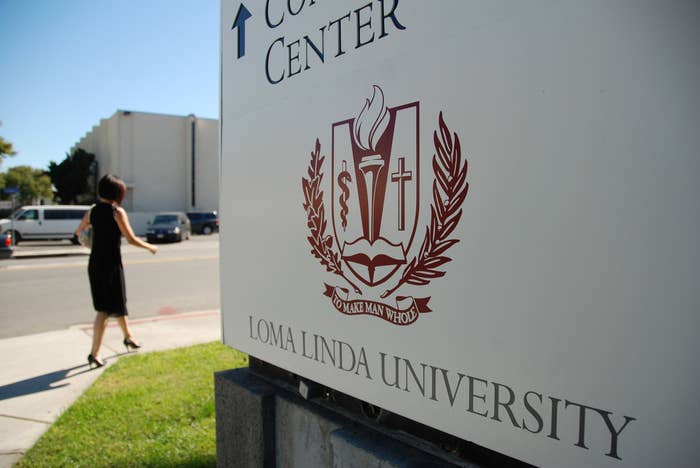 A private California university is apologizing for its decision to stop a student from enrolling in a graduate program because she received protection from deportation under a federal program is against the law.

Veronica Velasquez, 23, had been accepted into Loma Linda University's doctorate of physical therapy program, but was told in April she wouldn't be allowed to enroll because she was granted Deferred Action for Childhood Arrivals (DACA) and the school has a policy against it.
The program enacted by the Obama administration gives undocumented immigrants permission to live and work in the United States. The Supreme Court is expected to make a ruling this year on the legality of an expansion of the DACA program, as well as one that would protect the parents of U.S. citizens from deportation.
That prompted a letter from the ACLU on Wednesday telling Loma Linda University administrators that the policy was not only discriminatory and unlawful, but ill-advised.
Katherine Traverso, staff attorney for the ACLU of Southern California, said the policy violates federal civil rights law, specifically a section of the 1866 law that prohibits private institutions from discriminating against people because of their "alienage."
In a response to the ACLU, Kent Hansen, general counsel for Loma Linda University, said Velasquez' acceptance was never revoked and that the DACA policy set last year had not taken into account new legislation that made it possible for students to become licensed in their field — one of the reasons the university said she couldn't enroll.
"Undocumented or immigrant status is not a legitimate basis for denying students admission to the university," Hansen said. "The hold on Ms. Velasquez' enrollment she received on April 27, 2016 was for a status check not informed by the updated law. We regret that mistake and apologize."
Velasquez, who is from the Philippines and graduating from Cal State San Bernardino this month with a bachelors of science in kinesiology, was ten years old when her family fled from threats in Saudi Arabia. At the time her father had worked at the U.S. Embassy for 20 years.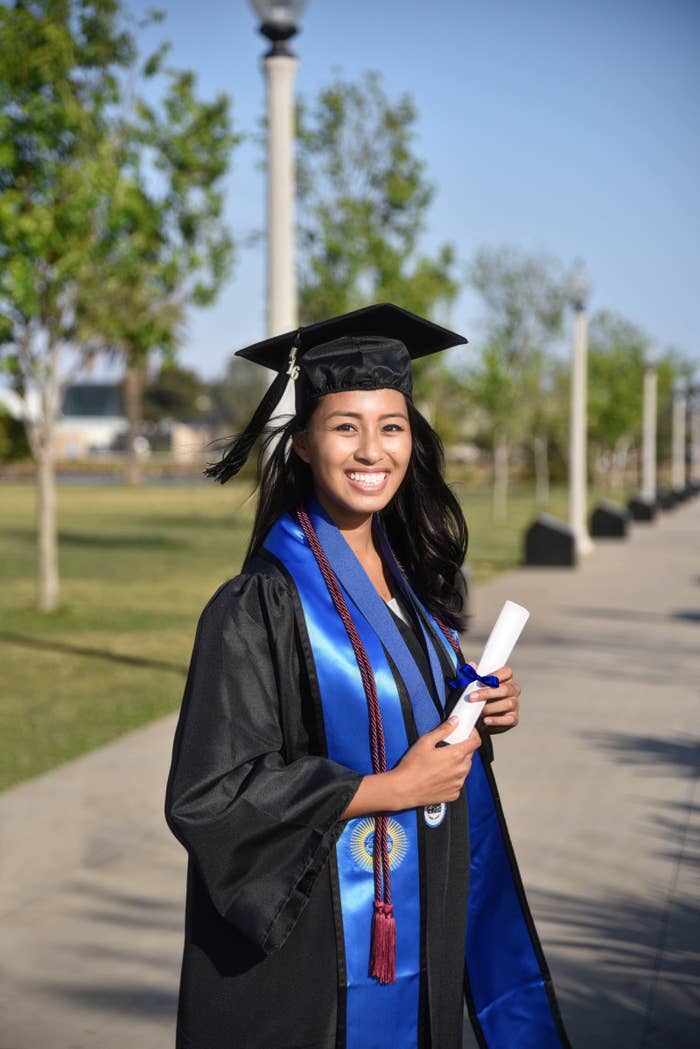 "This was an injustice, I know that I was highly qualified for the program," Velasquez told BuzzFeed News earlier this week. "I'm fighting this because I don't want other qualified and hard working students like myself to apply to Loma Linda and not be able to get their own education because of their immigration status."
In an April 27 email to Velasquez, the school said it would not allow her to enroll until her immigration status changed to U.S. citizen or permanent resident.

The email cited four disqualifying reasons why they don't allow DACA students to enroll at Loma Linda University: They're disqualified from enrolling because of background and immigration status checks, "being a religious-sponsored institution" the school requires students to have legal status that covers the duration of the program, as a private school DACA pupils aren't eligible for federal and state loans and would have a difficult time paying, and because of "ethical reasons" the campus doesn't believe it's fair to take their money without assurances they will be able to pass background checks or take licensure boards.
"All of these excuses are circular and they're horse shit," said Michael Olivas, interim president of the University of Houston-Downtown. "They can't deny anyone admission on the basis of national origin or immigration status."
It appeared as though Loma Linda University was conflating being undocumented with being a DACA recipient, Olivas told BuzzFeed News. Once someone is a DACA recipient they are no longer undocumented, he said, because they are now lawfully present in the U.S., in addition to being eligible for other benefits like financial aid, the ability to travel abroad, and a work permit.
Scott Johns, a professor at the University of Denver and director of the school's DU Bar Success Program, said private universities have to comply with federal and state laws. However, they can make the argument that those laws are infringing on their constitutional rights.
If you're a public or private university and willingly accept federal funds you're also agreeing to comply with federal rules, Johns said.
In its nine-page letter, the ACLU said Loma Linda University relied on several incorrect assumptions about DACA students. DACA students in California are eligible for professional licenses under a recent state law. Lawyers also said the school's assertion that DACA only lasts one year is wrong because recipients are able to renew it for two-year periods.
"It's not only discriminatory and breaking the law but prevents [Velasquez] from doing something she's gone through so many obstacles to achieve," Traverso told BuzzFeed News. "The decision by the school has a big effect on a lot of people."

The advocacy organization said DACA recipients have to pass a background check conducted by the Department of Homeland Security to even be eligible and would pass the school's review. Additionally, a DACA recipient is able to pay for their education through private financial aid, work, or other means.
California has laws that allow undocumented immigrants to apply for driver's licenses, state-funded financial aid, and extends health coverage to children who don't have legal documentation.
"You would think that an educational institution in California, that's very much a part of the community, whose motto is 'To make man whole' wouldn't do this," Velasquez said. "I would really like to see that this changes, that this situation opens up the door for more undocumented and DACA students."
Loma Linda University said it has now fixed its policy and reached out to Velasquez. The university is also reviewing its applications and acceptances to correct any other similar issues.