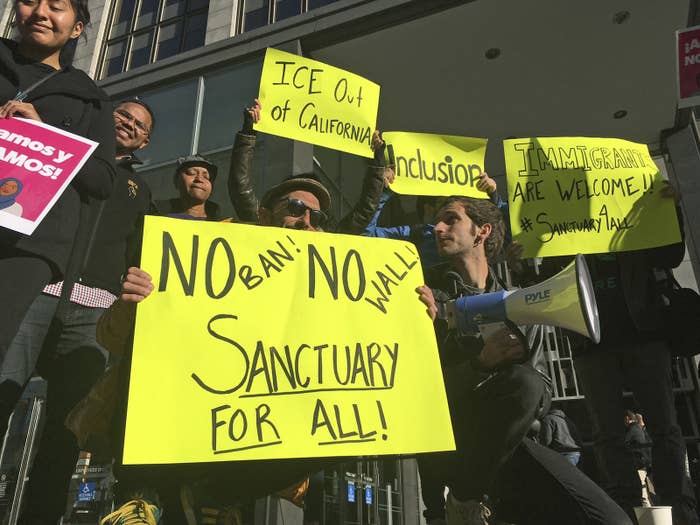 LOS ANGELES — California Gov. Jerry Brown on Thursday signed a bill into law placing statewide limits on local law enforcement cooperation with federal immigration authorities creating a potent counterbalance to the Trump administration's push against undocumented immigrants.
Brown signed a series of other bills related to immigration, including one that prohibits jurisdictions from contracting with the federal government and private companies over immigrant detention centers. The bills take effect Jan. 1, 2018.
"This action protects public safety and ensures hard-working people who contribute to our state are respected," Brown said.
The bill makes California the largest jurisdiction to punch back against the Trump administration's anti-sanctuary measures. Oregon passed a law prohibiting the use of state and local resources to enforce federal immigration law in 1987, making it the first so-called sanctuary state.
California lawmakers sent the bill to Brown last month after he signaled he would sign it.
Senator Kevin de León, who introduced the bill in the state Senate, said the California Values Act will also limit immigration enforcement actions at public schools, hospitals, and courthouses.
"We will not stand idly by as President Trump and Attorney General Jeff Sessions seek to divide this nation by scapegoating honest, hardworking families and casting immigrants as threats to be neutralized," de León said in a statement. "The California Values Act won't stop ICE from trolling our streets -- it will not provide full sanctuary -- but it will put a kink in Trump's perverse and inhumane deportation machine."
Under the law, local police will be prohibited from asking people about their immigration status, and officers will be barred from being deputized as immigration agents. It also bars US Immigration and Custom Enforcement agents from interviewing people in local and state jails without the inmate's written agreement in advance.
The bill also prohibits federal immigration officials from maintaining permanent offices in California jails. However, the legislation was a watered down version of the bill De León introduced in December after negotiations due to concerns from law enforcement and Brown.
The bill was opposed by the California State Sheriffs' Association – sheriffs are responsible for most jail operations – and for a time by the California Police Chiefs Association. But the police chiefs group dropped its opposition after amendments were added that eased some of the restrictions.
Jonathan Thompson the National Sheriffs' Association executive director and CEO said his organization was saddened and disappointed that Brown signed the "reckless bill."
"It is unfortunate that California's law enforcement has become pawns in this political game, but they will continue to do their jobs diligently to protect their communities," Thompson said in a statement. "We also implore leaders in Washington to take action and pass sensible legislation that would prevent careless legislation from hamstringing law enforcement and would give them the tools to combat dangerous policies like this."
Pablo Alvarado, executive director of National Day Laborer Organizing Network, said that while the bill that passed was scaled back from the original it is a step in the right direction.
"Many of the provisions included in the original version bill will one day become law, but in the meantime, the compromise reached between Senator de León and Governor Brown reflects much-needed progress," Alvarado said in a statement.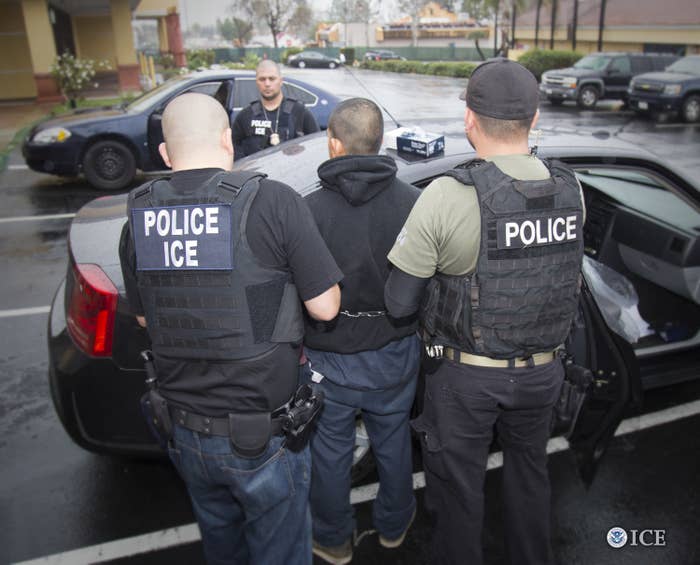 "The need for this bill was already great when it was introduced 10 months ago," said California Assemblymember Rob Bonta. "In our communities, we have children who don't know if their parents are coming home at the end of the day. In our communities, we have families who don't want to be torn apart.".

The Senate vote on the California Values Act came one day after a federal judge in Chicago blocked the US Department of Justice (DOJ) from requiring cities to comply with new federal grant requirements aimed at penalizing so-called sanctuary cities. US District Judge Harry Leinenweber said a lawsuit filed by the city of Chicago challenging the Justice Department's new rules was likely to succeed in having the rules declared unconstitutional.

Devin O'Malley, DOJ spokesperson, pointed to the Aug. 15 shooting of a community volunteer in San Francisco by an undocumented immigrant as a reason to back away from sanctuary type laws.
"Just last month another illegal alien allegedly killed a community volunteer, yet state lawmakers inexplicably voted today to return criminal aliens back onto our streets," O'Malley said. "This abandonment of the rule of law by the legislature continues to put Californians at risk, and undermines national security and law enforcement."
Under the new law, local police are barred from from notifying ICE that they are holding a suspect or transferring a detainee to ICE custody unless that person has been convicted of a felony under California law, has been jailed for a felony within the past 15 years, or has served time in the previous five years for a misdemeanor that could have been charged as felony. Local police also can inform ICE of individuals when a judge has ruled there is probable cause to hold that person for a violent felony.
Opponents of the bill accused supporters of misrepresenting local police's role in immigration enforcement and predicted that instead of easing immigrant worries about ICE raids, it would increase them.
Assemblymember James Gallagher said the bill would hinder local police from stopping gangs like MS-13 who bring drugs and other crimes to immigrant communities.
"This builds a wall between local government and federal partners and makes our communities less safe," Gallagher said. "This legislation is only a sanctuary for criminals like the one who killed Kate Steinle."
He was referring to the case of 32-year-old Kate Steinle, who was fatally shot on a pier in San Francisco by an undocumented immigrant who had a felony record and had been deported five times.
Assemblymember Jordan Cunningham said passing SB 54 would increase raids in immigrant communities because ICE would be limited to what it can do inside jails.
"Jails are not a place people get educated, not a place people get healed or seek justice," Cunningham said. "It protects suspected criminals from deportation at the expense of law abiding residents, including their communities."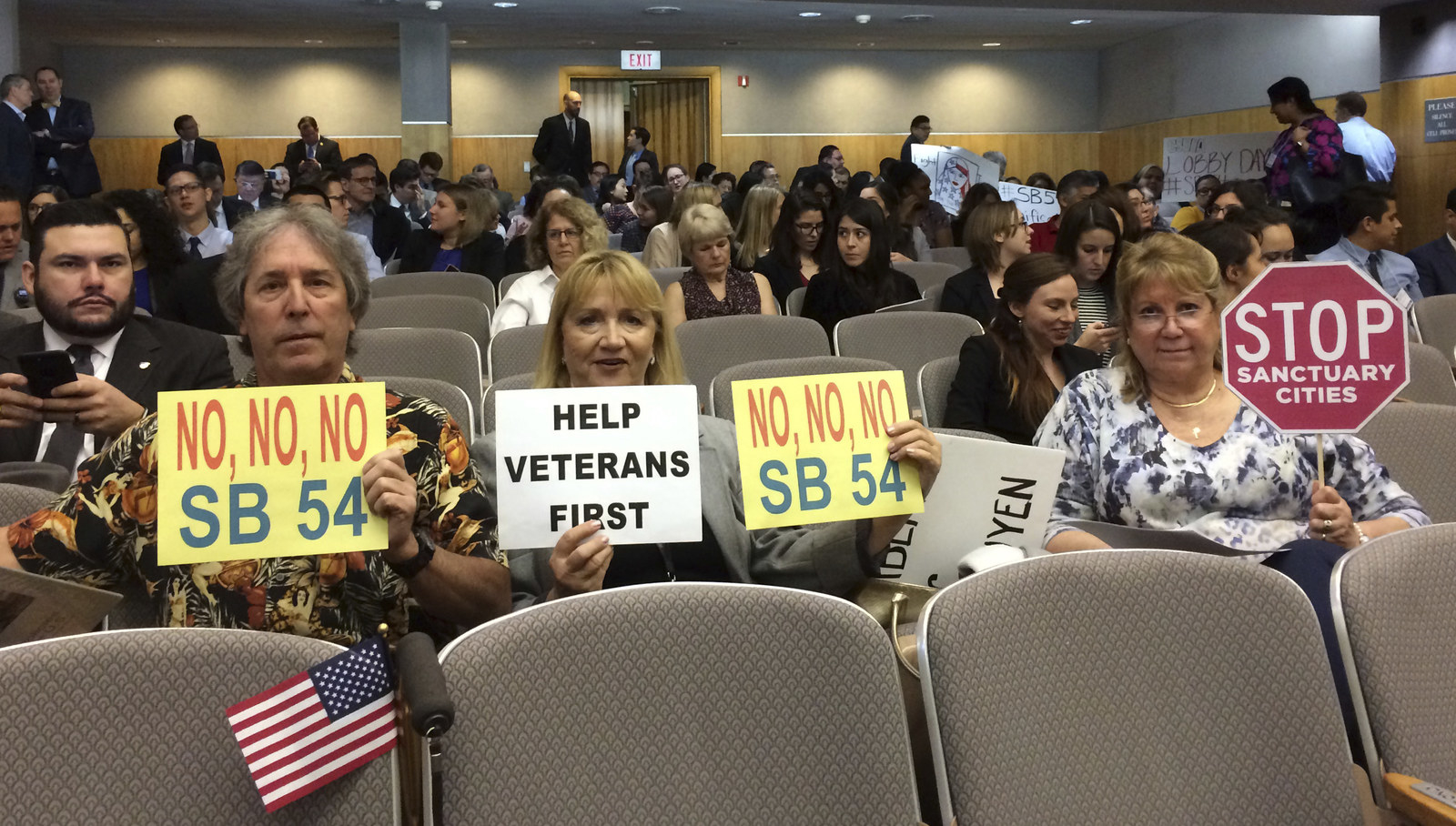 But supporters of the bill responded that such arguments overlook the rights of people in jail. Assemblymember Mark Stone, calling himself offended at the notion that everybody in jail is a convicted criminal, noted that 60% or more are pending trial.
"They have not yet been on trial and yet they remain in jail," Stone said. "To characterize everybody in jail and put them through this process is in violation of the constitution."
The law also prohibits local police and sheriffs from making arrests on civil immigration warrants, detaining people on the basis of immigration holds, or sharing private information about people – including addresses – with ICE.