Two California school districts are moving forward with plans to make their campuses safe havens for undocumented students and their families, while also offering information on how to deal with immigration authorities.
One of the districts, Sacramento City Unified, launched its "Safe Haven" campaign on Tuesday, pledging to support and help protect undocumented students from immigration authorities. As part of the campaign, the school district started covering all of its campuses with banners and signs welcoming all students.
"Our Safe Haven policy was the first step we took to protect our kids," said district Vice-President Jessie Ryan. "Today, we are taking an even bigger step by launching a full campaign to make sure every undocumented student and parent in our school district knows their rights if approached by immigration officials."
The Voice of OC reported that the high school board in Anaheim, California, on Tuesday also voted to declare the district a safe haven for students regardless of their immigration status.

Reports of Immigration and Customs Enforcement (ICE) agents arresting at least two men who crossed the street after leaving a church hypothermia shelter in Virginia, as well as the arrest of an undocumented immigrant near a school in Los Angeles, have sent waves of concern among immigrant advocates.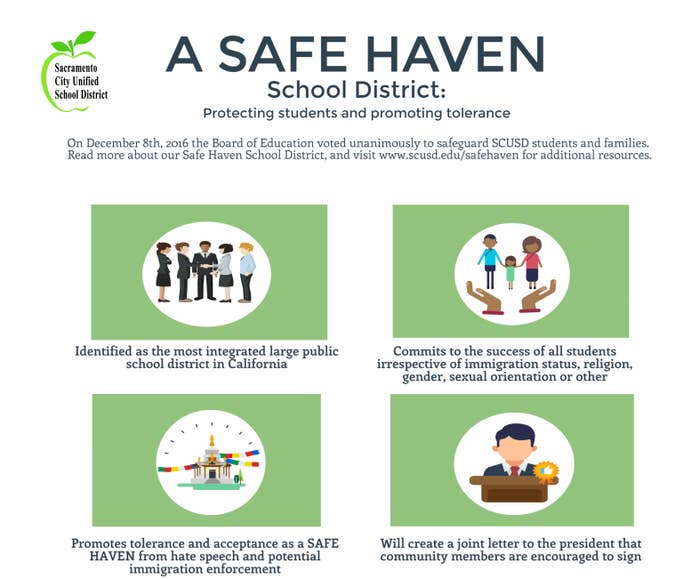 Since President Trump's election — and executive orders vastly expanding the pool of those at risk of immediate deportation — a network of churches and schools have also declared themselves sanctuaries for the undocumented. However, some churches have taken it a step further with plans to use private homes and potentially creating a network to move undocumented immigrants to Canada.
The Sacramento school district, meanwhile, will also be coordinating with community organizations to provide legal resources in classrooms and distribute thousands of "know your rights" fliers.
The campaign was approved through a resolution that also prohibits school officials from sharing files that can be used to determine a student's immigration status.
Anaheim Union High School District's resolution pointed to existing laws that bar schools from sharing student information to determine legal status. It also declares the district a safe place for families to ask for help and get information.
ICE agents can still go to school campuses for enforcement actions, but the agency has had a policy of avoiding "sensitive locations," such as churches and schools, unless circumstances require immediate action, or if there is prior approval from a site supervisor.
"The Department of Homeland Security is committed to ensuring that people seeking to participate in activities or utilize services provided at any sensitive location are free to do so without fear or hesitation," ICE spokeswoman Jennifer D. Elzea said.