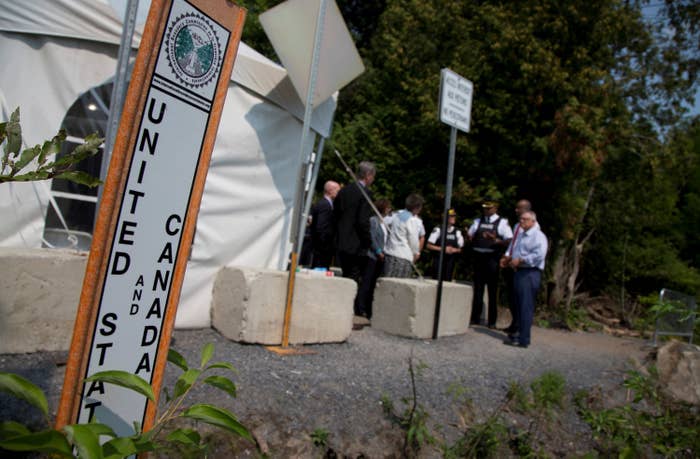 A vacationing British family who said they made an unexpected detour at the US-Canada border and were subsequently detained by US immigration authorities, described it as "the scariest experience of our entire lives." But border officials are disputing the family's account.
Eileen Connors, 24, said she was visiting Vancouver, Canada, in early October with her 30-year-old husband, and three-month-old baby. Connors said her husband's cousin was driving close to the US-Canada border when he made a brief detour on an unmarked road to avoid hitting an animal, entered the United States, and were detained by an officer.

"When we said we did not even know, and we did not intend to cross, the officer said it did not make a difference and we would all go into the custody of the United States," Connors said in a sworn statement. "This is how the scariest experience of our entire lives started."

The statement, which was redacted, did not identify the family but the Connors were named in multiple media reports. On Wednesday afternoon, ALDEA – The People's Justice Center, a pro bono legal aid organization, said the family had been deported to the UK.
"We learned this morning that the family is no longer at the facility, and ICE has confirmed that they have been removed to the UK," the organization said in a statement. "We hope that this family's unfortunate experience helps you elevate the important stories of all children in immigration detention - especially the 27 kids who remain at Berks today."
The family's account of being held in cold and dirty US immigration detention facilities without enough food garnered international attention, and echoed statements from immigrants, many of them from Central America, who have been held by US authorities.
But Customs and Border Protection officials said in a statement Tuesday that the Connors' vehicle was observed via a remote video camera traveling west on a road that runs parallel to the US-Canada border at 9 p.m. on Oct. 2 before turning south onto another road "slowly and deliberately driving through a ditch" into the US.
The car, which was carrying four other British citizens, was pulled over by a Border Patrol agent shortly after crossing the border, CBP said, and all occupants were apprehended on suspicion of illegally entering the US without inspection. The seven British citizens — four adults and three children — were processed by Border Patrol and later handed over to Immigration and Customs Enforcement.
"During processing, record checks revealed two of the adults were previously denied travel authorization to come to the United States," CBP said. "Attempts were made to return the individuals to Canada, however, Canada refused to allow their return and two attempts to contact the consulate for the United Kingdom were unsuccessful."
Bridget Cambria, the Connors' attorney, said in a tweet that CBP's statement doesn't contradict what the family said other than the car entered the US "deliberately."
"The families were told there was video footage," Cambria said. "They didn't know it was the US and simply wanted to return."
Cambria could not immediately be reached for additional comment.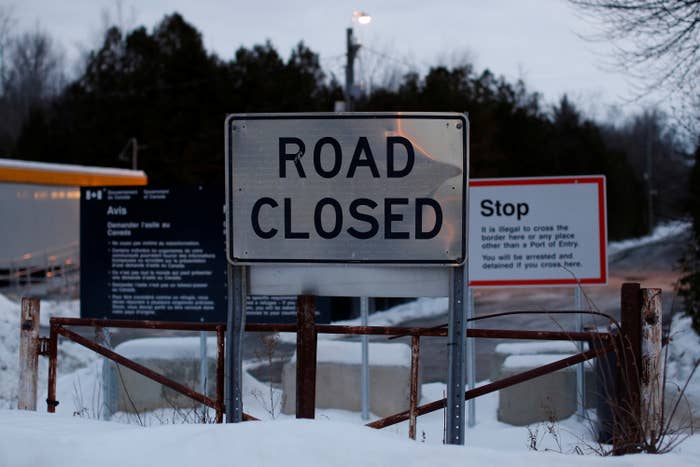 The night of their detention, Connors said, they were taken to a very cold detention cell — holding areas immigrants often refer to as "iceboxes" — and given "metal-like, thin emergency blankets." Her husband, David, was given a noodle soup in a foam cup that he described as "not even apt for animals" while she was not given any food, Connors said.

Connors said the family was forced to sleep on the floor of their cell with only their thin blankets. She tried to put her 3-month-old baby on top of her and she laid on the ground because she couldn't "let him lie on the disgusting floor." Connors said she later asked for a pillow from her car that she put the baby on, but he kept sliding off.
"We are so sickened by all of this," Connors said. "The idea and the memory of our little baby having to sleep on a dirty floor of a cell will haunt us forever. We are in disbelief that a government would do this to human beings."
The next morning an immigration officer told Eileen Connors they could be released if they provided authorities with contact information for family members in the US who could sponsor them. Connors said they handed over information about a relative in the US and they believed they would be sent to stay with them. But later that day an immigration official told them they wouldn't be released.
The family was then taken to the Northwest Detention Center in Tacoma, Washington, where they dropped off David, who was initially held in a cold cell for hours before being sent to another, with a bed and a blanket, for the night. Connors and her baby were taken to a Red Roof Inn in Seattle and the next day transported to Berks County immigration detention center, an immigration jail in Leesport, Pennsylvania.
At Berks, all of the baby's clothes and blankets were taken away, Conners said, even new clothes with labels, to be washed. Because they did not have clothing small enough for her baby, she said, he had no clothes, bibs or blankets for several hours. Connors said she had to bathe the child in an office on a sofa using a washcloth and soap.
"They offered me a baby bathtub to use, but it was filthy dirty and had broken bits, so I refused to use it," Connors said.
An ICE officer, who told Connors that the three-month-old was "a bit young" to be at the facility, said that the mother could sign papers to allow him to be separated from her and taken to another facility, she said.
"We were shocked and disgusted at the thought of our baby being taken from us," Connors said. "And ever since I cannot sleep thinking that someone might come in and take him from me."
In an interview with the Washington Post, Cambria said it was the first time the facility had held a child under the age of 1. Cambria also said the other couple, who had been traveling with the Connors, and their 2-year-old twins, were also taken to Berks.
"I don't believe that it's suitable for children that young because newborns probably shouldn't be around a hundred other kids all of whom are coming from different parts of the world," Cambria told the Post. "There were a lot silly decisions made along the way. In this instance, when you're talking about a 3-month-old, those silly decisions can be really dangerous."