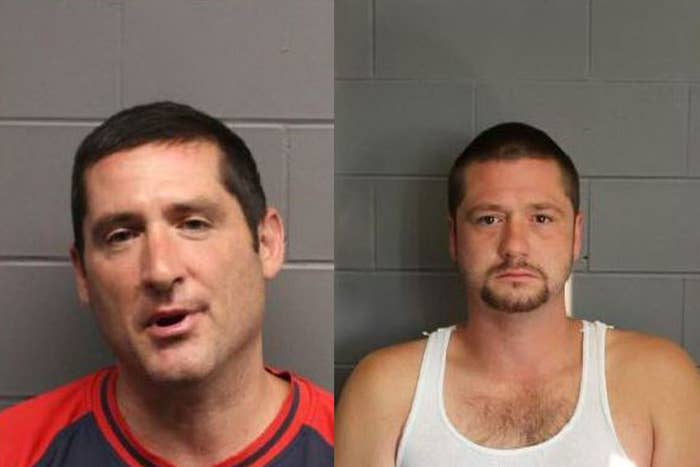 Two brothers accused of urinating and beating up a sleeping Latino homeless man in Boston on Wednesday used comments made by Donald Trump as justification, police said.
The attack left the 58-year-old man covered in urine, with a broken nose, and bruises to his head and torso, Massachusetts state troopers said.
The brothers, Scott Leader, 38, and Steve Leader, 30, have extensive criminal records.
They were charged with assault and battery, assault and battery with a dangerous weapon, assault and battery for the purpose of intimidation because of national origin, open and gross lewdness, indecent exposure, disorderly conduct, disturbing the peace, and threatening to commit a crime. Steve Leader was arraigned on an additional count of malicious destruction of property.
The Boston Globe reported that Scott Leader said it was okay to attack the man because he was Latino and homeless.
"Donald Trump was right, all these illegals need to be deported," Scott Leader told police.
Trump, a Republican presidential hopeful, was asked about the reported assault, and said "it would be a shame . . . I will say that people who are following me are very passionate. They love this country and they want this country to be great again. They are passionate."
On Friday Trump clarified his earlier comments on the Boston attack.

When Trump declared his presidential bid in June, he said Mexico only sends troubled people who bring their problems to the United States and promised to build a "Great Wall" along the border.
"They're bringing drugs, they're bringing crime," Trump said in his speech. "They're rapists and some, I assume, are good people, but I speak to border guards and they're telling us what we're getting."
Scott Leader allegedly said he and his brother "tuned up" an "illegal immigrant," the Suffolk County District Attorney's Office said.

Jorge-Mario Cabrera, spokesman for the Coalition for Human Immigration Rights of Los Angeles, said Trump's hate rhetoric is divisive, incendiary, and offensive.
"He cannot pretend to play Pontius Pilate once he has fanned the flames of anti-immigrant sentiment with his disparate comments and proposals," Cabrera told BuzzFeed News. "He is clearly a dangerous force, a wrecking ball at a time when we need understanding, unity, and compassion."
Witnesses who called police said the brothers punched and struck the victim with a metal pole they believed the homeless man slept with for protection. State police said the brothers were highly aggressive and combative while being booked – they urinated in the cell, challenging troopers to a fight, banged on the cell door, and made anti-immigrant statements.
The homeless man told investigators that he woke up to the two men urinating on him. Then they ripped off his sleeping bag and blankets and began to go through his items before attacking him.
The Leader brothers are being held without bail pending a Sept. 3 hearing to determine whether they are too dangerous to be released.