Border Patrol Puts Off Decision On Body Cameras For Agents
The nation's largest law enforcement agency, under fire from immigration advocates, says it needs more time to determine whether to outfit border agents with body cameras.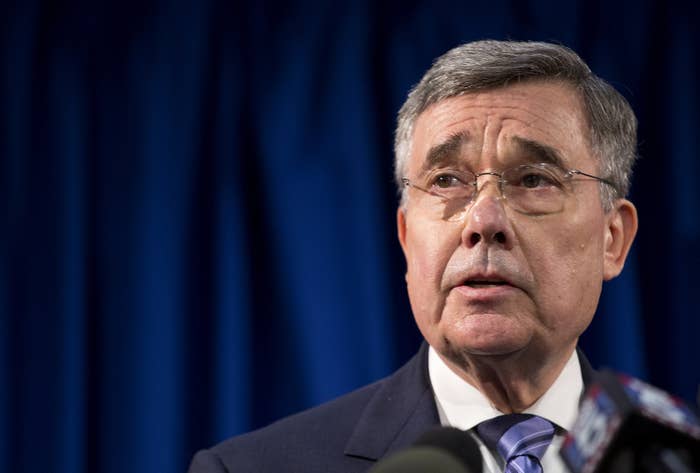 U.S. border patrol officials will continue their yearlong study into possibly outfitting agents with body cameras, the agency's commissioner announced Thursday.
Kerlikowske said costs, camera durability in extreme temperatures, and lack of regulations regarding the technology were all factors in the decision, said U.S. Customs and Border Protection Commissioner R. Gil Kerlikowske. Disputes on the issue with unions representing the agency's 60,000 employees, morale, and the camera's potential to distract agents in the field, were also cited.
"I'm directing, as a result of the feasibility study given to me, to expand camera review, including operations such as checkpoints, vessel boarding and interdictions, training academies, and outbound operations at ports of entry, as well as mobile camera options," Kerlikowske said in a call with reporters.
"We are not opposed to cameras, we have thousands of cameras in use," he added. "We saw may positive aspects of cameras and we will continue to move forward on all fronts."
Unlike large urban police departments, Kerlikowske said border patrol officials did not find cameras that were suitable for agents patrolling a wide range of unforgiving terrain, from heavy underbrush in hot and humid conditions, to very cold mountainous regions.
U.S. Customs and Border Protection will continue to test body-cameras in training environments, installing dashcams on their vehicles, and review their existing video recording devices, as part of their ongoing review.

While not citing a specific figure, the border patrol also added that a major body camera program would, at a minimum, run into the tens of millions of dollars. It currently has 7,500 cameras at points of entry along the southern and northern borders.

U.S. Customs and Border Protection — the nation's largest law enforcement agency — has already conducted a yearlong feasibility study into the recording devices, which was initiated after a 2013 comprehensive review of the agency's use of force and allegations of abuse and violent misconduct.
The study found that body-worn cameras could reduce allegations, deter frivolous complaints, and lower the chances of use of force incidents. However the report also said it could cause border patrol agents to redirect their attention to the device and away from the incident, in addition to causing them to second-guess themselves.
The border patrol has come under intense scrutiny and criticism from immigrant advocates over agent-involved shootings. In October, a border patrol agent pleaded not guilty to second-degree murder in the shooting death a teenager on the Mexican side of the border.
The 2013 report commissioned by U.S. Customs and Border Protection found that of 67 agent-related shootings between January 2010 and October 2012, 19 resulted in deaths. The report also found that agents had repeatedly stepped in front of fleeing cars to justify opening fire, and that they shot at rock throwers from across the border instead of simply moving out of harm's way.
Immigration advocates say body cameras would increase transparency and oversight of actions taken in the field.
But Kerlikowske said a full-scale deployment of body cameras for every employee was not necessary because there are already cameras at many of the agency's posts, such as border checkpoints. Instead, he said, officials will be looking into where the cameras can fill gaps or improve accountability.
Pedro Rios, director of the American Friends Service Committee's US-Mexico Border Program and chairperson of the San Diego Immigrant Rights Consortium, said the announcement was a delay that will erode public trust and allow border patrol agents to commit civil rights violations.
"It is unconscionable that Customs and Border Protection (CBP) has chosen to delay a real and tangible way of protecting civil rights and those with whom they are in contact by not fully adopting body-worn cameras," Rios said in a statement.
Angelica Salas, executive director for the Coalition for Humane Immigrant Rights of Los Angeles, praised the decision to continue to look into body-worn cameras.
"A picture is worth a thousand words and so far, CBP's image is fuzzy at best," Salas said. "Today's announcement is a tiny step in the right direction, but the question remains as to who will review the pictures at CBP? And if the image tells a negative story, who will have the power to tell CBP it must tell it like it is as opposed to covering it up as it always seems to be apt to do. "
Read U.S. Customs and Border Protection's study on body-worn cameras.
Download PDF