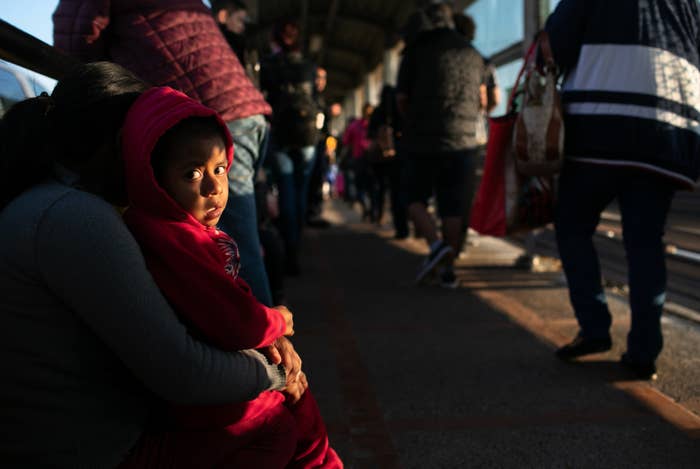 Border Patrol has been holding asylum-seeking families — whom the agency is trying to deport to Guatemala — at a Texas border facility for at least 11 days, violating a court settlement and 2008 law, attorneys said.
Under federal law and court orders, children can't be detained by Border Patrol for more than 72 hours. Lawyers trying to represent two families said they have also been denied access to them because officials said the temporary tent facilities in Donna, Texas, can't accommodate attorney visits.
David Dubrow, an attorney with Arent Fox LLP who has been trying to get access to a Honduran family, said every immigrant child held by border authorities should be released after 72 hours, barring extraordinary circumstances.
"Which I doubt there are," Dubrow told BuzzFeed News. "Children shouldn't be held this long. And the reason the government violates the law consistently on this is when you have a child with a parent, if they release them, they have to release the parent as well."
Customs and Border Protection declined to comment on the two families without identifying information; lawyers said the families are not comfortable with CBP receiving identifying details about their cases.

The Honduran family Dubrow is working with — a mother and her two daughters aged 6 and 1 — have been detained by CBP since Dec. 30. The youngest, attorneys said, is extremely ill and has diarrhea. They have been trying to get her to a local hospital for treatment.

It's unlikely these two families will be released into the US to await an immigration court hearing. The families are expected to be deported from the southern border to Guatemala, under a "safe third country" deal the Trump administration made to send asylum-seekers to the Central American country instead. One of the few ways people can be exempted from the program is if they can prove to an asylum officer that they'd "more likely than not" be persecuted or tortured in Guatemala, a high threshold to meet.
However, according to guidance sent to asylum officers on the program's implementation, immigrants are not entitled to a lawyer during the interview. Even so, Dubrow said, attorneys are trying to get into the tent facilities to try to represent them.
"The children have a right to counsel," Dubrow said. "It's such a sinister plot. And what's going to happen to them if they're sent to Guatemala? This is nuts considering all the problems in Guatemala."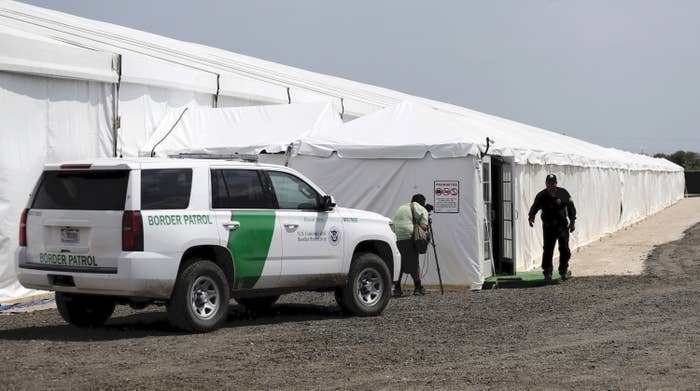 Advocates argue that the use of tent facilities to detain immigrants makes it far more challenging for them to access legal help than if they were held at brick-and-mortar CBP sites.
The Honduran mother left her home country for the US after a gang known as Mara 18 threatened to kill her and her daughters if they didn't pay a monthly extortion fee, according to documents reviewed by BuzzFeed News. The mother had opened a small grocery store when she received the extortion letter from the gang.

Due to police corruption in the town they're from, the mother feared reporting the crime would also lead to them being killed, the documents submitted to the port director and CBP counsel on Jan. 9 asking for the family to be paroled, as had been the case with other people they knew.
BuzzFeed News spoke with another family, a father and son from El Salvador, who are being detained there via phone. They declined to give their names, fearing retribution from border authorities. They have been at the Donna tent facility since Jan. 2, after Border Patrol apprehended them on Dec. 30.
The father, who only has the use of his right leg, was hospitalized shortly after crossing the border due to his high blood pressure. They said there are dozens of other families at the Donna facility who have been detained for at least 20 days.
When he asked about the possibility of being released on bond or seeing an immigration judge, border agents told him he didn't have a right to them. They were interviewed by an asylum officer about their fears of being sent to Guatemala.
"They told me Guatemala is safe because the United States had signed agreements with the president," the father told BuzzFeed News. "I told them no, that there was a lot of crime in Guatemala and the gangs there are the same ones we're fleeing from."
Plus, the father told the asylum officer, the same Guatemalan police who are supposed to protect them had extorted them while they were on a bus heading to the Mexican border, telling the pair they couldn't continue unless they paid 50 quetzals.
The father and son haven't heard about the results of their interviews, but they expect to be put on a flight to Central America on Tuesday.
Natalie Cadwalader-Schultheis, an attorney who has so far also been denied access to the family, said the safe third country agreements the US has signed with countries in Guatemala, plus two other programs that seek to fast-track deportations for asylum-seekers, deny immigrants adequate access to counsel.
"The most disgusting thing about these programs is they increasingly restrict what attorneys are allowed to do, as well as the court's ability to review anything," Cadwalader-Schultheis told BuzzFeed News. "They increase the power of DHS and make people jump through impossible hoops. If this goes into effect across the entire border, no one will be able to ask for asylum anymore."