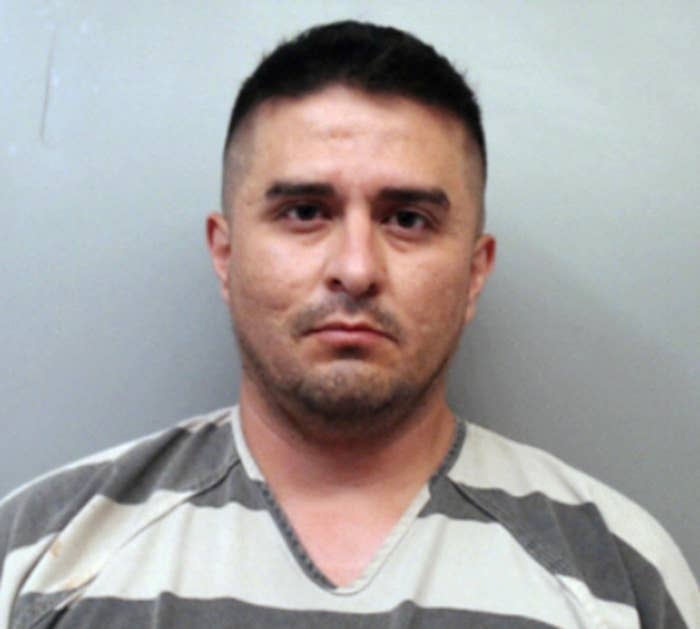 LAREDO, Texas — Juan David Ortiz had a cloud hanging over him in the days leading up to his alleged killing spree that left four women dead along the side of desolate Texas roads.
The normally reserved 35-year-old, a native Texan, was quieter than usual while he watched football with a group of friends on Aug. 30, said Jerry Solis, who served as the Border Patrol agent's best man at his wedding and had known him since they were both stationed at Twentynine Palms military base in California. Ortiz also had been taking antidepressants, and Solis saw him throw back two pills while drinking heavily. His friends told him to take it easy or else he'd build a tolerance.
Ortiz went home early because he had to work the next day as an intelligence supervisor for the US Border Patrol.
Four days later, according to authorities, Ortiz took Melissa Ramirez to an isolated road in South Texas and fired multiple shots into her head. As far as authorities know, Ramirez's Sept. 3 killing was the first of four that Ortiz would commit before his arrest on Sept. 15. He confessed to the killings, authorities said.
"He was a quiet dude, real conservative, smart, grew up in the church. I'm shocked," Solis told BuzzFeed News. "I was his best man at his wedding. I never in a million years would picture him doing something like this."
Solis is trying to square the man he'd spent hours alongside, hunting and fishing, with the "monster" being described in news accounts. Perhaps it was the strain of his job as a Border Patrol agent or a new relationship he'd started behind his wife's back with a woman who resembled Ramirez.
Authorities, friends, and family of the deceased are also trying to find a motive for the killings. Authorities have described the deceased as drug users and sex workers who made a living on the streets of the small border city of Laredo, Texas.
"It's difficult to get into the mind of the killer, but what we have right now and what we do know is that Ortiz carried these murders out in a cold and callous way," Webb and Zapata County District Attorney Isidro Alaniz told reporters.
Webb County Sheriff's Chief Deputy Federico Garza said that shortly after his arrest, Ortiz expressed a dislike for the community he targeted but declined to go into specifics. Ortiz had established a relationship with the women who walked down San Bernardo Avenue late at night, and some of the victims "came along" with the Border Patrol agent several times before his alleged two-week killing spree.
"He knew the victims and the victims knew him, some of them," Garza told reporters. "He mentioned a dislike for the community the victims represented. ... Whatever anger he had inside of him, we don't know yet his complete motive."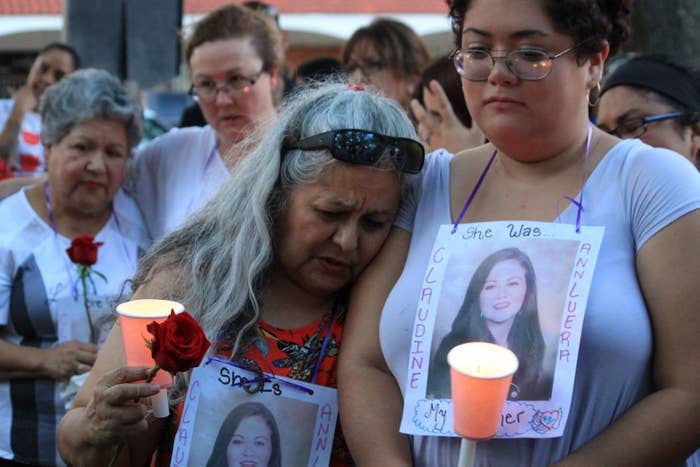 According to the arrest warrant, Ramirez is a key point in some of the other killings. On Sept. 13, for example, Ortiz is accused of killing Claudine Ann Luera outside of the Laredo city limits, after she became nervous and began accusing Ortiz of being the last person seen with Ramirez before her death. How authorities know what Luera said to Ortiz before her death is not clear, but according to the arrest warrant, Ortiz shot her multiple times in the head with his handgun. She was discovered lying on the side of the road by a truck driver. She died at at a nearby hospital.
A day later, Ortiz allegedly picked up Erika Peña, who would help lead authorities to Ortiz. Like Luera, she also started to talk about Ramirez before he pointed his black handgun at her. She ran from his moving truck after pulling free of the shirt he'd been holding to keep her inside, and was able to get to a state trooper who was refueling at a gas station.
That same night, though, Ortiz allegedly picked up Griselda Alicia Hernandez Cantu, also known as Guiselda Alicia Hernandez, and, later, Janelle Ortiz, taking them to isolated highways before shooting them in the head.
The cold and calculated killer described by authorities is at odds with the suburban life friends say Ortiz built over the years in the border city of about 236,000 mostly Latino residents. He went to church on Sunday with his wife and was devoted to his two kids. The family lived on a quiet street in San Isidro Ranch, a community about 12 miles from downtown Laredo filled with newly built houses painted different shades of yellow, white, and gray. On a recent evening, none of the lights were on inside Ortiz's ranch-style home.
Ortiz was the oldest in his family and was raised primarily by a devout mother and a grandfather, Solis said. Ortiz grew up in the church, was an altar boy, and could quote the bible easily when Solis met him at San Bernardino County's Twentynine Palms military base in 2003. He grew up near the border in Brownsville, Texas.
Ortiz enlisted in the Navy on July 5, 2001, shortly after turning 18, and became a medic, earning the rank of hospital corpsman second class and the nickname "Doc." In addition to his posting at Twentynine Palms, he was stationed in San Antonio, Texas; Camp Pendleton, California; and Great Lakes, Illinois. He was awarded the joint meritorious unit award, the national defense service medal, and the rifle marksmanship ribbon during his service years. He left the Navy on May 4, 2009, weeks before his 26th birthday.
Juan Benavides, the special agent in charge of the US Customs and Border Protection's Houston office of professional responsibility, said there was nothing in Ortiz's record to indicate he would kill four women.
There was one minor allegation, that authorities declined to elaborate on, filed against Ortiz that was investigated, but nothing rising to the level of the acts he's accused of committing, Benavides said. The allegation didn't lead to any discipline.
Ortiz joined CBP in 2009 at a time when there was a rush to fill the agency's ranks and a relaxation of hiring standards. In congressional testimony in 2015, Gil Kerlikowske, then the head of CBP, said that the rush to double the number of Border Patrol agents after the 9/11 terrorist attacks had allowed bad actors to join the agency's forces. Ortiz worked for the Laredo sector the entire time he was a Border Patrol agent.
At a press conference on Monday, US Border Patrol Chief Carla Provost maintained that there has been no lowering of standards and that her agents go through an extensive hiring process.
There are close to 6,000 Border Patrol agents in South Texas, and Ortiz's actions aren't indicative of the rest of the force, Provost said.
Ortiz is the second Border Patrol agent from the Laredo sector accused of multiple murders this year. Ronald Burgos-Aviles, a 28-year-old Border Patrol agent, was arrested in April on two counts of capital murder, after reporting that he had found the bodies of his girlfriend, 27-year-old Grizelda Hernandez, and her 1-year-old son, Dominick, near a park in South Texas. He pleaded not guilty to murder charges last month.
Another agent is under investigation for the fatal shooting of a 20-year-old Guatemalan woman, Claudia Patricia Gómez González, in the nearby border hamlet of Rio Bravo.
Ortiz is the latest Border Patrol agent to land in the national spotlight.
"He loved his wife and he loved his kids. He'd talk about them all the time," Solis said. "They had a big wedding and I'm pretty sure his life revolved around his kids. He was dedicated and wanted the best for his family."
It was his kids and wife that he thought of the night he was arrested. In two separate Facebook posts right before his arrest, Ortiz wrote, "To my wife and kids, I love u," after posting "Doc Ortiz checks out. Farewell," in what some have interpreted as a suicide message.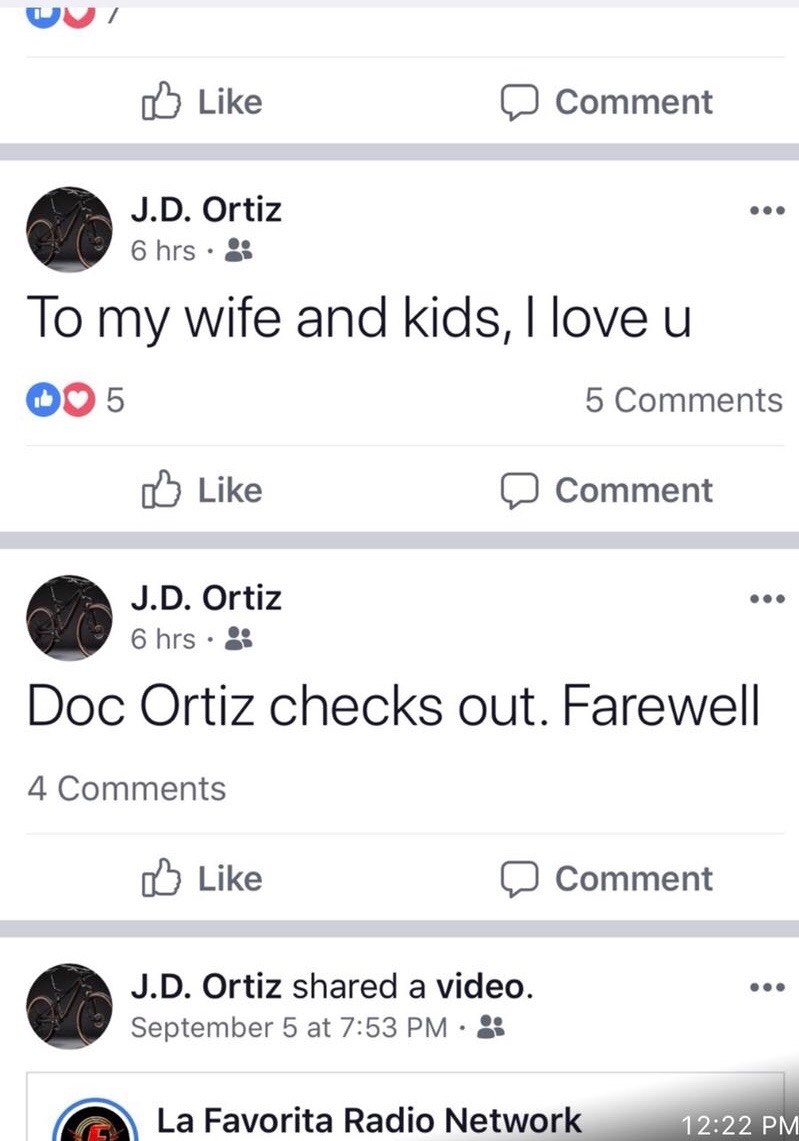 Despite his apparent devotion to his wife, Solis said that a couple of weeks before the first woman was killed, Ortiz showed him two pictures of a girl he said he'd just met. One looked a lot like Ramirez, the first victim.
"I can't guarantee it, but she looked like the first one he killed; she looked a lot like her," Solis said. "I remember telling him, "You better be careful... I hope you know what you're doing.'"
A sex worker and a homeless man who frequent the area where Ortiz picked up the women said they'd seen a white truck, much like the Dodge Ortiz owns, drive down San Bernardo Avenue and surrounding streets to pick up girls for "dates" in the last two months. But Solis said he doesn't believe Ortiz ever picked up sex workers or used drugs.
But he did drink heavily and took antidepressants. Solis said he was shocked to hear Ortiz was depressed, and gave him a hard time when he found out he was taking medication, but Ortiz said the pills helped him brighten up with work colleagues.
"He told me he felt no stress, he felt untouchable, he felt awesome," Solis said.
Erik Aguilar, a Marine who served with Ortiz, said the last time he saw him was in 2004, but that he kept in touch with him online and via text. He remembers Ortiz as a funny but professional guy. A conservative Christian, Ortiz wouldn't go out with the rest of the men when they went to clubs to party and meet women.
"He was a really, really quiet guy," Aguilar told BuzzFeed News. "We never saw a temper on him at all; he was always smiling and joking."
Ortiz joined the Border Patrol because he wanted to help immigrants with his medical background and ability to speak Spanish, noting that many migrants walk for days with little to no water before making it to the United States, Aguilar said. When huge numbers of unaccompanied minors started arriving at the US–Mexico border in 2014, Aguilar recalls Ortiz saying he was concerned by the risks the kids were taking with their lives to get into the country.
Eventually the job started to take a toll on Ortiz, Aguilar said. He'd say that going to work was like going to war every day, because of safety concerns along the border, and was "very stressful." Aguilar asked him why he didn't quit.
"He said, 'No, man, I really believe we're helping people. This is something that I love,'" Aguilar said. "He was a very compassionate guy in that sense; he really believed in what he was doing."
When Aguilar saw the Facebook posts on Ortiz's wall, he thought his friend was about to commit suicide. Aguilar, like other friends, called him on his cell, but got only his voicemail.
"We all thought he was suicidal. Nothing in our minds would lead us to believe that he would kill all of these women," Aguilar said.
Webb County Sheriff's Chief Deputy Federico Garza believes Ortiz did try to commit suicide by cop when he was eventually found hiding in the back of a pickup truck inside the multilevel parking lot of a hotel. Ortiz, who had gone to use the restroom inside a Valero gas station, had run from two state troopers who recognized him.
By then, Erika Peña had escaped and provided authorities with a description of Ortiz and his truck. Right before he was arrested, Ortiz brandished his cellphone like a weapon in an attempt to force authorities to shoot him, Garza said.
"He tried to use his phone like it was a weapon," Garza told reporters.
Ortiz, who was charged with second-degree aggravated assault with a deadly weapon, third-degree unlawful restraint, and four counts of first-degree murder, continues to be held under suicide watch.
Members of Congress are asking CBP to investigate whether Ortiz used any government vehicles, weapons, databases, or knowledge as a Border Patrol agent to commit the alleged crimes. Though the investigation is ongoing, local authorities don't believe he used his position to kill the four women.
He's on indefinite unpaid suspension from the Border Patrol, and prosecutors are mulling whether to pursue capital murder charges — which would make him eligible for the death penalty.
"It's just sad, very sad," Aguilar said. "He must have had such gross thoughts in his head, something I cannot grasp in my head even a week later."