Army Expands Program That Expedites U.S. Citizenship For Recruits With Sought-After Skills
Army officials have again increased the number of immigrants with in-demand skills who can enlist in exchange for expedited citizenship. Since 2008, the Army has recruited about 4,000 people through the program.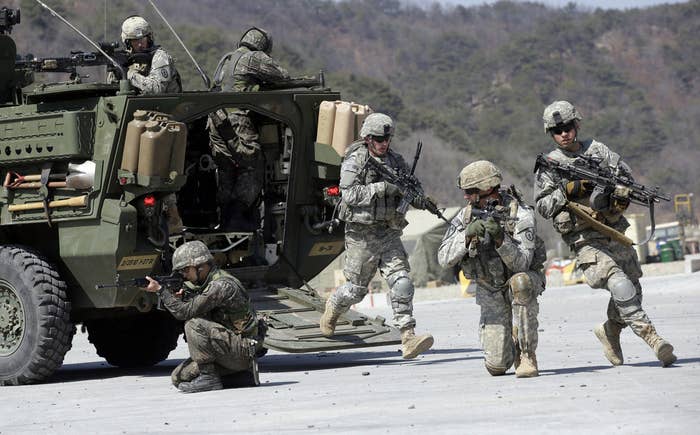 The Army will double the number of immigrants who can enlist under a program that expedites U.S. citizenship for recruits with in-demand language and medical skills.
On Friday, the maximum number of recruits for the Military Accessions Vital to the National Interest (MAVNI) program increased from 1,500 to 3,000 for the 2015 fiscal year, said Army spokesman Hank Minitrez.
Next year, the program is going to be expanded to up to 5,000 recruits. Since launching in 2008, the Army has recruited about 4,000 soldiers through the MANVI program.
"The MAVNI program has been extremely successful in filling our ranks with highly qualified soldiers who fill critical shortages," Minitrez said in a statement to BuzzFeed News.
In most cases, recruits with "vital" medical or language skills become naturalized citizens in months.
Applicants have to be a legal immigrant or qualify for Obama's Deferred Action for Childhood Arrival (DACA) program.
In September, immigrants who qualified for DACA were allowed to apply for MANVI. So far, 43 have applied, Minitrez said, but none have completed the process.
Lt. Cdr. Nate Christensen, a spokesman for the Department of Defense, said officials, working with the Department of Homeland Security, are also exploring options that would allow them to resolve the family members' undocumented status prior to the enlistee entering active duty.
MANVI was launched as a pilot program in 2008 by the Department of Defense with a cap of 1,000. The other branches of the U.S. military also take recruits through their own versions of the program, Christensen said.