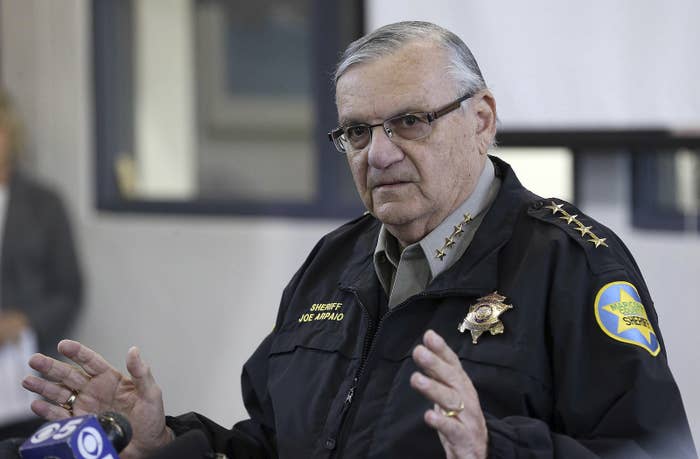 Federal prosecutors on Tuesday charged Arizona sheriff Joe Arpaio with criminal contempt for violating a court order to stop detaining people suspected of being in the US illegally.
The charges against Arpaio, the self-proclaimed "toughest sheriff in America" who gained notoriety made for making inmates at his infamous Tent City facility wear pink underwear, are in response to a 2007 lawsuit in which a federal court ruled that the Maricopa County Sheriff's Office profiled and illegally detained Latinos during traffic stops. The court ordered officials to stop the practice in 2013.
In March 2015, Arpaio and his chief deputy, Jerry Sheridan, admitted to violating the court order, one month before both men were scheduled to appear in court for an hearing that could disclose the inner workings of the sheriff's office.
Because of procedural defects, however, the Department of Justice (DOJ) said in a statement that prosecutors will only pursue a case against Arpaio.

Plans to charge Arpaio had been announced earlier in October, one day before early voting began in his reelection bid.

In a statement, Arpaio said the DOJ's decision to pursue charges was a blatant abuse of power, a ploy to thwart his reelection, and a war on law enforcement. He also claimed he was targeted by the Obama administration shortly after taking office "because enforcing illegal immigration laws is not politically correct."
"DOJ officials know this is their last shot at taking me down," Apraio said. "I will fight this case tooth and nail because I know these charges are rubbish. In the end, I am confident I will be exonerated."
If convicted, Arpaio could face up to six months in jail for misdemeanor criminal contempt, but could still keep his position as sheriff.
However, if he's convicted of a felony, he faces an unspecified sentencing range, which could force him out of office.
A preliminary trial date has been set for Dec. 6.