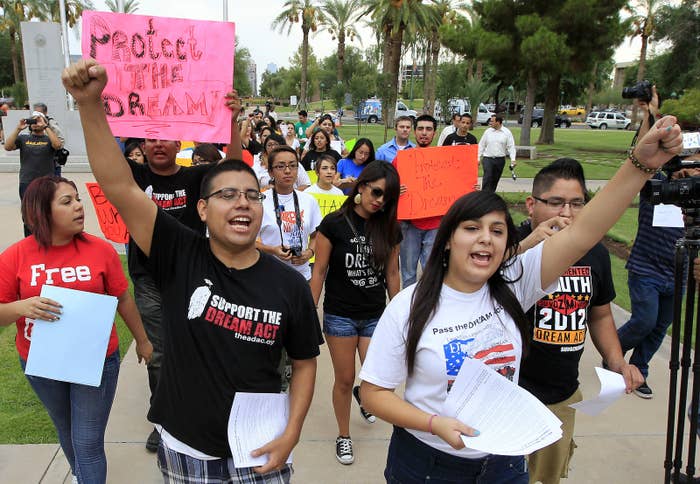 Arizona illegally denied five immigrants driver's licenses and identification cards, including a domestic violence survivor and a mother battling cancer, according to a lawsuit filed Wednesday.
The federal class-action lawsuit filed by civil rights groups argues the five plaintiffs are authorized to live and work in the US under the Deferred Enforced Departure program and, under Arizona law, are eligible for driver's licenses and ID cards.
"Arizona continues to double down on its anti-immigrant campaigns that directly harm Latinos in all walks of life," said Victor Viramontes, national senior counsel for the Mexican American Legal Defense and Educational Fund (MALDEF). "Like before, a federal court will have to tell Arizona that it cannot discriminate against its own residents."
Arizona has been sued in the past over its decision to deny driver's licenses and ID cards to immigrants. In 2012, in response to Obama's Deferred Action for Childhood Arrivals (DACA) program, former Gov. Jan Brewer issued an executive order barring the state Department of Transportation from issuing licenses to youth who would qualify under the president's directive.
At the time, Arizona was issuing licenses to immigrants who had deferred action under humanitarian reasons, had pending visas, or were survivors of domestic abuse. In 2013, a federal judge told the state that denying driver's licenses to DACA recipients, but not other immigrants in deferred action programs, was unconstitutional.
Arizona responded by denying driver's licenses to all deferred action recipients. In 2014, the 9th Circuit Court ruled against Arizona and ordered them to give driver's licenses to DACA recipients, however immigrants in the other deferred action program didn't benefit because they weren't plaintiffs in the case.
Viramontes said Wednesday's lawsuit seeks to change that.
"They will have a really hard time distinguishing the previous decisions," he told BuzzFeed News.
The Arizona governor's office did not immediately respond to BuzzFeed News' request for comment.