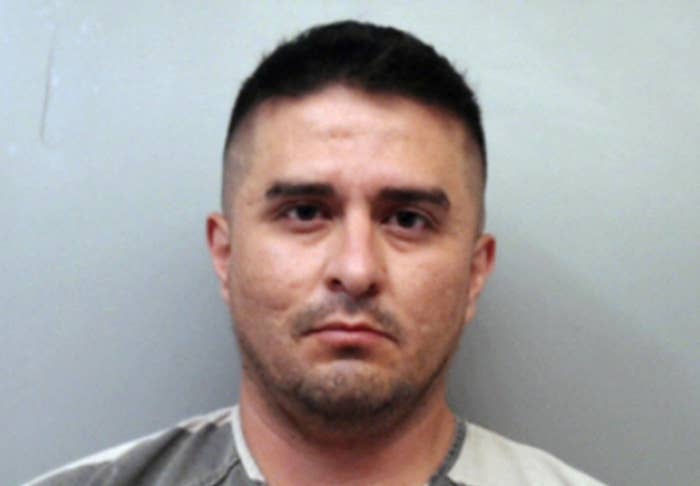 A grand jury has indicted a Border Patrol agent on a capital murder charge for his suspected role in the killings of four women, making him eligible for the death penalty.
Webb and Zapata County District Attorney Isidro Alaniz said the state of Texas would seek the death penalty against Juan David Ortiz, a supervisor for the Border Patrol. Ortiz was arrested Sept. 15 and confessed to the killings, authorities said. Alaniz described Ortiz as a "serial killer" who preyed on sex workers whom he picked up.
"He killed these four innocent individuals in a cold, callous, and calculated way," Alaniz told reporters at a press conference.
Alaniz depicted Ortiz as a vigilante "hunting" sex workers on busy San Bernardo Avenue in the border town of Laredo, Texas.
"He believed he was doing a service...because there was people on the street carrying out these activities, and nothing was being done by law enforcement," Alaniz said. "He deemed them scum of the earth and wanted to move forward and clean the streets of these types of people."

Authorities said Ortiz's killing spree began Sept. 3, when he drove Melissa Ramirez to an isolated road in South Texas and fired multiple shots into her head. Police said he killed another victim, Claudine Ann Luera on Sept. 13 outside the Laredo city limits after she accused Ortiz of being the last person seen with Ramirez before her death.

A day later, Ortiz allegedly picked up Erika Peña, who would help lead authorities to Ortiz. Like Luera, she also started to talk about Ramirez before Ortiz pointed his black handgun at her. She ran from his moving truck after pulling free of the shirt he'd been holding to keep her inside, and was able to get to a state trooper who was refueling at a gas station.
That same night, though, Ortiz allegedly picked up Griselda Alicia Hernandez Cantu, also known as Guiselda Alicia Hernandez, and, later, Janelle Ortiz, taking them to isolated highways before killing them. Janelle Ortiz died after being shot in the head.

Alaniz said that initially investigators thought that Hernandez also died of gunshot wounds because she sustained two gunshot wounds to the neck. But an autopsy revealed that she actually died when an unknown object was used to crush her skull.
The case was presented to the grand jury for two hours, and it came back with the charges against him 20 minutes later.
Ortiz was also indicted on one count of aggravated assault with a deadly weapon, one count of unlawful restraint with reckless exposure to serious bodily injury, and evading arrest or detention.