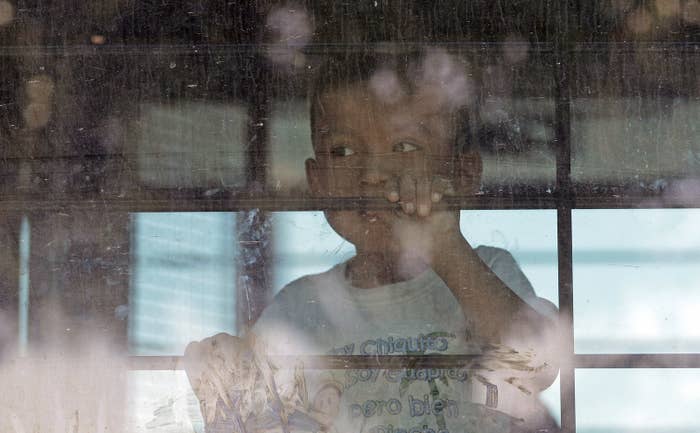 A group of 500 fathers detained with their sons at an immigration detention facility in Texas were set to begin a hunger strike Wednesday while their children were to begin a protest of their own, refusing to participate in any school activities.
Organizers of the protest, in statements distributed by the advocacy group RAICES, said that the fathers and their sons, who are being held at the Karnes Detention Center, in Karnes City, Texas, agreed to the strike to press US authorities to expedite their cases. The fathers were separated from their sons at the border under the Trump administration's "zero tolerance" policy, then reunited with their children, and are now being detained with no idea of when they might be released.
One of the statements came from a Honduran father who identified himself as Jorge. He said he'd been separated from his son May 12, has since been reunited, and had been at the detention facility for 10 days but has been told nothing about his case. He said others have been there for up to 20 days with no information on their cases.
"The children no longer want to be here, detained," Jorge said in the statement, which was distributed as both a recording and a transcript. "We can't stand it anymore. We are desperate. They should just do what they need to do, whether it is to deport us or allow us to be free to work with visas."
Representatives of RAICES, which stands for the Refugee and Immigrant Center for Education and Legal Services, said they'd interviewed some of the fathers planning to participate in the strike, but that they could not say if the strike had begun or how it had affected detention center operations. Immigration and Customs Enforcement (ICE), which operates the center, did not respond to a request for comment.
RAICES said the fathers said they planned to place themselves in the detention center's three patio areas and refuse to eat. Their sons were expected to refuse to participate in school activities.
Manoj Govindaiah, RAICES' director of family detention services, said the mood inside Karnes is the tensest he's seen in 12 years of practicing immigration law.
"The trauma caused by their separations has forced these fathers into untenable positions of fear, anger, and despair," Govindaiah said. "That these families feel the need to strike shows how tired they are of the games the administration continues to play."
In a statement ICE said there was no mass protest or hunger strike by residents at Karnes. It was a brief sit-in, the agency said.
"A small group of fathers and their children (fewer than 50 total) staged a brief sit-in and expressed their concerns about their immigration cases," ICE said. "The on-site ICE supervisor thoroughly explained the process; the residents appreciated the information and dispersed. In addition, there were no unusual absences from school at Karnes."
Jennifer Falcon, a spokesperson for RAICES, said the detained fathers and sons are not being treated with dignity and care.
"Karnes staff has a history of abuses of power. This includes the last time a hunger strike happened, in which ICE held a meeting to let the mothers know if they continue to refuse to eat they would be classified as security risks or 'unavailable' to care for their children and therefore separated from them," Falcon said in a statement.
RAICES said its attorneys suspect that many of the fathers at Karnes were coerced into agreeing to deportation in order to expedite reunification with their children. Now that they've been reunited and have access to legal advice, they've learned they have potential asylum claims that they want to pursue rather than be deported.
Jorge said in his statement that ICE officials told him that when he was brought to Karnes he would be able to meet with an asylum official.
"I have not met with anyone. We did not commit a crime," Jorge said. "The only offense is that we crossed the border, and in my case, I've already been sent to a federal prison for that."
Another father who declined to give his name said in his statement that his 6-year-old son doesn't want to eat and keeps asking him why they are incarcerated at Karnes.
"My son cries every day, he doesn't want to eat, he's very worried and he's only 6 years old," the father said. "What worries me is that we are restrained from our freedom as human beings. Our children are crying."
The father said he has a partner and daughter who depend on him back home, which is why he wants a response from US officials on what will happen to him and his son.
"Either I will be deported or be granted an opportunity to stay in this country," the father said. "We are not criminals, we are not people who come to this country to harm others. We are decent people who only come for a better life, people who travel to this country in search to help our loved ones back home. Help us."
The Karnes Detention Center is one of three family detention centers overseen by ICE. GEO Group, a private contractor that operates the facility for ICE, on its site says it has capacity for 1,158.
However, a Department of Homeland Security audit from 2017 said that that number was reduced to 830 beds due to Texas Department of Family and Protective Services guidelines allowing only five beds per residential suite. There are 166 residential suites inside the Karnes City facility. The US government has the capacity to hold 3,326 people in its three family immigration detention centers, according to an April Government Accountability Office report.