Actor Will Smith and director Antoine Fuqua announced Monday they will move the production of their slavery film Emancipation out of Georgia in protest against the state's new restrictive voting law.

The law, signed last month by Gov. Brian Kemp in front of a painting of a plantation where Black people were once enslaved, has been decried by activists as a means to make it harder for Black people to vote in the state. Republicans have said the law will restore voters' confidence in elections after Donald Trump lied about fraud when he lost the state to President Joe Biden.
Smith and Fuqua called the law "regressive" and said they could not support Georgia's government.
"At this moment in time, the Nation is coming to terms with its history and is attempting to eliminate vestiges of institutional racism to achieve true racial justice," they said in a joint statement first published in Deadline. "We cannot in good conscience provide economic support to a government that enacts regressive voting laws that are designed to restrict voter access.
"The new Georgia voting laws are reminiscent of voting impediments that were passed at the end of Reconstruction to prevent many Americans from voting. Regrettably, we feel compelled to move our film production work from Georgia to another state."
It's not clear where production of the movie, which had been scheduled to begin filming on June 21, will now move to.
Emancipation is the first major film or television production to pull out of Georgia in protest against the new law.
The movie is backed by Fuqua Films and Smith's media company, Westbrook Inc., and was purchased by Apple Studios for a reported $105 million. Smith will play the role of "Whipped Peter," an enslaved man whose image has continued to serve as a testament to the brutality of slavery.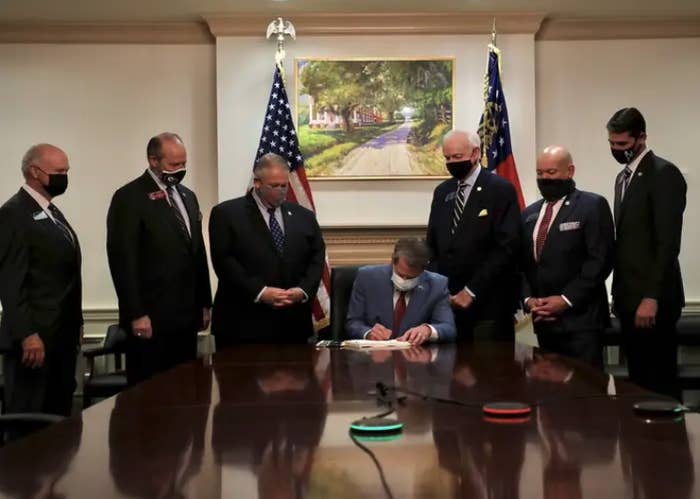 Following narrow losses to Democrats in the state in last year's elections, Georgia Republicans passed the law that, among other things, makes absentee voting more difficult, makes it illegal to give voters food and water while they stand in long lines, hands over control of the state election board to the Republican-led legislature, and limits the use of ballot drop boxes.
It has been described as "Jim Crow 2.0" by Democrats and voting rights activist Stacey Abrams. Similarly, Sen. Raphael Warnock, the state's first Black senator, used his first speech to condemn the law as "Jim Crow in new clothes."
Calls for a boycott began online with hashtags including #NoMoreFilmingInGeorgia and #BoycottGoergia. The Writers Guild of America issued a statement warning that there would likely be repercussions if the government did not relent.

With its competitive tax incentives, Georgia has become a top choice for several major shows and films, including The Walking Dead, Netflix's Stranger Things, and Marvel's Black Panther.

In the 2017 fiscal year, the film industry generated more than $9.5 billion in economic impact in the state, which has led others including Bernice King, the youngest daughter of civil rights leader Martin Luther King Jr., to question who would be worse off in the case of major protests.

Earlier this month, Major League Baseball officials announced they would move this year's All-Star game and draft out of Atlanta in protest against the law.

"Major League Baseball fundamentally supports voting rights for all Americans and opposes restrictions to the ballot box," Commissioner Rob Manfred said in a statement. "Fair access to voting continues to have our game's unwavering support."