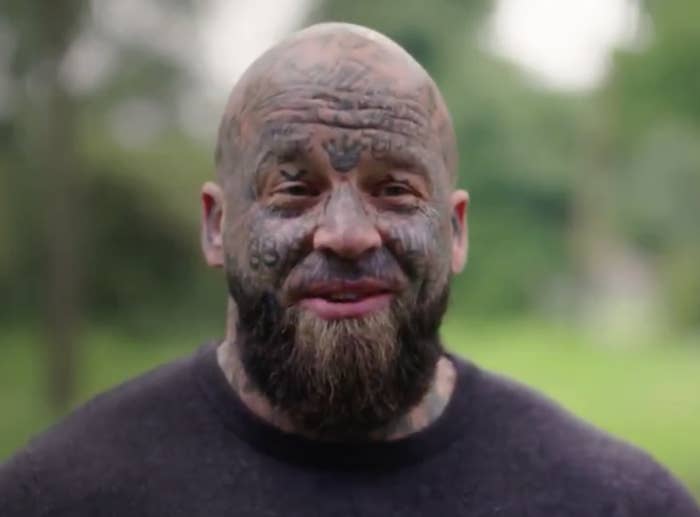 A&E Networks has announced that it will be cancelling the Sky History show The Chop: Britain's Top Woodworker after an investigation into one of its contestant's face tattoos, which are believed to have Neo-Nazi meanings.
In its announcement, the network said: "A contestant's tattoos included symbols that could be connected to far-right ideologies and could cause offence; we sincerely apologise for that and we are sorry that our processes did not prompt further investigation at an earlier stage."
The contestant, Darren Lumsden from Bristol, England, was introduced to the world in a 49-second clip on social media where several viewers instantly flagged his body art and deconstructed their meaning.
His tattoos include the number 88 on his right cheek. With the letter "H" being the eighth in the alphabet, "88" is regarded as the numerical symbol for "heil Hitler," according to the Anti-Defamation League.
Lumsden also has tattoos of the numbers 23 and 16 on his temples. The two numbers often appear together to denote "white power."
Some viewers also took issue with the tattoo on his upper lip, which reads "homegrown," a sentiment that could be interpreted as nationalistic.
The Sky History channel initially defended Lumsden online and argued that he had been properly vetted by production, and that his tattoos held sentimental meanings. The "88" was said to represent the year of his father's death, for instance.
In a turn of events, a man claiming to be his father gave an interview to the Daily Mail confirming that he was very much alive, although estranged from his son.
In its statement announcing that the show would not be returning, the network said Lumsden "continues to strenuously deny that he had, or ever had, far-right leanings," despite overwhelming evidence.
Moving forward, A&E Networks said that it planned to review its internal process and maintained that it stood against all forms of racism and hate speech.
The competition series was initially paused following outcry from viewers online pending investigation.
In a statement to BuzzFeed News, a spokesperson for Big Wheel Film & Television, the production company behind the show, said it had acted "professionally, appropriately and in good faith," and believed that it had done nothing wrong.
With regards to Lumsden's casting as a contestant on the series, the spokesperson said: "All issues, problems and concerns identified in relation to Darren Lumsden's tattoos during production were fully reported up to AETN UK, and the broadcaster's directives and instructions in response were closely followed."
The company said that it had fully cooperated with the independent investigation and supplied "details of relevant processes, discussions and exchanges, along with supporting evidence and documentation."
The production company maintained that it stood against all forms of "hatred and intolerance," and would be defending its reputation "robustly."