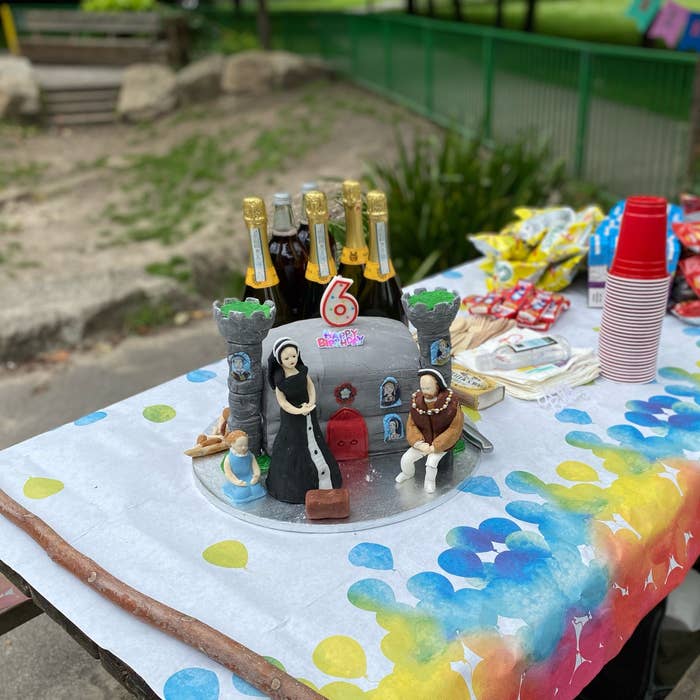 When Edmund Kingsley and his wife, Anna Morrissey, asked their 5-year-old daughter for suggestions on what her birthday cake should look like, her unique response didn't entirely surprise them.
"She said, 'Well, my friend is getting unicorns, but I think what I'd really like is Henry VIII executing Anne Boleyn with Elizabeth I watching," Kingsley told BuzzFeed News.
The father of two explained that his daughter's request was the product of a profound love of stories, and a recent interest in the Tudors after visiting Hampton Court around winter holidays.
"They had an ice skating rink at Hampton Court. That was like our big Christmas treat. We took the children ice skating there," said Kingsley.
Morrissey, a theater and movement director with a history background, was able to share with their daughter the details of the royal family who once occupied the Hampton Court Palace.
"I think that's where the seed was sown, seeing that castle and having a really fun day there. She just got really into the story of his big, fat, horrible king who had six wives," Kingsley said.
With lockdown measures still in place, the couple hosted a small celebration in the park with some friends, in line with COVID restrictions.
At the center of the celebrations was, as requested, a birthday cake capturing the execution of Anne Boleyn, former queen of England and second wife of King Henry VIII for whom he separated from the Catholic Church in order to marry — the drama of it all.
Boleyn was beheaded in 1536 after being charged with adultery, incest, and treason.
Also memorialized in fondant is a young Elizabeth I, Boleyn's daughter who would later become Queen of England and Ireland in 1558.
In the message posted on Twitter, Edmund wrote: "Tomorrow we'll have a six year old, and like so many girls her age she insisted on a cake depicting the future Queen Elizabeth I witnessing the execution of Anne Boleyn by Henry VIII."
The couple, who are strong contenders for parents of the year, spent three days constructing the cake as a joint effort, with Anna taking lead on the design concept.
Along with their own storytelling, Kingsley credited Horrible Histories, the BBC children's program dedicated to retelling historic events with music and comedy, for encouraging their daughter's interest in the subject.
"During lockdown, there was lots of Horrible Histories because of good old CBBC. When our brains were fried from doing too much homeschooling, we'd rely on CBBC to do some of the work as well, and Horrible Histories is fantastic, what those guys do is so brilliant," he said.
The cake prompted a lot of comments online. Kingsley acknowledged that it was far from a conventional cake, but while some may consider it strange, to the proud parents, "it sort of made perfect sense."
People online are inspired.
It's also not as uncommon as you'd think.

Why have a Barbie cake when you can have three witches?

It's one that history fans can certainly appreciate.