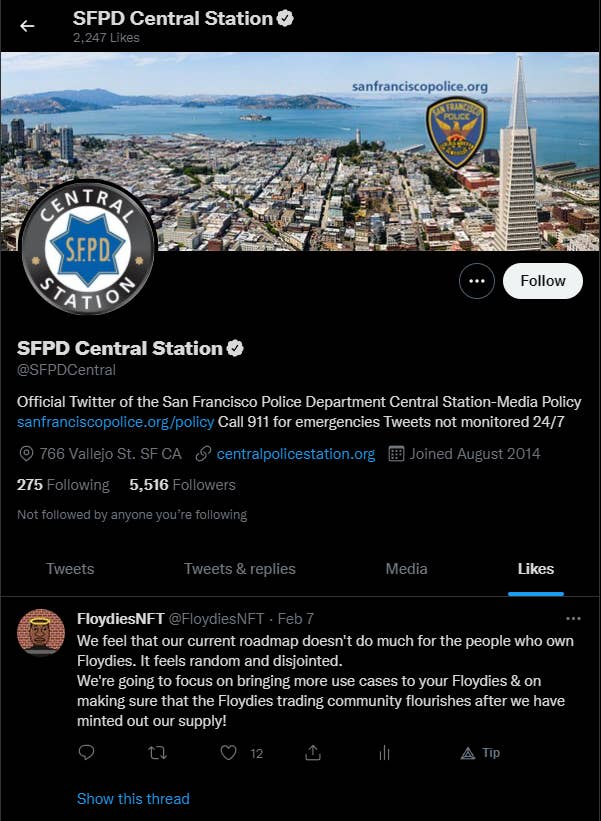 The San Francisco Police Department said it is conducting an internal investigation as to why the official Twitter account for its Central Station bureau liked a tweet from an account promoting a collection of racist NFTs using the likeness of George Floyd, a Black man murdered by a white police officer in 2020.
The tweet, posted Feb. 7, came from an account marketing NFTs in Floyd's likeness, called "Floydies." The creators call the NFTs "a unique and progressive way to celebrate the monumental life of George Floyd," and they first appeared on NFT marketplace OpenSea in December of last year, according to Input Mag.
The creators behind them have claimed that ownership of a "Floydie" comes with an "N word pass."
"Who is allowed to own an N word pass is at the sole discretion of Black People. These people are often not equipped to make such important decisions," they have written.
It's unclear who is behind this NFT collection. The creators told BuzzFeed News over Twitter direct messages that it was not affiliated with the Black Lives Matter movement and had no interest in aligning with the organization. When asked about its use of Floyd's image, the creators claimed that they were doing a "great service to the BIPOC community" and their intentions had been "misrepresented." They said they believed that those who knew Floyd "wouldn't be offended by the project."
They also declined to comment on their statement regarding the "N word pass" and refused to say who they were. However, in a comment to Input Mag in December, they said, "To the people who think I'm super-racist, I would say I'm just an opportunist."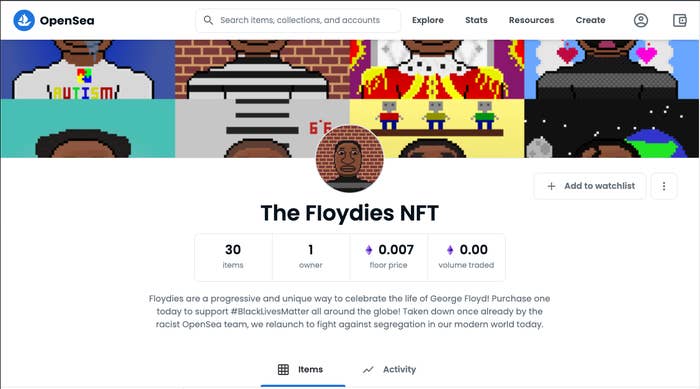 "We feel that our current roadmap doesn't do much for the people who own Floydies. It feels random and disjointed," said the Feb. 7 tweet liked by the SFPD account. "We're going to focus on bringing more use cases to your Floydies & on making sure that the Floydies trading community flourishes after we have minted out our supply!"
Likes are sometimes considered a form of digital endorsement. In this instance, the interaction was celebrated by the Floydies account, which boasted in a tweet that the SFPD "stands with Floydies" and it could potentially heal divisions between the police and the Black community.
In an email to BuzzFeed News, Officer Robert Rueca of the SFPD said that the social media activity did not reflect the values of the force. He added that the department would be advising those managing its social media accounts to "avoid accessing these on electronic mobile devices, where incautious scrolling can occasionally result in inadvertent 'likes.'"
Floyd's death in 2020 became the catalyst for widespread protests against police brutality and racial reckoning across the country during a global pandemic. In April of last year, Derek Chauvin, a former Minneapolis police officer, was found guilty of murdering Floyd in a rare verdict. He was sentenced in June to 22½ years in prison.
The use of Floyd's likeness for blockchain collectibles has been criticized before. The collection features various pixelated illustrations of Floyd, including one of him dressed in a police uniform with bloodshot eyes. In another, Floyd's image is seen in an orange prison jumpsuit against a jail booking background.
"This is not an 'innocent George Floyd tribute project.' This is a racist having fun with George Floyd's image. You're an asshole," commented TV host and writer Touré.
Neither the George Floyd Foundation nor Black Lives Matter responded to BuzzFeed News' request for comment.
With their creators operating under the cover of pseudonyms or anonymity, the number of racist NFT collections in the digital marketplace continues to grow.
According to OpenSea's terms of service agreement, items or collections can be delisted from the platform if found to breach one or more of its conditions. This includes infringing on protected intellectual property, promoting suicide or self-harm, inciting hate or violence against others, and degrading or doxing another individual.
In a statement to BuzzFeed News, OpenSea said that it had "a zero-tolerance policy for listings that incite hate" and had previously removed a version of the Floydies shortly after it was originally listed for violating OpenSea's terms of service.
However, the listing was active when BuzzFeed News approached OpenSea for comment Friday. It has since been removed from the platform.
"It was brought to our attention that a copycat collection recently resurfaced, and we've banned that as well, along with its creator," said a spokesperson.