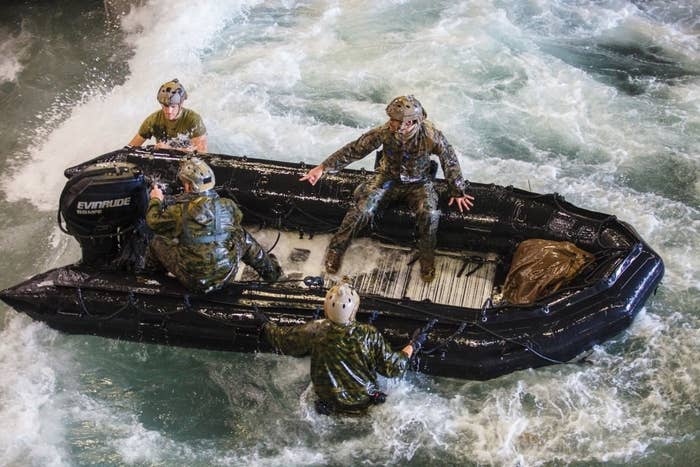 The remains of seven Marines and a sailor who went missing after their vessel sank during a routine training exercise off the coast of Southern California have been recovered, the US Marine Corps announced Saturday.
"Our hearts and thoughts of the 15th Marine Expeditionary Unit are with the families of our recovered Marines and Sailor," Col. Christopher Bronzi, commanding officer of the 15th Marine Expeditionary Unit, said in a statement. "We hope the successful recovery of our fallen warriors brings some measure of comfort."

The eight service members' remains will be transferred to Dover Air Force Base in Delaware for burial preparation, then released to their families.
The transfer of their remains would "not be open to the public," the statement said, along with a request that the privacy of their families be respected.
Fifteen Marines and one sailor were engaged in a training exercise on July 30 when the amphibious assault vehicle they were in took on water and sank, the Marine Corps said in a statement.

Eight Marines were rescued, two of whom were taken to a local hospital. One of them, Lance Cpl. Guillermo S. Perez, 20, from New Braunfels, Texas, was pronounced dead at the scene. His remains were transferred to Delaware on Aug. 5.

Seven other Marines and the sailor were later presumed dead following an unsuccessful 40-hour search and rescue mission off the coast of Southern California.
The names of the service members whose remains have been recovered were previously released by the Department of Defense. They were identified as Cpl. Wesley A. Rodd, 23, of Harris, Texas; Cpl. Cesar A. Villanueva, 21, of Riverside, California; Lance Cpl. Marco A. Barranco, 21, of Montebello California; Lance Cpl. Chase D. Sweetwood, 19, of Portland, Oregon; Pfc. Bryan J. Baltierra, 18, of Corona, California; Pfc. Evan A. Bath, 19, of Oak Creek, Wisconsin; Pfc. Jack Ryan Ostrovsky, 21, of Bend, Oregon; and US Navy Hospitalman Christopher Gnem, 22, of Stockton, California.
The cause of the incident is currently being investigated.