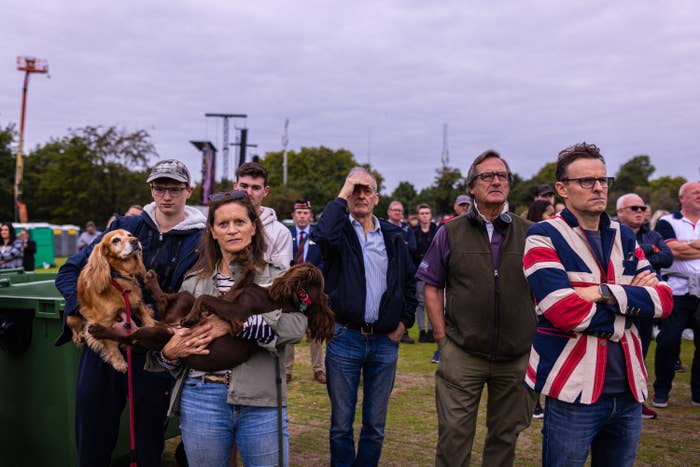 LONDON — No school and no work on Monday, thanks to the UK bank holiday, meant that millions in London instead joined each other in parks, pubs, and movie theaters for communal viewing parties of the Queen's funeral.

Tina Trott set out from her home in Hull, East Yorkshire, at 1:30 a.m. to witness all the pomp and circumstance befitting the funeral of Britain's longest-reigning monarch.
She made the 150-mile journey to London with her 14-year-old son, with the hopes that if they arrived in the capital early enough, they would witness the historic final send-off for Queen Elizabeth II after 10 days of national mourning.
"Didn't get a chance to see the casket, really gutted about that," the 50-year-old told BuzzFeed News.
As the streets lining the Queen's procession route filled up, those unable to secure themselves a front-row procession spot were directed to Hyde Park by stewards on the ground.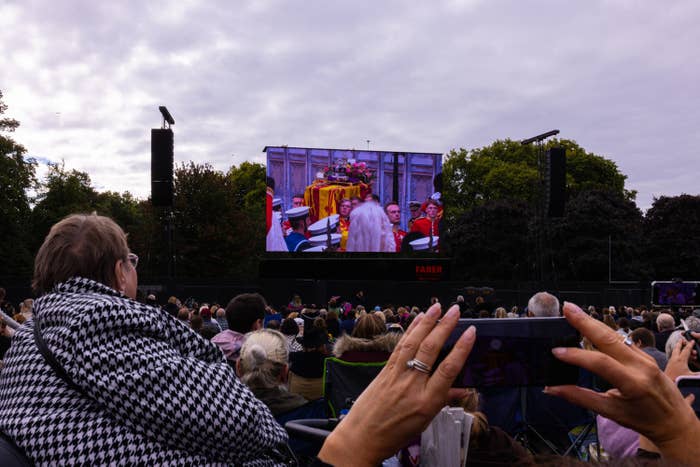 Trott, like thousands of others, was shepherded into the park, and despite her frustration, she quickly found her spirits raised by the atmosphere. She purchased an unofficial program from a street seller as a souvenir and joined other families hosting picnics and toasting the Queen with cans of beer.
"It was lovely," Trott said. "It felt quite united. Everybody was being super nice to each other."
It wasn't just loyal British subjects who'd gathered with thousands of others in Hyde Park, where three jumbo screens broadcast the funeral. Marie Esteve and her friend Anaïs Retouret already had plans to visit London from their homes in France when they heard the Queen died 11 days ago.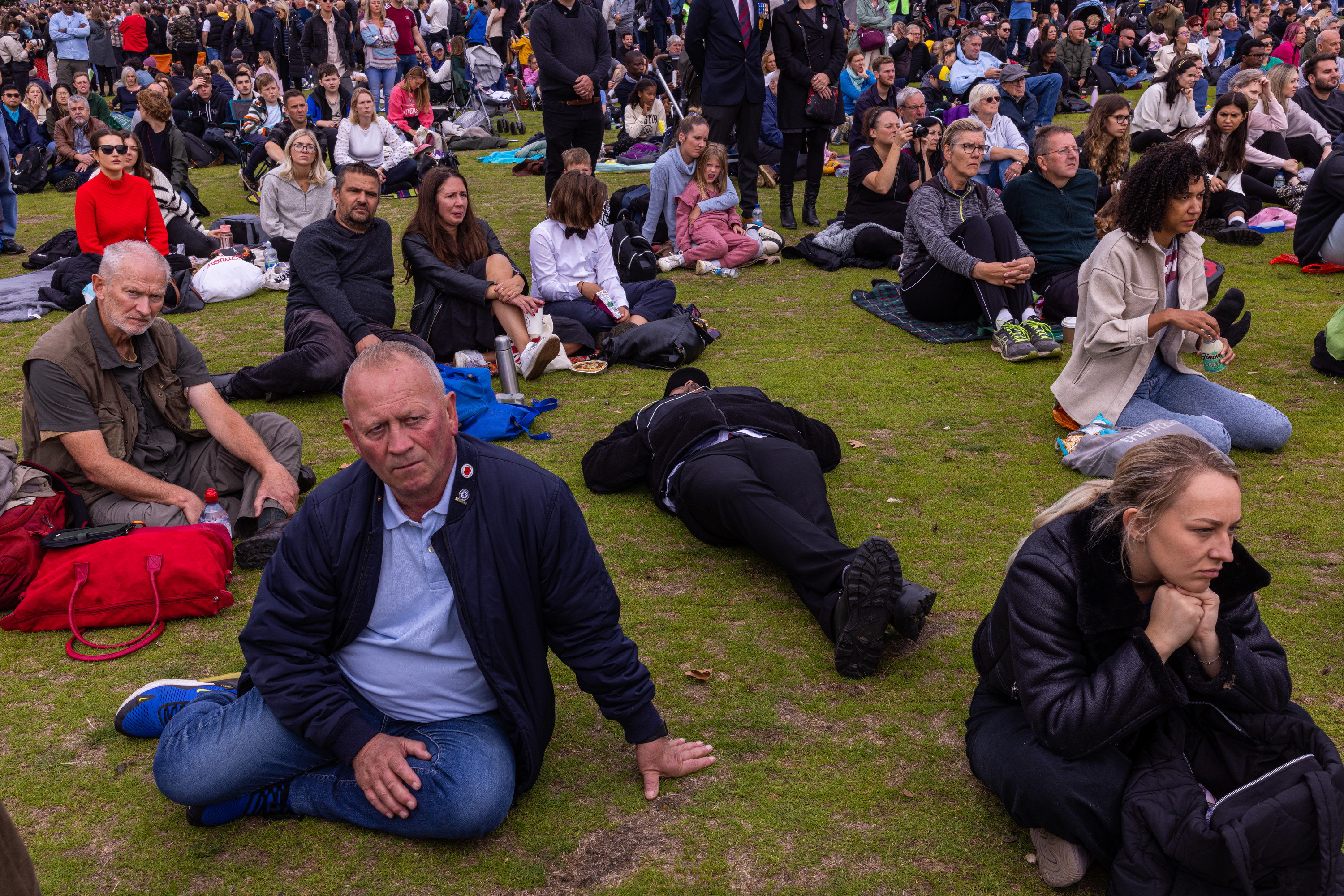 "It wasn't our queen. So I think we have a different relationship, but when Anaïs texted me, 'The Queen is dead.' It was like, What? It was shocking," Esteve said.
"It was like the end of an era," Retouret said.
They told BuzzFeed News they were surprised by how many other young people were also in attendance and how transcendent the experience turned out to be.
"We saw a lot of young people, and I was just telling Anaïs that it was really weird the fact that all these people were gathering in one place, at the same moment, from so many different countries and being able to say years later, 'I was there,'" the 25-year-old said.
Others watched the funeral as if it was the latest blockbuster.
Cheryl Whitney prebooked herself a ticket for a sold-out screening at Vue, one of Britain's movie theater chains.
She knew she wanted to mark the death of the Queen, in part inspired by her mother who had attended Princess Diana's funeral in 1997.
Initially, she'd planned to head down to Buckingham Palace and the Mall, "because we wanted to see the politicians and dignitaries attending the funeral," the 25-year-old from South London said.
"With so many people attending, it was looking very crowded, and we know we'd miss out on a majority of the funeral if we're just standing in the crowd," Whitney said.
Then she heard that the movie theater was opening itself to members of the public who wanted to watch the funeral on the big screen and in the comforts of its recliner chairs. The screening was free of charge — the only condition was that popcorn would not be served.
"So we saw that there was an opportunity to watch it at the cinema with everybody else," she continued. "So we said, 'Why not?' Let's just go ahead and at least be in Central London where the action is happening."
Despite the casual setting, Whitney insisted on dressing the part and wore formal black attire for her movie theater visit, as a sign of respect.
"It's a royal funeral, so you need to dress for a royal occasion," Whitney said. "That's why I'm wearing my fascinator, I've got my auntie heels on and I've got some flowers in my hand to go and lay at Buckingham Palace after the funeral."
Upstairs, in one of Mayfair's oldest reconstructed taverns, some 30 patrons gathered in a quiet room for a somber setting.
Attendees sipped their pints and snacked on chips, as more patrons who gave up making it to the front lines accepted watching the ceremony in the quietness of Coach & Horses.
"We just couldn't get through, and we'd just end up missing the whole thing," said Lauren Palmer, a 29-year-old who had come from Bristol with her cousin and a friend.
"I don't mind the pub, but it's just when you have your heart set on experiencing it a certain way, it can feel like a bit of a downer, but I'm going to get myself a drink and have a seat," Palmer told BuzzFeed News.
As people filed out of watch parties across the city, attempting to find their way out of the logistical maze created by temporary barricades and roadblocks, the few pubs that chose to remain open were rewarded with heaves of patrons who found their way in for post-funeral drinks.
Friends Sandra and Tracy, who asked not to give their surnames for privacy reasons, had set out at 4 a.m. to travel down from Yorkshire to London because they wanted to witness the Queen's final farewell.
Both women were given the middle name "Elizabeth" in honor of the late monarch, and felt connected to her legacy.
"We just felt like we had to be here," Tracy said. "We were hoping to see part of the procession, but we couldn't get to it, so we joined everyone in the park and it's just been lovely. It's been such a good atmosphere."
The day had been worth the early morning, said Sandra, who added that their goodbyes weren't quite finished yet.
"I think once we lay some flowers for the Queen, we're going to find somewhere nice and raise a toast," Sandra said. "Yes, I think that would be lovely."