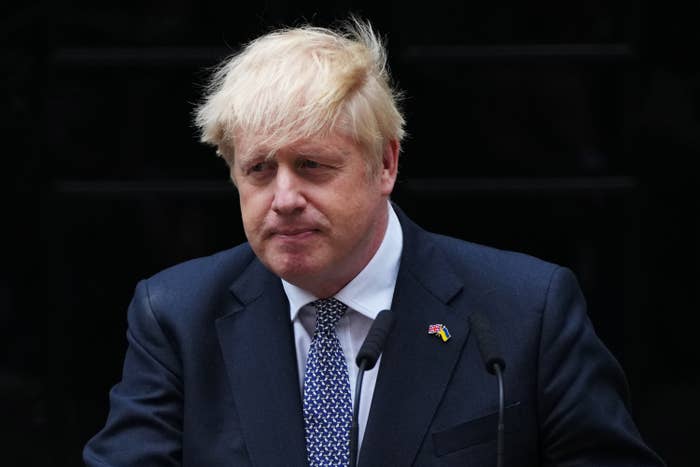 British Prime Minister Boris Johnson has resigned, after a shocking few days of UK politics that saw a mass exodus of more than 50 members of Parliament who declared they had lost faith in the conservative leadership.
Defiant until the end, Johnson agreed to step down as head of the Conservative Party but intends to remain as prime minister in a caretaker role until a new leader is selected in October. In the UK, the prime minister is chosen by members of Parliament electing the leader of their party.
In his address to the nation, Johnson told the public that in politics "no one is remotely indispensable."
"The reason I have fought so hard in the last few days to continue to deliver that mandate in person was not just because I wanted to do so but because I felt it was my job, my duty, my obligation to you to continue to do what we promised in 2019," Johnson said, standing outside the steps of 10 Downing Street.
Johnson has always been a controversial figure. After eight years as mayor of London, he led the campaign for Brexit.
He succeeded Theresa May in becoming prime minister in July 2019 after winning the party contest and had his leadership bolstered by a historic landslide general election victory just five months after that.
Johnson's tenure as prime minister has been marked by a dramatic rise and subsequent fall in popularity with controversy after controversy, including hosting parties at his office that breached lockdown rules during the peak of the pandemic and for which he received a police fine.
The 58-year-old conceded that he had been unsuccessful in convincing his colleagues to back his leadership and blamed the power of "Westminster herd instinct" as the driving force behind his downfall.
Johnson was confronted last night by senior members of Parliament who called for him to step down after more than 50 resignations from within the party in recent days, including the chancellor of the exchequer (the third-highest political role in the country), and the secretary of state for health and social care.
Dissent in the party was ignited by the revelation that Johnson was aware of misconduct complaints against former Conservative MP Chris Pincher, who he promoted to a government role, a decision Johnson now says "was the wrong thing to do."

Fresh allegations of sexual misconduct against Pincher renewed scrutiny of Johnson's handling of the complaint and called into question the integrity of the party.
The former mayor of London appeared to barely ward off a challenge to his leadership from within the party when he won a confidence vote last month, with 148 of his MPs voting against him when only a few dozen had been expected to do so.
Newly appointed Chancellor Nadhim Zahawi called for Johnson's resignation just days after the prime minister had promoted him.

"This is not sustainable and it will only get worse: for you, for the Conservative Party, and most importantly of all the country. You must do the right thing and go now," Zahawi wrote in a letter posted on Twitter.
"Our brilliant and Darwinian system will produce another leader, equally committed to taking this country forward through tough times," said Johnson, who loosely laid out his plans of succession to the dismay of critics who have called for his immediate resignation as prime minister.
Former chief adviser and political strategist Dominic Cummings warned that Johnson would cause "carnage" if he was not removed today.
Instead, Johnson has forged ahead by installing an entirely new Cabinet and pressing on with his intention to lead the country until a party leader is selected and in place at the Conservative conference in October.

"I want you to know how sad I am to be giving up the best job in the world, but them's the breaks," Johnson said.