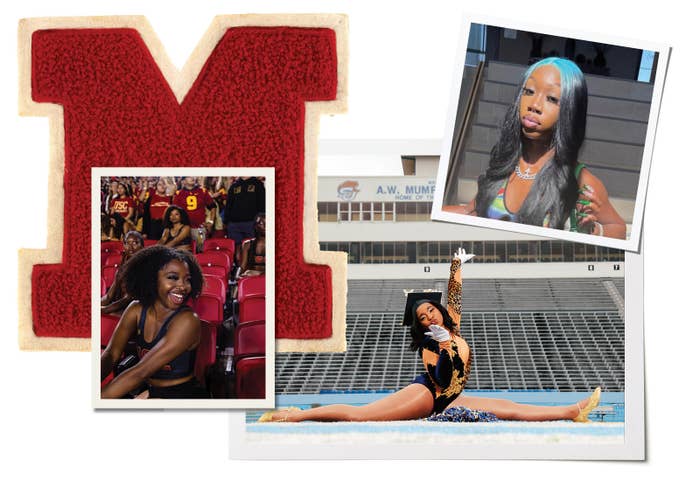 When Jordyn Williams created the "No Love" challenge, she didn't intend to create a viral TikTok trend harking back to the "dancing app" days — she simply wanted to feel good again.
The 19-year-old from Birmingham, Alabama, was struggling with poor mental health. Williams took a break from school to focus on her other passions, content creation and getting better.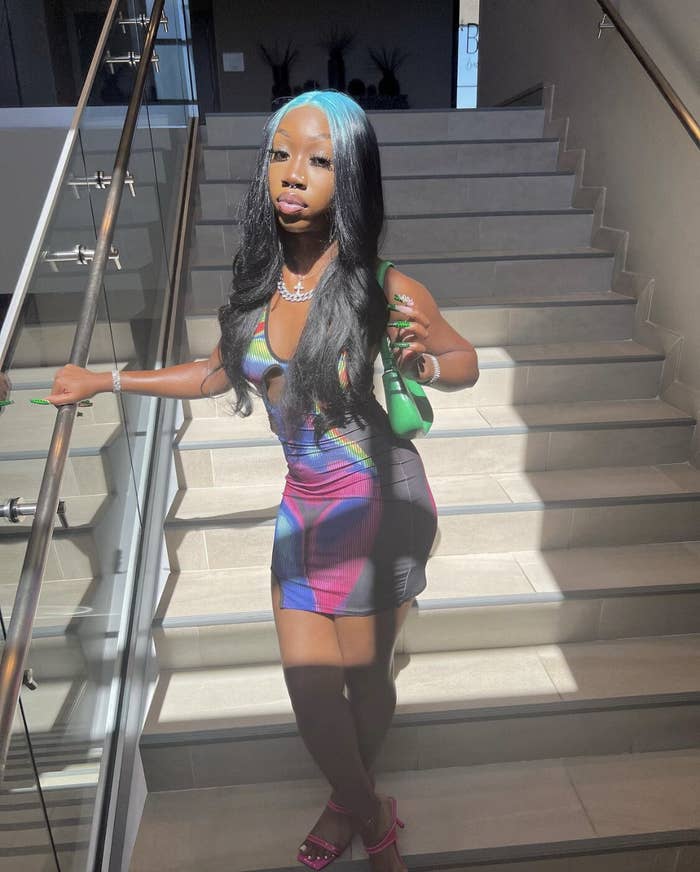 "I was trying to surround myself and listen to things that made me feel better and put positivity into me," she told BuzzFeed News. "When I heard the song, I don't know what it was; I just started dancing."
The song in question is "No Love" from fellow Alabama native and rapper J.K. Mac, which is currently climbing Billboard's R&B/Hip-Hop charts. It's currently sitting at No. 33, up five places from last week. The track samples Pattie LaBelle's 1991 single "Somebody Loves You Baby."
"I kind of let my emotions move with the lyrics, and I tried to express myself through the moves," Williams said. She first started dance class at 3 years old and started majorette — a distinctly southern Black style of dance characterized by graceful fluid movements, sharp choreography, and a commanding strut — in high school, spending four years as a dancer on her school's majorette team. Her "No Love" dance drew on those majorette roots.
"It wasn't planned. I just set the phone down," she said, "and I just danced, and I felt really good afterward because I was crying before."
She posted the first take to TikTok on Nov. 3 and followed up with a tutorial 10 days later, helping to kick off a majorette revival on the social media app.
From the Golden Girls of Alcorn State to the Dancing Dolls of Southern University and A&M College, Louisiana, the legacy of this dance style took over TikTok when "No Love" went viral. The challenge has racked up 28 million views on TikTok and an additional 42 million views for those tagging #majorettechallenge.
As Frederick McKindra wrote for BuzzFeed News, the rich heritage of the style of majorette dance features all-women dance troupes that "combined the energy of the high-step marching style of Black college bands with lyrical, West African, jazz, contemporary, and hip-hop choreography."
Williams's routine features several signature majorette moves woven together with a Southern style that's equal parts strong and sensual. Her tutorial has allowed the everyday novice to participate in a dance style with roots deep in Black culture, and the creator couldn't be happier about its impact.
"It feels great, not only for me, but I feel like it's giving exposure to our culture and what we do on a regular basis," Williams said.
Celebrity participants in the challenge have included Bel-Air star Coco Jones, influencer Jayda Wayda, and rapper Latto, who have shared their performances on TikTok.
Majorette dancing differs significantly from cheerleading in its fluidity compared to cheer's stiffer and firmer movements.
"A term that we use in the Black community is 'milking,'" Williams said. "You just look real smooth, and it comes easy for you. They call that milking. So I feel like it's the difference because you don't want to look stiff or hard when you're dancing. You want everything to flow."
Beyond the "No Love" challenge, middle America had a weekly front-row seat to the world of majorette dancing back in 2014, when Lifetime aired Bring It!, a reality show following Coach Dianna Williams and her Dancing Dolls as they prepared for stand battles, a subgenre of majorette dance.
The series made stars out of its young cast, including fan favorite Camryn Harris, who is still a performer today. Fan accounts dedicated to following Harris's career and creating viral fan cam edits of her performances have hundreds of thousands of followers on TikTok.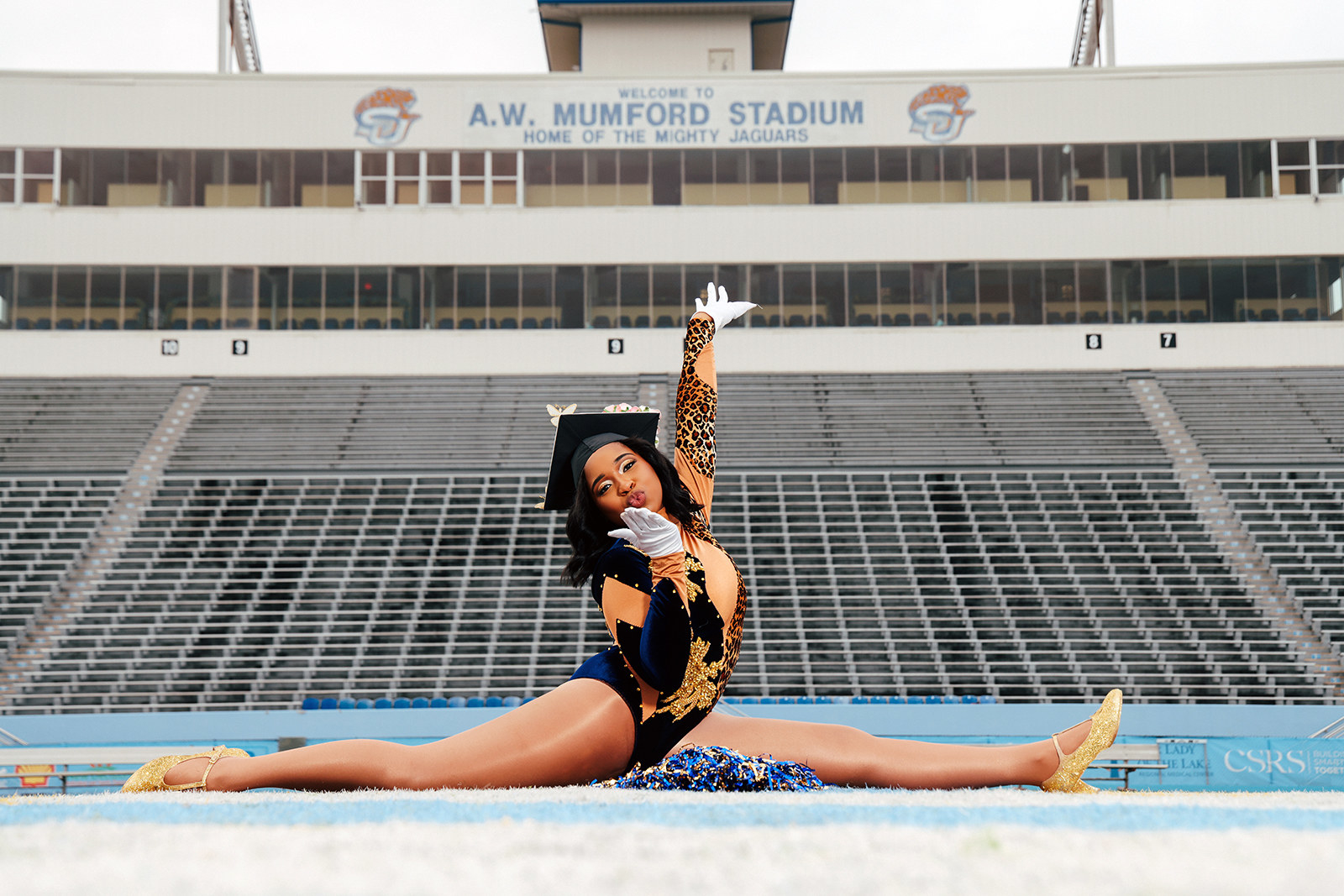 The 22-year-old from Jackson, Mississippi, applauded the challenge for its fun and inclusive appeal and what she considers to be the essence of majorette dance.
"It's not just the dance where you have to be perfect; it's the dance you can do to feel good and feel comfortable," she said.
Harris, who recently graduated from Southern University and A&M College, where she was part of the Dancing Dolls, is excited by the rising profile of majorette in the world of dance, where she believes that the style is wholly in a lane of its own.
"You really can't put it in a box; majorette is really just like a gumbo pot of it all," she said. "There's certain types of moves that you may see in a majorette routine you don't see in a ballet class, a jazz class, or a tap class. It's something people may even look at as almost provocative sometimes, but it's certainly not the case; it's literally just another expression of dance."
The increasing popularity and visibility of the dance style on social media means that she no longer has to explain majorette culture.
"A few years ago, you could say you're a majorette, and people would look at you like, 'what is that?'" Harris said. "But now people really be like, 'Oh, okay.' They have some type of idea.
"I'm just glad that it's finally getting more recognition, which it really deserves."
With the dance style's widening audience, passionate debates around gatekeeping the art form have begun on college campuses.
Princess Isis Lang, a student at the University of Southern California, made history last year when she launched the Cardinal Divas of USC, the first majorette team at a predominantly white institution (PWI).
"I looked at all the dance teams and cheer teams that they had at USC, and there was always just one token Black girl," Lang told BuzzFeed News. The alienating feeling of not finding somewhere to channel her talents was one that she couldn't ignore.
"I knew that if I joined the teams, I would be changing who I am, and that's not what I believe in at all."
Instead, Lang, who first experienced majorette dance in the third grade and grew up watching figures like Harris on Bring It!, shared that she was encouraged by her mother to pursue the ambitious plan to bring the style to Los Angeles, a city that has no HBCUs. She put the call out for like-minded women interested in joining her team, and made history.
A clip of their inaugural performance posted by Lang went viral with 3.2 million views but instantly divided sections of Black Twitter.
"Proud of you, Sis! Folks are going to bite our style regardless of whether we try to keep it to ourselves or not. You carved out a special place at your school and your name will always be linked to it. Congratulations!" wrote #OscarsSoWhite creator April Reign.
While some applauded Lang for daring to create space for her and fellow Black women at a (PWI), others criticized the decision, describing it as an affront to historically Black colleges and universities, where majorettes are a long-standing tradition.
Other critics warned that by exposing the style and culture to a whiter, more mainstream audience, appropriation was likely to follow.
"A few years from now when this becomes a staple at PWIs and white girls are active participants, you people will start to sing a different tune. Not everything needs to have general/wider acceptance," one Twitter user wrote.
Harris believes that the backlash directed toward Lang and the Cardinal Divas was likely rooted in frustration over the amount of media attention it generated, coupled with the challenges faced by the average HBCU majorette dance line. They're systemically underfunded, face threats of racial violence, and, just like Black content creators online, worry that their creative output will be appropriated by non-Black audiences.
Lang called the criticisms "mind-boggling" and refused to let them deter her from making her mark, especially amid conversations about racial justice on college campuses.
"We're having all of these courses and talks around diversity, inclusion, and equity, and I did not see any of that being showcased," she said. "So this is my way of not just talking about it, but actually doing something about it and making room for us because I know that if I felt like this, there was another Black girl on campus that was also gonna feel like this."
And step by step, things are changing. Williams was recruited to perform in the official video for Mac's single, which premiered on YouTube two weeks ago. It capitalizes on the virality of the dance and ensures that she would be credited as the creator, a challenge Black dancers once struggled to overcome on TikTok, where the algorithm would erase them altogether. In contrast, white creators were pushed to the forefront — think of Addison Rae performing dance challenges on Jimmy Kimmel.
"I'm very, very thankful for the support and the credit that I'm getting from the people who are mentioning me because it's been out a little minute, and a lot of people still don't know I'm the creator," Williams said.
The issues are deeper than dance. Majorette is spiritual, explained Lang, which is why she is relentless in making space for it wherever she goes.
"You're not just using your body; you're using your soul," she said. "People feel when you're dancing, and I feel like that's one of the differences between majorette and every other style of dance." ●