Black creators say they were excluded from a TikTok event for Black History Month, which featured rapper Nicki Minaj and was dominated by non-Black voices.
While some creators took direct issue with the non-Black TikTokers who were present at the event held on Zoom on Feb. 8 and accused them of monopolizing the space, others saved their criticisms for the platform itself.
"I don't see how inviting a celebrity or creating an event last minute and sending the invite to people who aren't Black makes sense for a Black History Month event," said creator Erick Louis, who has just under 1 million followers on TikTok. He told BuzzFeed News that he was not invited to the meetup.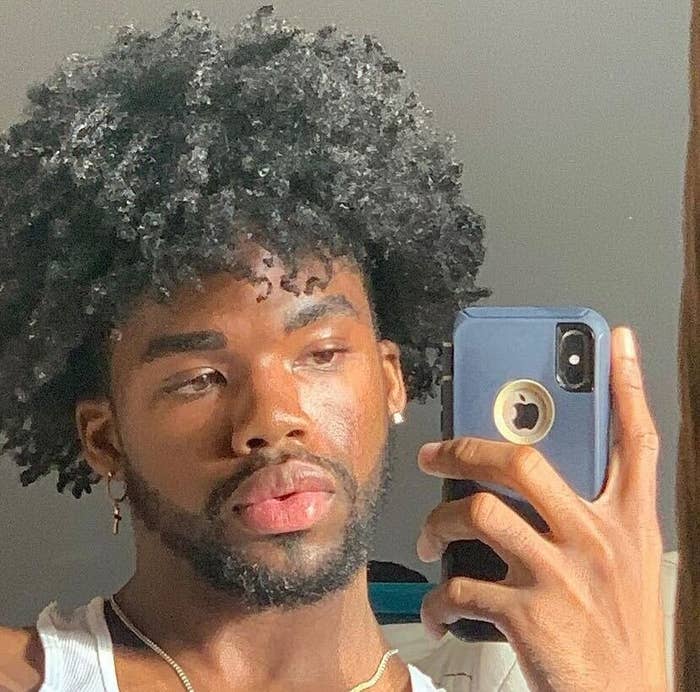 "I feel like there's no due diligence and really catering to the Black creators on their app even when it comes to something as simple as setting up an event, paying respect to the culture, the architects, and the people who run the trends," he said.
TikTok had billed the event as "Black History Month Creator Meet Up x Nicki Minaj," according to emails shown in a TikTok by creator Dessy Joseph. "We are kicking off Black History Month with an exclusive virtual TikTok Creator Meet Up with a very special musical guest," the calendar invite read.
Those in attendance said it missed the mark. Joseph recounted her experience to her 636,000 followers on TikTok, where she alleged that the capacity for the meetup was approximately 300 participants and that some Black creators were not given a link to join for up to 10 minutes after the event started at 6 p.m.
"When we finally did get in, it was giving very 2% Black, honestly," she said in a TikTok. "You also had non-Black people asking Nicki to say their name and shoutout."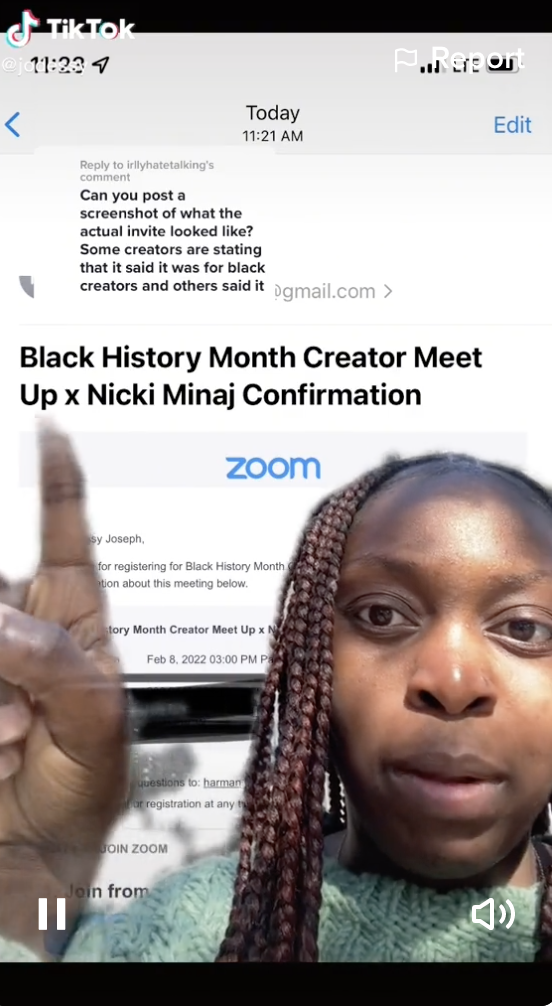 "Black creators with millions of followers didn't receive links till 6:10, weren't prioritized, weren't given questions, nothing," Joseph said in another TikTok.
"When people did get in, they did see a screen full of not-Black faces," she said.
Others posted their frustrations on Twitter. "So @tiktok held an 'exclusive Black History Month Zoom' with @NICKIMINAJ for us black creators but gave spots to NON BLACK creators over black creators who had received the invite AND then let the majority of questions for Nicki come from NON BLACK CREATORS. Make it make sense," TikTok creator Noah Hais tweeted. Hais's TikTok account, @miloandnoah, has over 400,000 followers.
In an apology note that TikTok sent to the creators who had been invited, the company cited "extensive technical issues with production" as the reason why some guests struggled to access the conversation. The email also clarified that the invite went out to a broad community of creators.
"The meet-up was open to our collective community of creators — including #BlackTikTok #CasaTikTok, #LearnOnTikTok, and more," said the email seen by BuzzFeed News. "On behalf of the TikTok creator team, we apologize for the confusion and negative experience, as this was intended to be an opportunity for fans to connect with Nicki in a unique setting to celebrate her new music."
The company acknowledged the frustrations and promised to assess what changes needed to be made to avoid this from happening again.
TikTok has routinely been criticized by Black creators for failing to properly address issues, such as censorship and shadow bans, which people like Louis say they're still victims of to this day.
Louis, a 22-year-old from Florida, has been openly critical of the platform and was at the forefront of a demonstration last year that saw Black creators refusing to create and participate in a dance challenge for Megan Thee Stallion's "Thot Shit."
The protest showed that the platform relies heavily on Black creators' choreography going viral.
And now the treatment of Black creators during Black History Month event shows that the platform hasn't changed, Louis said.
When asked what the company needed to do to better accommodate its Black creators, he said it needs to do "something as simple as making sure that this space caters to them in a way where they feel safe, comfortable, they are given the space to talk and voice their feelings or concerns or simply their joy or their excitement to be there. They dropped the ball."
While TikTok has provided a major springboard to catapult to stardom some of its white, nondisabled creators from already affluent backgrounds, Black and brown creators have often found themselves unable to duplicate the same levels of success.

The latest Forbes list of TikTok's highest-paid stars tipped for major things in 2022 didn't include a single creator of color, despite Khaby Lame being the platform's second most-followed account.
Minaj appeared to respond to the outcry of the Black History Month event during an Instagram Live in which she told creators that she heard them "loud and clear."
"I heard what y'all were saying, and let me see if I can schedule something else for you guys," she said.