The Washington Redskins Will Review Their Team Name Amid Pressure From Investors
"Want to really stand for racial justice? Change your name."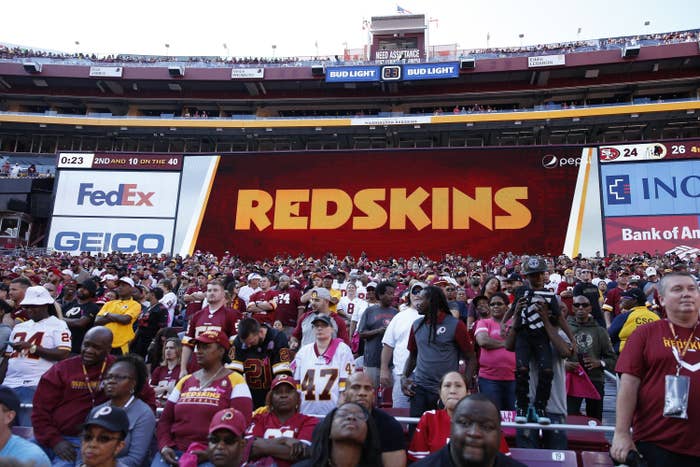 The Washington Redskins are considering a change to their long-standing controversial name amid mounting pressure from financial backers and continued anti-racism protests around the country.
In a statement to BuzzFeed News, the NFL franchise confirmed the launch of a review into the name with the intention of formalizing discussions that it said had already been underway in recent weeks following "feedback" from the community.
"This process allows the team to take into account not only the proud tradition and history of the franchise but also input from our alumni, the organization, sponsors, the National Football League and the local community it is proud to represent on and off the field," said Dan Snyder, the owner of the team.
Head coach Ron Rivera appeared to have changed his stance on the debate describing the issue as one of "personal importance" — after just days ago dismissing the conversation as a "discussion for another time."

In the statement, Rivera added: "I look forward to working closely with Dan Snyder to make sure we continue the mission of honoring and supporting Native Americans and our Military."
NFL Commissioner Roger Goodell has backed the review. In a statement, he said: "In the last few weeks, we have had ongoing discussions with Dan, and we are supportive of this important step."
Previously, Snyder had emphatically declared that a name change would never be on the table. But the announcement of a review comes a week after 87 investment firms and shareholders wrote letters to various sponsors — including FedEx, PepsiCo, and Nike — calling on the companies to withdraw support for the Washington team, according to Adweek.
FedEx, which has its brand name on the team's stadium, was the first of its major backers to respond and call for a name change. Nike appears to have acted by removing all of the team's apparel from its online store, Bleacher Report reported.
As the racial reckoning sweeping the country ignited by the death of George Floyd continued, the team participated in #BlackoutTuesday by posting a black square as a call for racial justice.
The gesture was immediately criticized by those who pointed to its name and logo as being racially offensive to Native Americans and how campaigns for a name change spearheaded by this community had been dismissed for decades.
Rep. Alexandria Ocasio-Cortez wrote: "Want to really stand for racial justice? Change your name."
It is believed that a name change is inevitable for the team who recently removed its founder, George Preston Marshall, from its Ring of Fame and also took down a monument honoring him from its previous home, RFK stadium.