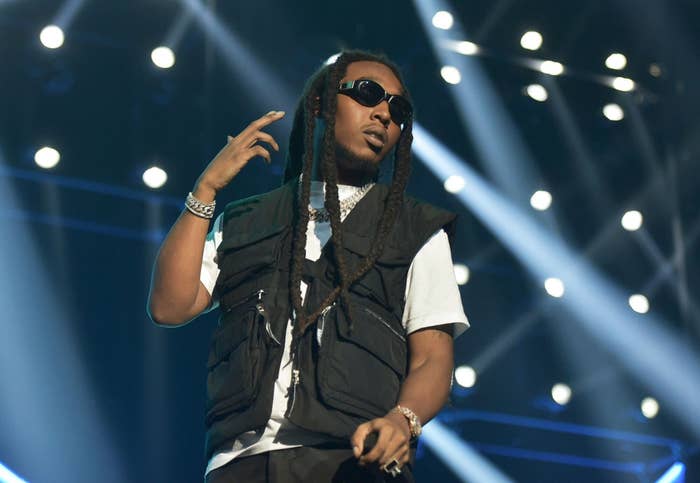 Atlanta performer Takeoff, best known for being one-third of the rap group Migos, has been shot and killed, police said in a news conference Tuesday afternoon, but there have been no charges or arrests made yet.
Police were called at 2:34 a.m. Tuesday morning to 810 Billiards and Bowling in downtown Houston, police Sgt. Michael Arrington said in a news conference. After a large group of people gathered outside the front door of the bowling alley, an argument broke out, and a shooting occurred. Takeoff, whose real name is Kirshnik Khari Ball, was shot and killed. A 23-year-old man and a 24-year-old woman were also shot, however, they are expected to recover.

Police said at least two firearms were used in the shooting, but they are still investigating whether a dice game was the center of the argument, something that was previously reported.
Roughly 40 people were at the party and they fled the scene, so authorities are still trying to gather evidence, Houston Police Chief Troy Finner said. He urged witnesses at the party to come forward.

"What if it was your brother?" Finner said. "What if it was your son? You would want somebody to step up, so please step up, get the information to us, so we can bring some closure to this family who is hurting right now."
Houston Mayor Sylvester Turner also urged witnesses to come forward.

"We will solve this particular case," Turner said. "We will find the shooters, but information provided will help to expedite that."
Turner extended his condolences to Takeoff's family. He said he is concerned the the age group of 16 to 30 and that there are too many young men of color killing one another.
"We do need to have that conversation," he said. "We do need to deal with it head-on."
TMZ first reported that Takeoff was the victim, and then Rolling Stone confirmed the news.
Graphic videos and photos circulating on social media show a person who looks like Quavo attempting to help an unresponsive body.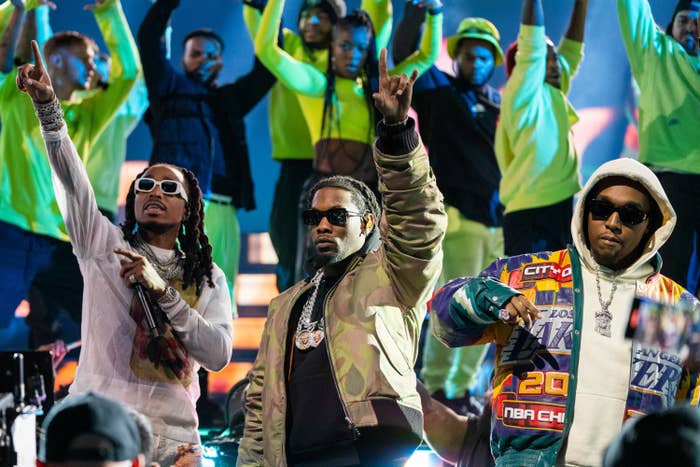 Born in 1994, Ball was the youngest member of the chart-topping trio who had their breakthrough moment with their 2013 single "Versace."
The group, which consisted of Ball, his uncle Quavo, and cousin Offset, first came together in 2008 under the name Polo Club, before later adopting the name Migos. The trio appeared to disband earlier this year when it was revealed that both Offset and his wife, Cardi B, had unfollowed Takeoff and Quavo on social media.
Shortly after, the pair announced that they would be continuing as a duo, under the name "Unc & Phew," a nod to their family ties as uncle and nephew. Their debut project, Only Built for Infinity Links, was released last month and billed as "good Migos music."
As a solo act, Ball had previously released a studio album in 2018 titled The Last Rocket, which was well received.
In a Pitchfork review, he was described as the "least attention-hungry member" of the group, but "also its most talented rapper," an opinion shared by his fellow group members.
The news of his death has prompted an outpouring of tributes.
"Takeoff was always the most regular coolest dude ..never saw him being anything but cool and friendly ..a lovely man," Hot 97 radio host Peter Rosenberg tweeted.
"Really tired of these moments happening so often," he added.
"Damn takeoff," wrote Yung Miami of City Girls, with a string of broken heart emojis.
Turner said homicides are down 11% in Houston compared to last year. Gun violence in the US is a public health crisis, according to the American Public Health Association. It is a leading cause of premature death and is responsible for more than 38,000 deaths annually. As of Nov. 1, at least 37,141 people have died from gun violence this year, and about 17,000 of those deaths were homicides.