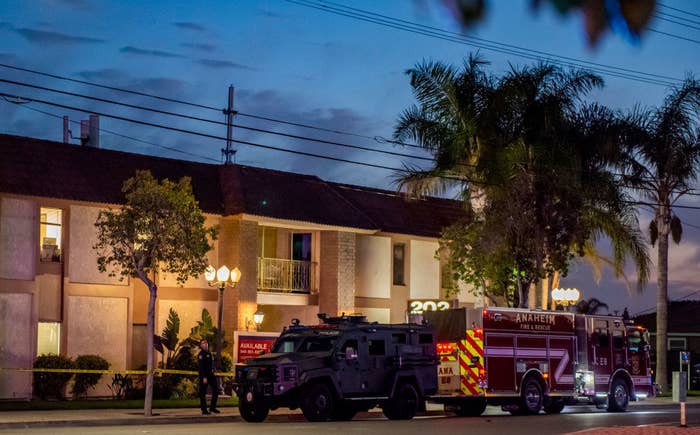 Four people — including a 9-year-old boy — were killed in a shooting in Orange, California, on Wednesday. A woman identified as a fifth victim was hospitalized.

Police first received a report of shots fired around 5:30 p.m. at a two-story business complex, Lt. Jennifer Amat, a spokesperson for the Orange Police Department, told reporters.
When officers arrived at the scene, they were initially unable to enter the building courtyard because the gates on both the north and south sides had been locked from the inside with a bicycle-type cable lock, Amat said. Two officers exchanged gunfire with the suspect from outside the gates.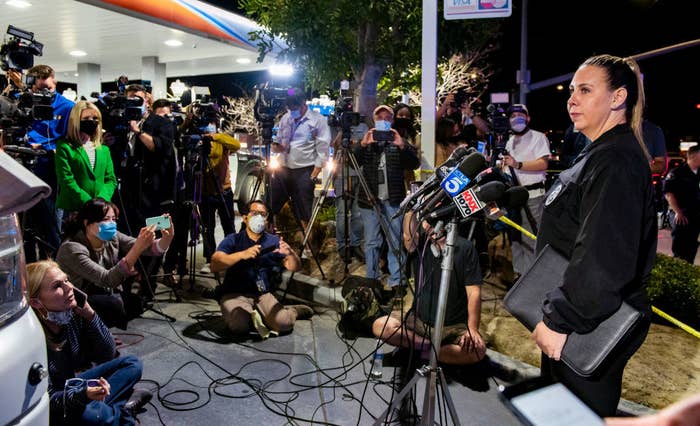 After forcing entry into the courtyard, officers found the suspect, who had sustained a gunshot wound, and two victims, including the 9-year-old boy, who was dead. An adult woman, who had also been shot, was found with the boy and taken to a local hospital, as was the suspect. Both the victim and the suspect remained in critical condition as of Thursday morning, Amat said.
During a subsequent search of the complex, officers located three additional victims — two adult women and one adult man — who were all deceased. Those three victims were located in suites that are part of Unified Homes, a real estate company that specializes in dealing mobile homes. No other businesses at the complex were affected by the shooting, Amat said.
Amat said officials recovered a semiautomatic handgun as well as a backpack, which they believe belonged to the suspect, containing pepper spray, handcuffs, and ammunition.
The suspect, identified as Aminadab Gaxiola Gonzalez, 44, of Fullerton, California, is believed to have known all the victims. Amat said police believe the preliminary motive is related to a business and personal relationship between the suspect and the victims.

"This was not a random act of violence," she told reporters during a briefing Thursday morning.
She added that the child is believed to be the son of one of the victims who worked at the business. Officials believe the woman victim who was found in the courtyard with the boy was his mother, though that relationship is still under investigation.
"It appears that a little boy died in his mother's arms as she was trying to save him during this horrific massacre," Orange County District Attorney Todd Spitzer said.
Family members identified the victims on GoFundMe as Luis Tovar, 50, his daughter Genevieve Raygoza, 28, Leticia Solis, and 9-year-old Matthew Farias. The boy's mother, Blanca Tamayo, was identified as the surviving victim who is being treated at the hospital.
"We are still in shock and trying to fathom and grasp our heads around this tragic event," the GoFundMe said. "Please keep all of us affected in your prayers, including our loved one who is still fighting for her life in critical condition."
Spitzer said that because there were multiple victims the suspect is eligible for the death penalty. He added that his office will also be evaluating whether the suspect was lying in wait, another circumstance that would make him eligible for death, by apparently locking the courtyard gates.

Gonzalez has been charged with four counts of murder, one count of attempted murder, and two counts of attempted murder of a police officer, the district attorney's office announced Friday.
"It is a horrible, horrible tragedy that Mr. Gonzalez made a decision to use deadly force to deal with issues he was dealing with, apparently, in his life," Spitzer said. "But he will suffer and face the consequences."

The Orange shooting is being described as the worst in the city in nearly 24 years.

"I can tell you that we haven't had an incident like this in the city of Orange since 1997," Amat said. "It's just such a tragedy for the victims, their families, our community, and our police department."
"I'm deeply saddened by reports of a mass shooting in Orange County, and I'm continuing to keep victims and their loved ones in my thoughts as we continue to learn more. My team and I will continue to monitor the situation closely," Rep. Katie Porter, whose district includes part of Orange, tweeted.

California Gov. Gavin Newsom also tweeted out condolences, calling the shooting "horrifying and heartbreaking."

The incident comes on the heels of mass shootings in Georgia and Colorado in the last two weeks. The Georgia shooting suspect targeted spas and killed eight people, six of whom were Asian. In the Colorado shooting, 10 people were killed at a grocery store.
According to CNN, at least 20 mass shootings have occurred since the one in Georgia on March 16.