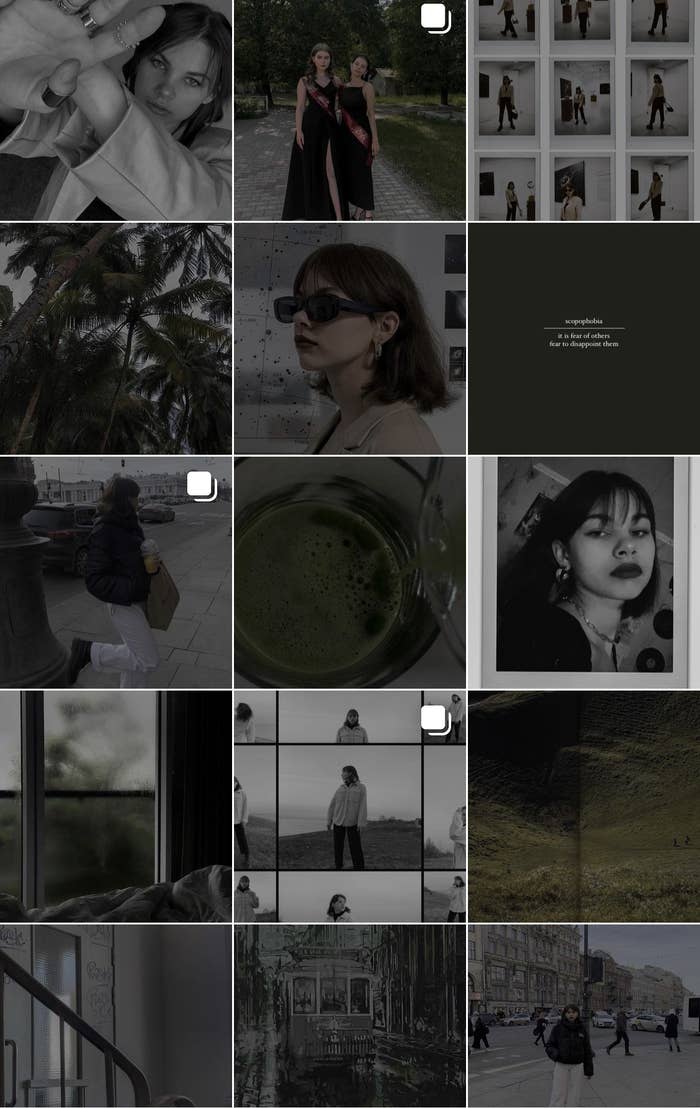 This is an excerpt from Please Like Me, BuzzFeed News' newsletter about how influencers are battling for your attention. You can sign up here.
As someone who prefers their phone brightness low, any activity that requires me to amend it feels disruptive. Yet recently, I've found myself having to up my screen brightness for the simple fact that when I'm scrolling Instagram and TikTok, I can't see the content.
The reason? Low exposure, the latest aesthetic trend that's got creators going dark and me having to work just that little bit harder to take it in.
A search for the term "low exposure" on TikTok has a cumulative 10.7 million views under it, while Pinterest will offer up dimly lit photos with minimal sources of lighting and a search on Twitter will show you sharp feedback from its users. As one Twitter user so eloquently put it, "the low exposure aesthetic is cute but bitch I can't see."
"Low exposure photos are definitely not a new trend; however, minimalism overall seems to be a big theme in 2022," explained Christine Yurie, a social content lead for Later, a social marketing platform, when I reached out to her this week.
Muted tones and minimalism have become increasingly popular aesthetic choices for lifestyle, fashion, and interior design influencers, and Yurie suggests that this time around, the trend could have staying power.
"I think this trend is here to stay, as we're even starting to see creators extending their low exposure feed aesthetic to their Reels and stories," she said.
The trend's popularity has proved lucrative for influencers like Reem Ahmed, @blvckdecor, who said she experienced a surge of followers and engagement off the back of a Reel on Instagram. The short-format video captioned "Winter nights in London" is brief, simple but dark, and arresting.
"I literally did not put any effort into this Reel, at all. I woke up and it had 300K views. I'm like, really? That's crazy for just a Reel. From that Reel I gained a lot of followers," she said.
The 25-year-old, whose content covers interior design, fashion, and lifestyle, points out that she isn't new to the low exposure aesthetic. Her previously monochrome feed has now grown to over 45,000 followers. But now, scrolling through her timeline, Ahmed said that the elements that once made her account distinctive have begun to blur as others jump onto the trend.
"It used to be a rare thing," she said. "Everyone's pages used to look different, and now I'm seeing it everywhere, and it's people that I know live a completely different lifestyle."
The pivot Ahmed is witnessing is something that I've also noticed, watching influencers I've followed for years abandon and archive their previous content in pursuit of a darker, more moodier and minimalist feed tied together with a low exposure finish.
"I feel like it doesn't match a lot of people, but it's become such a big trend that everyone's doing it," she concluded.
Jessica Whitaker, a Seattle-based photographer and educator, believes that the low exposure move could have a correlation with global events over the past two years and the limits on travel that some influencers have had to navigate.
"I wonder if this whole darker, moody aesthetic is almost kind of emulating what we've all been going through as a collective," she said. "It has been a little bit more of a darker time, obviously with everything going on with COVID, but then also just kind of getting more experimental around the house. Because a lot of the things that we're seeing on TikTok with this aesthetic, it's in people's kitchens, it's their iced coffee, it's their day-to-day."
Her assessment of the aesthetic is that lifestyle and fashion influencers are returning to themed Instagram feeds but in a "nonchalant way," with the uniformity of the low exposure technique pulling it all together.
"Back in like 2017, it was a really big deal to everyone to keep a certain colorway and thinking out their images strategically and having the feed aesthetic overall look good, so I think it's almost kind of coming back to that," Whitaker said. "But the best way to tie things in is like bringing exposure down, because then it can kind of almost flatten out the colors in a certain way. It kind of looks effortless, but it looks a lot more cool."
As confirmed by Yurie, the trend appears to be particularly popular in large cities with strong fashion influences — London, Paris, New York.
"It really has a high-fashion look and feel, and looks like your feed is straight out of a magazine," she said.
While it may be one of the trending themes right now, photographer and stylist Jo Joyce isn't entirely convinced of its longevity.
"I don't think it's gonna last at all," the 25-year-old told me.
Jo, as she is known professionally, launched a content creation business during the pandemic, collaborating with influencers on everything from styling to shoot production and photo editing.
The multihyphenate has had more influencers requesting her to give their photos the low exposure finish.
"I think when it was first requested, I was quite shocked actually, because usually my work is very high contrast and bright pictures," Jo said.
"I do have some of the edgier types of influencers go for it and sometimes people that are a bit more reserved as well, because I think it kind of hides them in a way or slowly eases them into influencing and showing themselves," she added.
Similar to Ahmed, Jo drew a correlation between the aesthetic and a rising popularity in Reels and TikToks, and said low exposure can certainly help grow a following. However, she also believes that this trend has its limitations where brand recognition and sponsored content are concerned.
"In terms of getting brand deals and collaborations, I think it's only going to work for the brands that are already going for that vibe," she said, noting that she expects bigger brands to avoid it if it doesn't already fit with their established aesthetic.
Indeed, while brands may tap into the trending conversations of the day, sometimes mimicking the language or participating in the latest meme, it's far riskier for an influencer or small brand, Yurie said. But that doesn't mean some won't try.
"Test out this trend for a few weeks, monitor your comments coming in, and the engagement on these types of photos," Yurie said. "If you're receiving negative feedback and seeing a drop in engagement, then that's probably a sign that this look and feel isn't resonating with your audience or helping sell your product."
Online, the feedback is loud and clear: While the overall aesthetic is visually interesting, taking it in is a challenge.
"I scroll through my Instagram feed — some creator and brand photos have such low exposure that you can barely see what's on your screen," Yurie said. "You definitely want to find a middle ground with exposure here if you're jumping into this trend."
As influencers continue to experiment with this aesthetic, here's to hoping for greater balance and brighter days on the timeline.