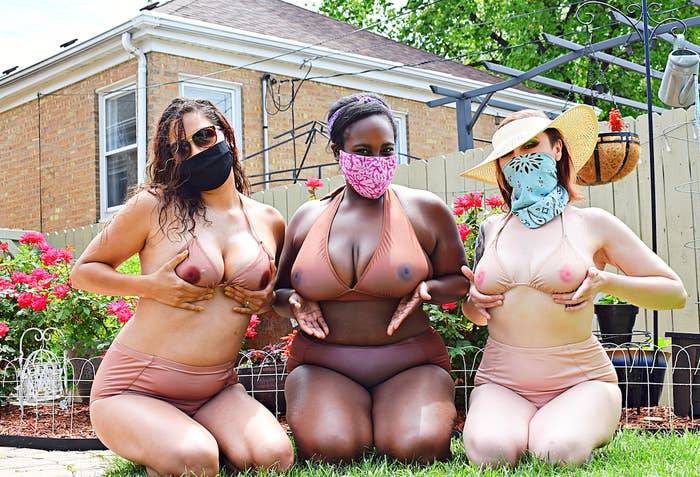 The owner of the TaTa Top, a brand best known for its distinct nipple print bikini, got a barrage of social media notifications after Kylie Jenner rocked a nipple print bikini in a recent Instagram post, with fans assuming that the reality TV star was wearing the small business's design.
"They were in a really positive, supportive way at first," said Linze Rice, who owns the TaTa Top. "Like, 'Wow, she's wearing your top, you guys made it,' and I was like, what? I never saw that order come through."
The bikini Jenner is wearing, with the caption "free the nipple" included with the post, is by French fashion house Jean Paul Gaultier.
Rice published a blog post calling the Jean Paul Gaultier collaboration with stylist Lotta Volkova a "knock-off" of her TaTa tops. Both bikinis feature areolas giving the illusion that the wearer is nude.
The high-end designer two-piece retails for $325 and is available in light and dark skin tones. Rice's TaTa top goes for $34.99 and has multiple skin tones and strap options, while matching bottoms — some of which include an illustration of pubic hair — start at $15.99.
Another difference is that $3 from each TaTa top sold is donated to charity partners, and shoppers are able to choose whether their proceeds go to the Keep a Breast Foundation or the Chicago Women's Health Center.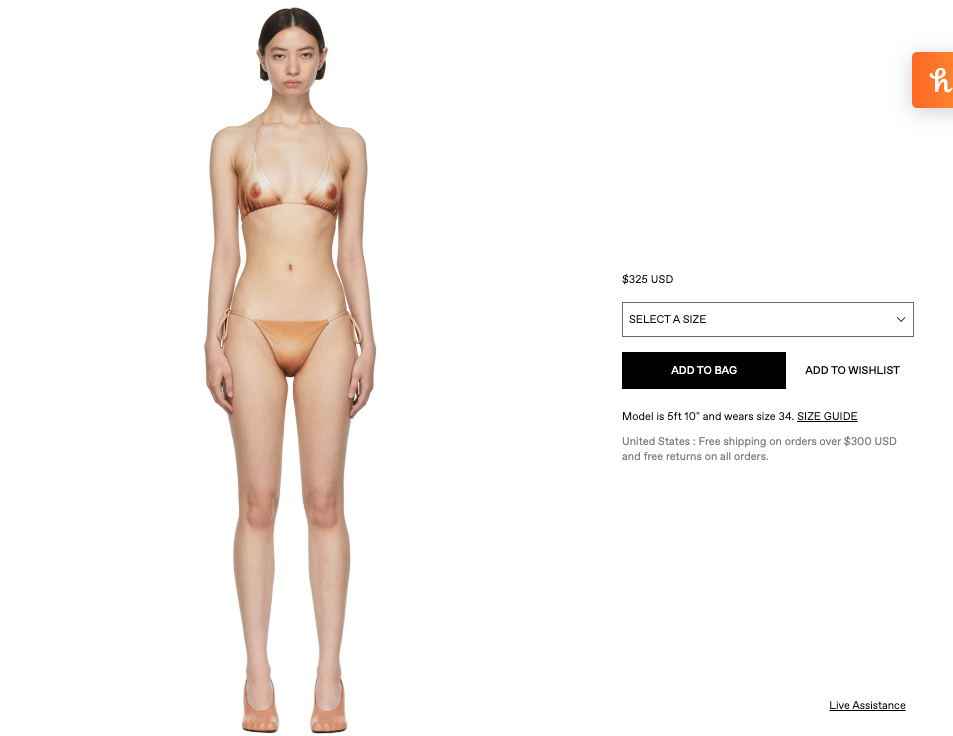 When it became clear that Jenner was not wearing her company's design, Rice said she felt a mixture of "shock and panic and confusion."
"It's hard to not feel defeated," she wrote in a blog post, where she also accused Gaultier of hypocrisy, citing the brand's past criticisms of Kim Kardashian's fragrance bottle for its similarities with Gaultier's fragrance collection.
BuzzFeed News contacted Jean Paul Gaultier and Lotta Volkova for comment but did not receive a response before deadline. The brand has not yet made a public comment in response to the blog post.
"You do kind of expect this sort of thing to a degree — with great ideas come knock-offs (that's why we worked so hard to patent our design back in 2014)," Rice wrote.
Rice provided BuzzFeed News with a copy of a design patent from 2016 and says she is exploring her options, hopeful that there could be a remedy that would not require her to take on a legal battle with a fashion heavyweight.
Fashion copyright is a very messy business — few legal protections exist, fashion trends can mean multiple brands come out with near-identical items at the same time, and it's often in the eye of the beholder if something is similar.
"It really does feel like a David and Goliath dynamic, and I'm just like a regular person living my life, and I'm trying to make a living but also give back and actually do something productive and positive in the world," Rice said.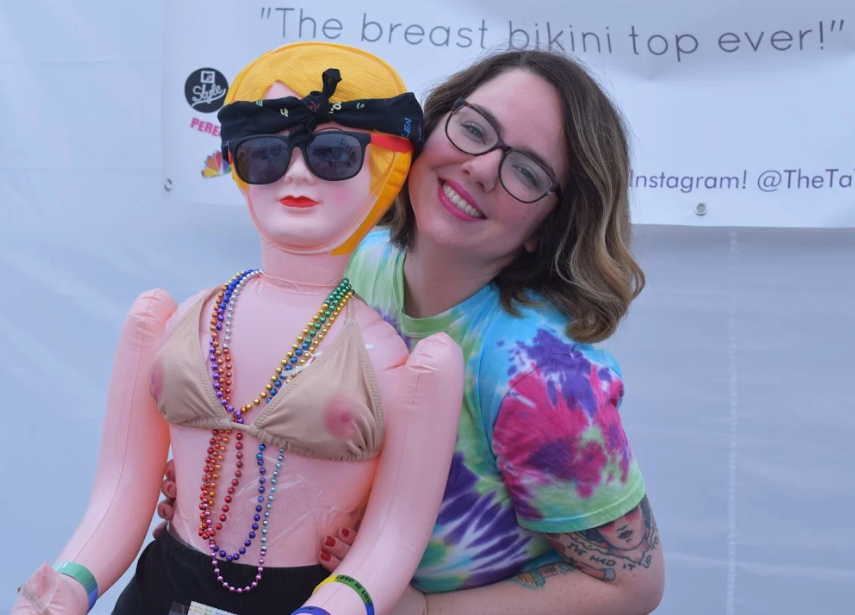 The Chicago-based brand was initially launched in 2014 and created in response to US nudity laws, with most states and cities — New York City being a notable exception — not allowing women to be topless. Four years later, Rice, a former journalist, acquired the business after becoming "enamored" with its social impact. She's been at its helm ever since.
The TaTa top has made over $46,000 in charitable donations, and that's why Rice felt compelled to speak up about her business.
"I do think it's worth it to kind of kick and scream a little bit to defend your business and everything that you stand for," she said. "I really want people to know that when they buy from the TaTa Top, they are supporting a queer-owned business that is using humor to promote body positivity, gender equality, calling out sexism and double standards in the United States in particular when it comes to like nudity laws, which was the impetus for the beginning of this company."