A survivor of the Halloween crowd crush in Korea recalled her experience of the night, which ended in the death of more than 150 people and left several hospitalized with serious injuries, in a series of viral TikToks.
Miri Doe, who is Korean Australian, had made her way to Itaewon, a party district in downtown Seoul, to celebrate the holiday on Oct. 29 when the deadly crowd surge happened.
"I was getting stepped on my head and my chest and the pain was unbearable, that's when I started screaming, 'Please don't step on me,'" she recalled in clips posted on TikTok and filmed from a hospital bed.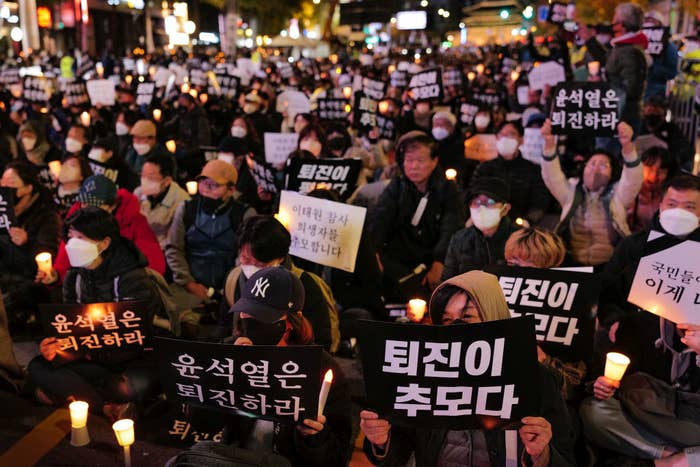 In three parts, Doe recalled the events of that fateful night and the moment she believed she would die.
"I don't know how I am still alive today," Doe said.
She sustained severe kidney and liver damage, broken ribs, and burns.
The aspiring rapper described the crowds that night as "crazy" and "out of control." She was pulled into the crowd and separated from her two friends, who did not survive the crush.
"I really don't know how I survived while my friends couldn't make it that night," she said, tearfully. "And I am genuinely upset and angry that I couldn't help them, that I couldn't protect them, either."
Like every other young person there that night, Doe and her friends were just out to have fun. "I didn't think something like that would happen," she added.
After she was separated from her friends, Doe's night quickly went from bad to worse after she lost her footing and fell on the ground. It was in this position that she believes she obtained a first-degree burn on her head caused by friction with the concrete.
The pain of being trampled prompted a wave of final thoughts, such as wishing she'd eaten something tastier than cheese crackers and grapes at her friend's house if it would end up being her last meal.
Doe believed that she would die in similar circumstances to Poussey Washington of Netflix's Orange Is the New Black. The character, portrayed by Samira Wiley, was famously killed in Season 4 after being restrained by a prison guard who pinned her to the ground by kneeling on her back. She died of suffocation from compression asphyxia.
Doe, however, managed to regain consciousness. She believes she survived because she hadn't yet achieved all that she needed to do.
"I didn't do enough in this world yet, and my mind couldn't accept the fact that I would just leave without releasing my music, without pursuing my dreams, without traveling, because all I did was work," she said.
On Instagram, Doe marked being discharged from the hospital after nearly a month of medical treatment with a post appreciating the outdoors.
"Hospitalization made me realize I should go outside and look at the trees and stuff," she wrote in her caption.
The cause of the crowd surge has yet to be determined, but South Korea's police chief has admitted that the police response on that night was inadequate after it was revealed that 11 calls were made to the country's emergency hotline pleading for support in controlling the crowds.
The tragedy is the deadliest that South Korea has seen in peacetime since a ferry accident in 2014 killed more than 300 people, most of them high school students.