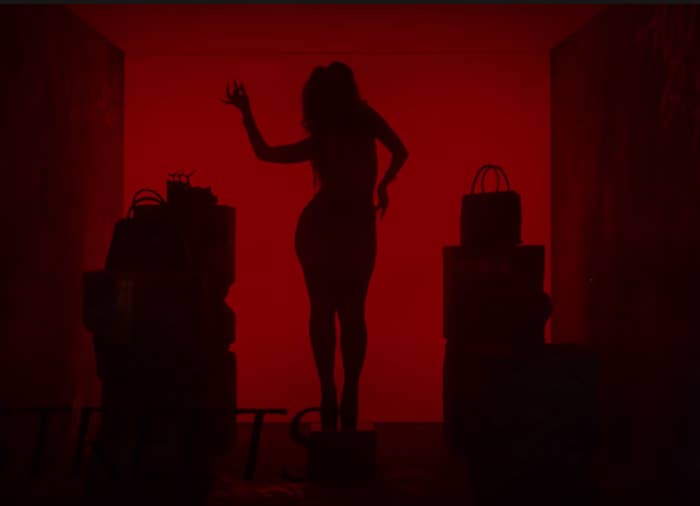 The highly anticipated music video for Doja Cat's viral single "Streets" is out. In it, the performer pays homage to the TikTok silhouette challenge, which has been credited for accelerating the song's popularity.
In the video, the 25-year-old appears in a shop window display and, as the beat drops, the signature red filter associated with the sultry challenge covers the screen, with an outline of her figure taking
The challenge, which drew thousands of submissions, was created by user @yoelise, who uploaded the first version on Jan. 14, breathing new life into a single that was first released in November 2019.
Things turned sour after several accounts and tutorials dedicated to teaching users how to remove the red filter prompted warnings and concerns over how the content could be manipulated in the wrong hands.

This wouldn't be the first example of Doja Cat leaning into the TikTok popularity of her music. In February 2020, her single "Say So" was the sound of a viral dance that swept the platform and came full circle with the choreography featuring in the music video.
The glittering, '70s-themed video also had a special cameo from the challenge creator, TikToker Haley Sharpe.
Never one to be subtle with her visuals, the video directed by Christian Breslauer features Queen Sugar actor Kofi Siriboe as the love interest whose imagination the performer is embedded in.
The singer scales a building before snaring him in a gigantic spider web and the two make a happy home within the confines of a nuclear testing site.
Online, fans have hailed the performer for her ability to tap into trends in a way that feels "organic."

There's also a lot of love for leading man Siriboe.

In conclusion, although a late submission, Doja Cat has won the silhouette challenge.