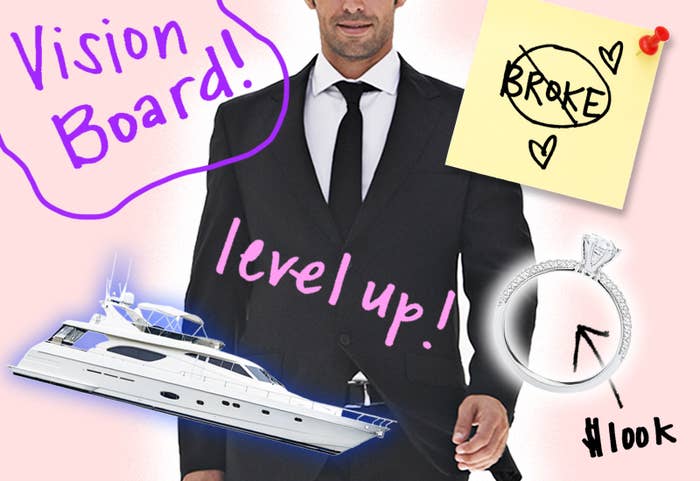 This is an excerpt from Please Like Me, BuzzFeed News' newsletter about how influencers are battling for your attention. You can sign up here.
When May Kalinu, a 25-year-old living in New York, joined TikTok, she initially shared content on how to pursue a career in marketing. But she soon found the area oversaturated and it ultimately didn't resonate with her audience, so she pivoted to making content on dating.
Today, she advertises herself as a "high-value dating and confidence coach for baddies" and charges $150 for dating sessions where she primes her clients — who are mostly cis hetero women — on what it takes to ultimately marry wealthy.
"I've been a dating advice influencer for a little over a year and a dating coach for about three months," she told BuzzFeed News. "I measure each session with a 100% satisfaction guarantee, so I work with each client until they feel they've gotten everything they need."
Kalinu has just under 300,000 followers on TikTok, an audience of mainly women ages 18 to 35, and credits her content on hypergamy — which she says is 75% of her output — for accelerating the growth of her platform.
Hypergamy as a concept isn't particularly new. Ideas around marrying up have existed since the first man decided that his daughter was worth trading for a bag of rice and a small goat. The term, which has largely been applied to heteronormative relationships, first appeared in a 19th-century report on a census in India and is generally defined to mean when a man marries a woman of lower social status, or the woman marries "up," which elevates her position in society.
Today, the term on TikTok has 126 million views while complementary phrases like "high-value woman" (106 million) and "feminine energy" (286 million) are also in regular use.
In times of economic uncertainty, especially, it would be far more convenient to have someone else footing your bills, although I imagine most single adults living alone would be content to have someone to at least share those bills with.
But for some, it's not enough to just be coupled up. This ideology typically pushes for women to strategically position themselves in a way that courts the interest of wealthier men, with the goal of elevating their lifestyles and securing upwardly mobile futures through marriage.
As one of my aunts routinely advises me at family functions after grilling me on when I intend to "settle down," it's not explicitly about marrying for money. But she's a firm believer that you're better off going to places where wealthy people are and finding love in those spaces.
"It is unlikely to be a terribly successful strategy," said Elizabeth Armstrong, a sociology professor at the University of Michigan who was pretty straight to the point in dismantling this idea.
The growing gap in educational attainment — women are enrolling in and graduating college at a higher rate than men — means that for women in the US, the concept of "marrying up" is not actually that prevalent at all, according to Armstrong.
"Demographics are just demographics in the sense that if women are getting more educational credentials than men and are outperforming — and even outearning, in some cases — you can't just conjure men into existence that don't exist," she told BuzzFeed News. "The issue is more about how low to go, and whether to intertwine lives with men who may harm one financially or in other ways."
That cost to educated women was put at a loss of $25,000 a year, with Black women more likely to feel this squeeze. So it isn't surprising that hypergamy content has proved lucrative and found a particular audience among women of color.
The research and the reality show that rich people tend to marry, well, other rich people. Though the data indicates that attempts to strategize your way into a hypergamous relationship are more than likely futile, that hasn't hindered the popularity of this content and the rise of figures building online brands as thought leaders and coaches on the topic.
Kalinu isn't clueless about the changing demographics, but she believes it further emphasizes the need for her service, which she hopes to soon expand into matchmaking.
She predicts the next wave of dating discourse for highly educated and financially independent women will be distinguishing between hypergamous dating and high-value dating, which shifts the focus from the measurable economic gains of a relationship to other qualitative virtues like emotional intelligence and generosity.
"Women will become wealthy, but they can also still date high-value men, even if they don't have more wealth than the woman," she concluded.
Jay, a social media manager from London who runs her own platform called Miss Hyperglam, was inspired by the hypergamy and femininity content she was consuming online, but still felt that there was more to be said, particularly given her experience as a Black woman in the dating world.
"If you're dating heterosexually and you're going to live with a man, we really need to pick the best man for the future that we're trying to create, and usually that's someone on your level or up," she told BuzzFeed News.
Her content is a combination of self-development, which is targeted at encouraging women to invest in themselves, saying no to going 50/50 on bills with men, and embracing their femininity.
Ideas around performing femininity make up one of the fundamental tenets of the hypergamy coaching space, with content telling women how to dress and the dos and don'ts of how to behave. But as Armstrong points out, it just isn't enough.
"Yes, femininity is crucial, but it has to also be backed up with the right education, the right parents, the right friendship group, the right shared experiences, and class similarity all the way down," Armstrong said. "It's always going to be the women who are from wealthy families; the women who don't need to marry up are always going to be better at the presentation."
If there was ever a group that could have a real chance at hypergamy, it is unsurprisingly "very young, very conventionally attractive, class privileged, mostly white women," Armstrong noted.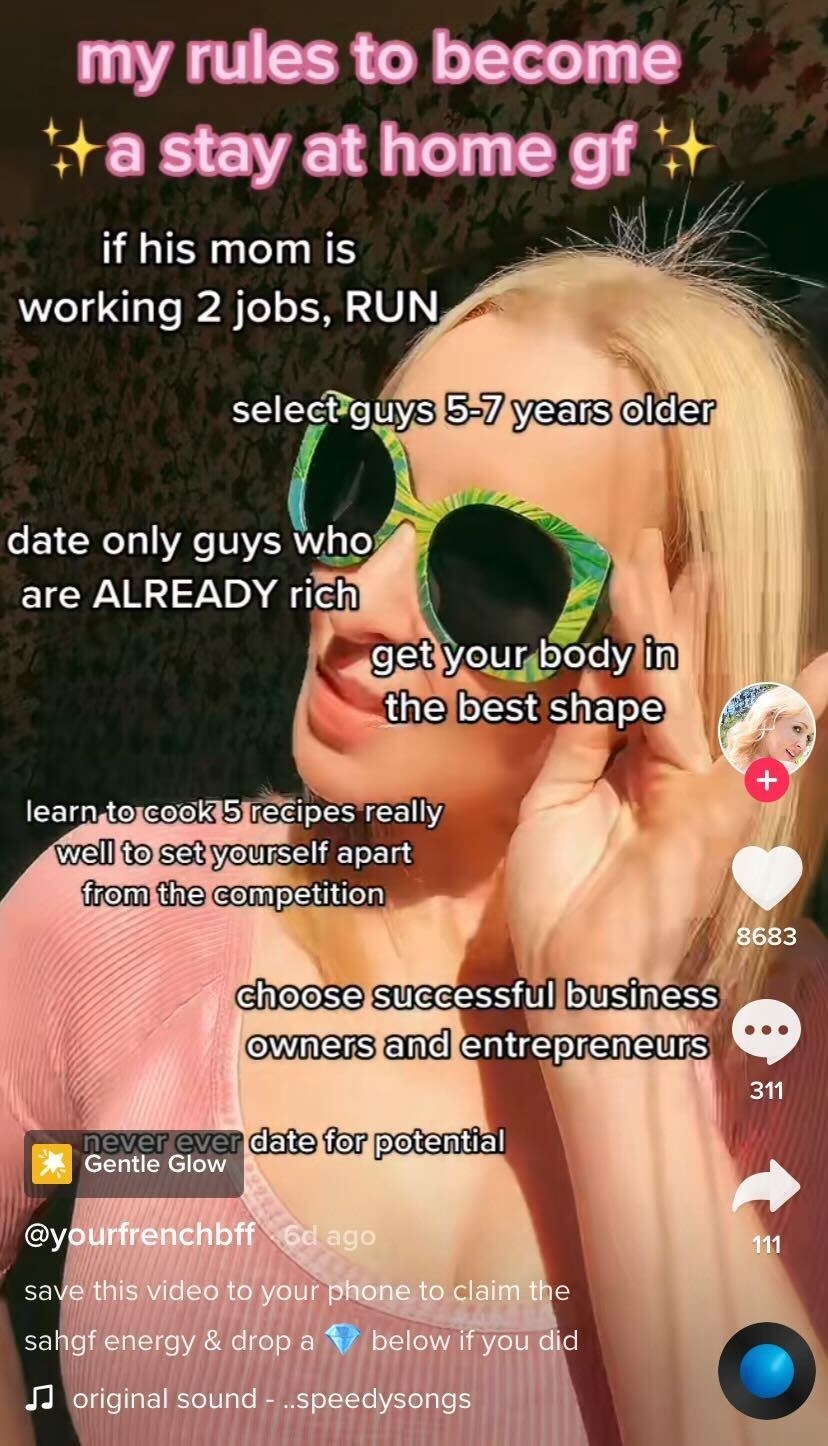 Emily de Réan wouldn't quite consider herself a coach in a formal sense, and she admitted that she hadn't heard the term "hypergamy" until last year. But that hasn't stopped her followers from reaching out for advice and her content from circulating on hypergamy communities online.
"I will answer and tell them what I think, I wouldn't call it coaching. It's me responding to followers and helping; I'm not ruling anything out for the future, but it was never my intention in the beginning," she told BuzzFeed News.
She said young women have told her, "Wow, I've been following you for two months, and you gave me the push to leave my boyfriend. I knew he was no good for me."
The 37-year-old from Dallas tells her 40,000 followers on TikTok that a major mistake straight women make in dating is believing "love is all you need" while disregarding a man's earning power. Her content has been criticized by some detractors who have labeled her a gold digger, but Réan is unfazed.
"It doesn't really affect me because I'm from a more upper-middle-class background — I'm educated and I've traveled the world. I know who I am," she said. "I just think that there are people that — perhaps they feel vexed, especially a lot of men that I tell young women to demand more [from] because perhaps they're not up to the part [and] they're not able to meet the demand."
Réan said she was surprised to find a great deal of support from women of color, who she says make up 40% of her following.
"That really actually blew me away," she said. "I'm very honored and I've talked to a lot of them and they said, 'I'm just so glad that you're spelling it out that it's possible for me.'"
Even when presented with current demographics and the realities of her own privilege, Réan said she is an optimist who doesn't believe anything is out of reach for those who are clear on what they want because, in her world, you can always "polish yourself."
"You can always learn about good manners. You can always educate yourself. I mean, this is 2022 — we've got the internet, you've got YouTube, I think that you could be wherever you want to be," she said. "And maybe it's part of me that's an incredible optimist. But I just think that optimists tend to win in life."
As women hoping to strategize their way through dating continue to flock to the hypergamy ministry online, the data in the real world indicates that we're headed in a totally different direction.
"In any kind of class rotation, there's going to be more awesome women than there are men and there's no need to marry down," Armstrong said. "I mean, why would a super-rich guy marry a drop-dead beautiful woman who was poor when he could marry a drop-dead beautiful woman who was rich?"
Maybe it's time for new coaches and influencers to emerge and start preparing heterosexual women for the most likely outcomes, but I guess "5 Places To Meet Your Average Joe to Go Halves With on the Bill For Life" doesn't quite have the same dazzle to it.