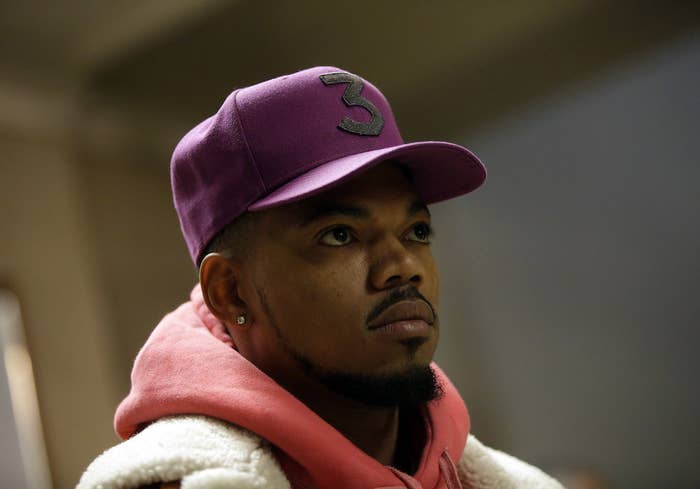 Grammy Award winner Chance the Rapper has clarified his comments on having regrets about working with controversial R&B singer R. Kelly following his appearance in the final episode of Lifetime's six-part documentary series Surviving R. Kelly.

The 25-year-old has been on the receiving end of some criticism after an excerpt from an interview suggested that he didn't initially believe the numerous women who had accused Kelly of sexual abuse "because they were black women."
"Maybe I didn't care because I didn't value the accusers' stories because they were black women," Chance said in the interview, before adding that in hindsight he regretted working with Kelly.
During Chance's 2014 Lollapalooza set in his hometown, he welcomed fellow Chicago native Kelly to the stage as a surprise guest, telling the crowd to "make some noise for the Pied Piper of R&B."
A year later, Chance returned the favor by making a cameo in Kelly's music video for his track "Backyard Party," and their musical relationship came full circle when Kelly appeared on his track "Somewhere in Paradise" the same year.
Chance tweeted on Saturday to explain that his comments were "taken out of context."
He wrote: "The quote was taken out of context, but the truth is any of us who ever ignored the R Kelly stories, or ever believed he was being set up/attacked by the system (as black men often are) were doing so at the detriment of black women and girls. I apologize to all of his survivors for working with him and for taking this long to speak out."
He followed up his comment with an extended version of the interview with Cassius's Jamilah Lemieux, where he discussed his own shortcomings about believing Kelly's accusers.
"We're programmed to really be hypersensitive to black male oppression," he explained.

"But black women are exponentially [a] higher oppressed and violated group of people just in comparison to the whole world. Maybe I didn't care because I didn't value the accusers' stories because they were black women. Usually, niggas that get in trouble for shit like this on their magnitude of celebrity, it's light-skinned women or white women. That's when it's a big story. I've never really seen any pictures of R. Kelly's accusers."
Chance added: "I made a mistake and I'm happy that those women are getting voices now and I can grow to understand better what my positioning should be or should've been when that opportunity came."
But not everybody is satisfied with Chance's explanation.
While others, including Lemieux, who conducted the interview, have come to the rapper's defense.
The series, which concluded Saturday, featured more than 50 interviews, including that of Kelly's ex-wife Andrea Kelly, civil rights activist and #MeToo founder Tarana Burke, singer Sparkle, and brothers Carey and Bruce Kelly.
Surviving R. Kelly details sexual abuse allegations against Kelly spanning two decades, including claims that the singer regularly abused his position of wealth and fame to lure underage girls.

BuzzFeed News has previously reported on allegations that the 51-year-old kept women against their will under cultlike conditions.

Other celebrities who contributed to the documentary include singer John Legend, who doubled down on his decision to appear in the series. Legend wrote on Twitter: "I believe these women and don't give a fuck about protecting a serial child rapist."