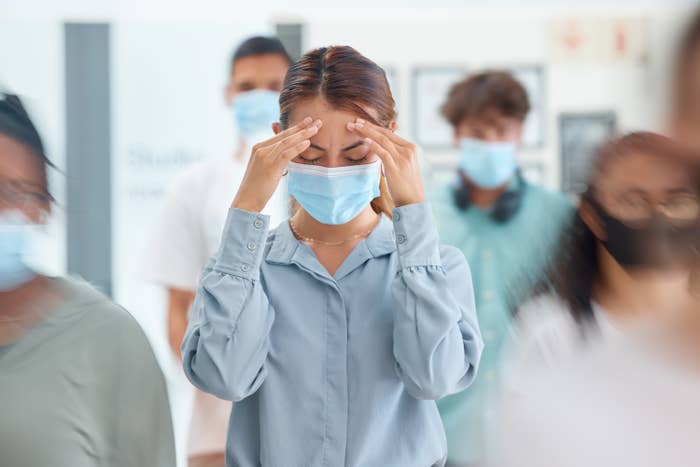 Weeks into a new decade, the world as we know it would be gripped by a global pandemic shutting down just about everything, from schools to gyms to church services.
For months, families were separated with nothing but floating heads on screens as a means of connection. Milestone moments were celebrated online with virtual speeches and toasts. Meanwhile, frontline workers routinely risked their lives as hospitals heaved with COVID patients requiring medical attention.
If it wasn't people fighting for the last roll of toilet paper in the supermarket, it was celebrities deciding that the world needed an all-star rendition of John Lennon's "Imagine."
So when a study on the pandemic published last week in the British Medical Journal claimed that "among general population studies, no changes were found for general mental health," people online were swift in shutting it down.
The paper looked at mental health before and during the pandemic and concluded that the effects of the pandemic, which claimed the lives of nearly 7 million people, were "minimal."
A BBC report on the findings was shared on Twitter. It prompted a swift backlash from people who criticized the methodology used in the study and responded with their personal anecdotes of how the pandemic challenged them mentally.
The responses ranged from hilarious to heart-wrenching, but highlighted the impact of the events of 2020, which some people are still grappling with.
"My roommates and I started a glass corner where we would throw and shatter our beer bottles after we finished them but ok," wrote one commentator.
"I ate one chicken nugget a minute for 60 minutes and streamed it on twitch," tweeted another.
The study, which was the product of Canadian researchers from institutions including McGill, Ottawa, and Toronto universities, was a systematic review of available research that the authors noted was mostly conducted in high-income and upper-middle-income countries.
There have been more than 45,000 responses to BBC's Twitter post on the paper, which has created more than 100 million impressions across the platform.
"I got divorced on Zoom," one Twitter user added.
I contacted the study authors, hoping they would comment on the response. They did not respond to BuzzFeed News. The volume of the reactions about the study is a study in itself, or at the very least, it would make a fantastic coffee table book.
While life may have resumed for some, there are still communities and marginalized voices living with the lasting effects of COVID, some people online rightfully pointed out.
As the replies to the study capture, the impact of that time was many things, but it certainly wasn't "minimal." As well as enormous loss, we baked excessively, wrote plays, created hamster museums, and performed full theater productions in living rooms. It was a strange time.