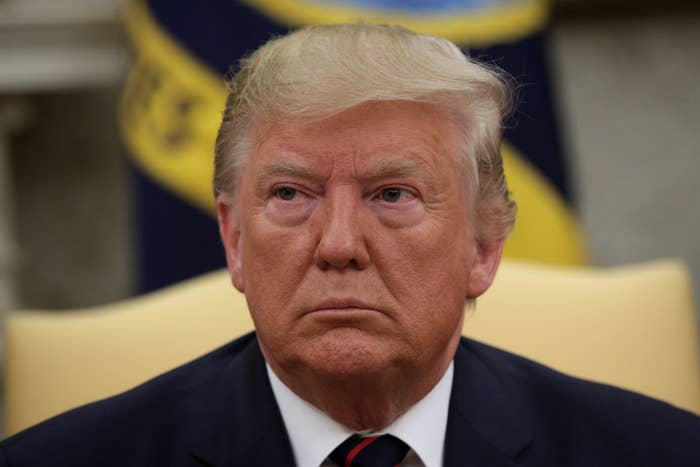 WASHINGTON — President Donald Trump's decision to pull US troops out of Syria has pissed off congressional Republicans right when he needs them most.
The decision to remove US troops has had a devastating and swift domino effect in the region, giving Turkey the opportunity to invade an area controlled by Kurdish forces, who had been allied with the US against ISIS. The move has infuriated Republicans, whose support Trump desperately needs while the House's impeachment inquiry roars on.
On Wednesday, a significant majority of House Republicans — 129 members of the 197-member caucus — including every member of the party's leadership joined with Democrats to vote for a resolution condemning the president's recent move to pull US troops out of Syria.
"The Kurds found out on Twitter, for goodness' sakes. We have left them to the wolves," Rep. Adam Kinzinger, a high-profile Republican critic of the president, said on Face the Nation Sunday. "The message this is sending to our allies around the world I think is really going to be bad."
Sen. Lindsey Graham, usually one of Trump's most reliable defenders, spent Wednesday in a war of words with the president. In the morning, Trump said the fighting in Syria "has nothing to do with us" and repeated throughout the day that America's Kurdish allies are "no angels." Graham called the comments "just outrageously dangerous."
Trump responded with a rant about how Graham wants troops to stay in the Middle East "for the next thousand years" and implied a potential threat to Graham's reelection next year if he continues fighting the president on the issue. Trump said Graham should focus on judicial issues — including investigating former president Barack Obama, former FBI director James Comey, and several other of Trump's frequent punching bags — because his constituents in South Carolina want American troops brought home.
When reporters read these comments to Graham, he insisted that Trump's moves will be a disaster. "The president's decision here I think is the biggest mistake of his presidency. And I will not ever be quiet about matters of national security," he said. He later added, "I think this is a mistake worse than what Obama did" in withdrawing from Iraq.
While Trump's decision to withdraw troops from Syria has sparked rare condemnations from members of his own party, there was little evidence that the fallout will extend beyond words. Graham, as Judiciary Committee chair, could hold up Trump's judicial nominees, for example, but he ruled that out and said there were other ways to influence the president.
Senate Majority Leader Mitch McConnell said Wednesday that he has disagreed with the president publicly and privately. In a statement Monday, McConnell aggressively pushed back on Trump's decision, while not calling him out by name, saying that the decision to withdraw would "invite the resurgence of ISIS" and "create a broader power vacuum in Syria that will be exploited by Iran and Russia" and "would not serve our nation's short-, medium-, or long-term interests."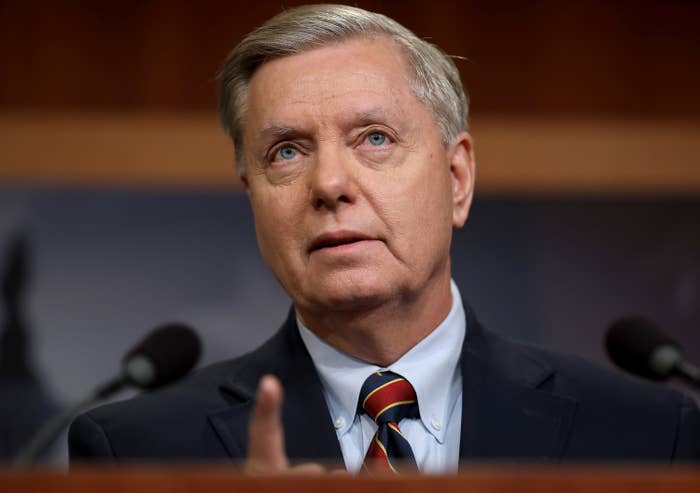 But asked Wednesday what Congress might do about it, McConnell said the power rests with Trump.
"I mean, what tools do we have?" McConnell asked. "We've got the potential for Turkish sanctions. We're looking at that. Any president has a lot of latitude in deploying troops."
Several Republican senators said that while they support Turkish sanctions, they hold out no hope that sanctions will be enough to deter Turkish President Recep Tayyip Erdogan from his expansionist plans.
Sen. Marco Rubio said American sanctions will likely only strengthen Erdogan's support domestically and said he did not know what Congress could do to unwind the situation Trump had created.
"Congress can't prosecute a war, Congress can't deploy troops," said Rubio. "It's not a legislative matter. It's not a budgetary matter. It's a decision that only a commander in chief can make."
Members of Congress from both parties went to the White House Wednesday afternoon to discuss Syria, not long after the House voted on the resolution condemning Trump. Many House Republicans were cagey about their decision to join with Democrats on the issue.
Rep. Chris Stewart of Utah said he voted yes "mostly for the ceasefire." (The resolution calls for Turkey to pull back from Kurdish territory.) Asked what he expected from the meeting at the White House, Stewart only said, "It's complicated, actually. I'm not sure. It's complicated."
And Rep. Debbie Lesko, a Republican from Arizona, told BuzzFeed News that she was still not sure how she expected to vote as she walked onto the House floor to cast her it.
"I have mixed feelings. Because on the one hand, I don't think President Trump had a lot of options," she said. "I think the options were limited [to] either sending more troops or do airstrikes on Turkey and neither one of those options are good options, so I don't know. I have mixed feelings. Part of this resolution, I like the statements, but I hate to second guess the president of the United States."
Ultimately, Lesko was one of 60 Republicans who voted against the resolution, as did Rep. Mark Meadows of North Carolina, another Trump ally, who said ahead of the vote that he believes the Kurds needed to be protected but felt the resolution had become too political.
"[The] resolution's taking on a political tinge that I don't necessarily agree with, which disappoints me," he said. "It's more of a condemnation than a maneuvering gesture. If it was constructive then I would be willing to entertain it on the merits, and I'm looking into [a] sanctioning bill."
Meadows added as he went to vote, "You know, if [Foreign Affairs Chair Eliot] Engel's serious," House Democrats should vote on a bill "that says we want to go to battle with Turkey and Syria. I can't imagine that they would be quite as bold. Can you?"