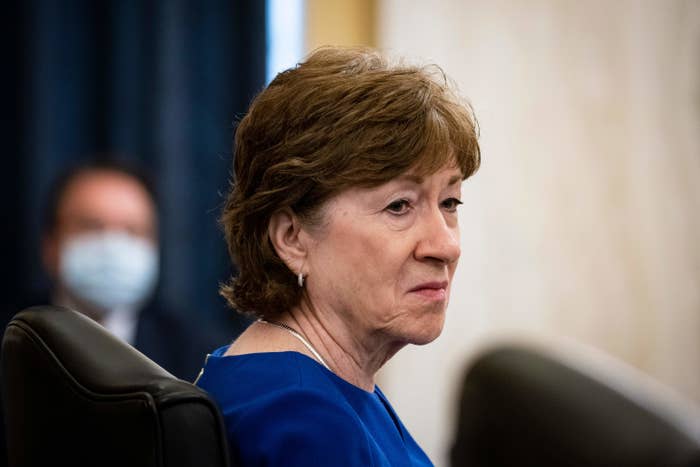 WASHINGTON — Two years ago, when Republican Sen. Susan Collins announced that she would vote to confirm Supreme Court Justice Brett Kavanaugh after he was accused of sexual assault, liberal groups vowed to oust her in the 2020 election — and they haven't hit the brakes since.
Her opponent, Sara Gideon, who currently serves as the speaker of the Maine House of Representatives, has posted stunning fundraising numbers, raising more than $63.6 million since she launched her campaign last summer, while Collins raised just $25.2 million over the last two years.
The massive fundraising has resulted in massive spending, with ads from both candidates — and outside groups supporting them — inundating the airwaves in Maine. And that spending has had a somewhat unexpected benefit, too: It's helping support local news.
BuzzFeed News has journalists around the US bringing you trustworthy stories on the 2020 Elections. To help keep this news free, become a member.
Laurie Lozier, the director of Pulse Marketing Agency — which is owned by the Bangor Publishing Company, which also owns the Bangor Daily News — said the paper has seen a 3,000% increase in political ad spending this cycle when compared to 2014, the last time Collins ran for reelection.
"I had to do the math a few times, because I couldn't believe it," Lozier said. "The increase in election spending has helped offset some of the decline in ad revenue we have experienced since the onset of the pandemic. So that is a positive for local newspapers."
Federal campaign spending in the state has exceeded more than $100 million, the Bangor Daily News reported, a record for the state that's largely been driven by Collins' close reelection race. Gideon currently leads in the polls by a small margin against Collins.
Collins, one of the rare pro–abortion rights Republicans, still has not said whether she plans to vote for President Donald Trump.
The raising and spending in the race is increasingly lopsided. Between July and September alone, Gideon brought in $39.4 million, while Collins raised just $8 million. According to the Bangor Daily News itself, the Gideon campaign spent $11 million from July to September on digital and TV ads, while Collins spent $4.3 million on media production.
"As a direct result of such a historic race, our newspapers, television, radio stations in every city, every single digital platform, have been flooded with ads. And it's just unabating," Lozier said. "The frequency of political advertising is higher than ever before, both here at the Bangor Daily News and throughout the state."
And as the Daily News noted — in a story titled "Maine's US Senate Race Has Attracted So Much Money That It's Hard to Spend It" — according to Advertising Analytics, there has been more political spending in the Portland-Auburn media market this year than in other much larger markets like Chicago.
"It is definitely surprising because in such a small media market like ours, the audience is only so large, you know?" Lozier said. "And there's only so much inventory available, which has been a demand on both candidates and has forced them to kind of diversify their strategies, and that really has included targeting local newspapers. So it's been positive for us. It's been really good."

Lozier said the premium digital ad inventory at the paper has been completely sold out for almost a month — "It's a great problem to have!" she said — and that she's still getting calls for major ad buys with less than a week left before the election, a rarity in other years.
"It's super weird that it's just not stopping. It's the 29th and we're still getting ad requests coming in," Lozier said. "They're still placing political buys. Even in the Senate race, they're asking, 'What else can we do? We may be interested in doing something else.' So my phone and my email have not stopped."
Lozier said she's seen major buying at the Daily News from out-of-state agencies purchasing ads on behalf of outside groups supporting both Senate candidates. It's given the paper opportunities to be more creative with ads as well, Lozier said. The ad team at the paper has offered the ability to sponsor debate coverage and newsletters, take over the homepage, and run full-page print ads.
"It's usually pretty straightforward for digital advertising campaigns because they come in, they're looking for high frequency," Lozier said. "But with this race, they're kind of really leaning on local news organizations to kind of give them out-of-the-box of solutions. So we've been very creative with what we can do, especially with our digital platform. And that's been really exciting for our team. … We've kind of been able to kind of push the envelope a little bit."
If you have a news tip, we'd like to hear from you. Reach out to us via one of our tip line channels.
Bangor Daily News subscriptions have also gone up in recent months, Lozier said, but it's hard to say if it's a direct result of the election. Many readers have said they've really appreciated the paper's coverage of the coronavirus pandemic, and Lozier said they've taken the paywall down at times — including now, with just five days left until Election Day — to make their reporting as accessible as possible.

The 2020 race has proved to be Collins' toughest reelection yet, and it could determine who controls the Senate, as Democrats need to pick up just four seats to flip the chamber. Last week, Collins was the sole Republican to vote against confirming Trump nominee Amy Coney Barrett to the Supreme Court.