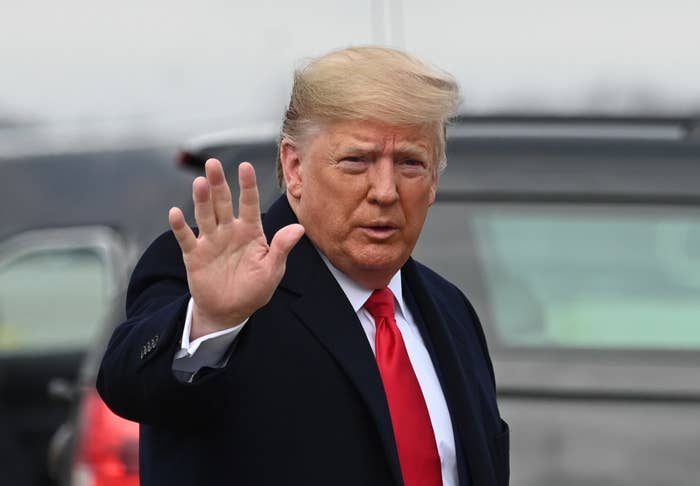 WASHINGTON — Rep. Barry Loudermilk compared the impending impeachment of President Donald Trump to the crucifixion of Jesus Christ in a speech on the House floor Wednesday afternoon.
"When Jesus was falsely accused of treason, Pontius Pilate gave Jesus the opportunity to face his accusers," the Georgia Republican said during debate over the articles of impeachment ahead of Wednesday night's vote. "During that sham trial, Pontius Pilate afforded more rights to Jesus than Democrats have afforded this president and this process."
According to the Bible, Jesus was brought before Pontius Pilate, a Roman governor, accused of claiming that he was King of the Jews. Pilate, in the Bible's telling, wanted nothing to do with Jesus' trial, but was convinced by the crowd that Jesus was a threat to Roman rule of the region with his message of a new kingdom. Pilate then "washed his hands" of the situation, letting Jesus' crucifixion go forward.
It was a confusing metaphor, as many Christians were quick to point out, and not the first in the run-up to the impeachment vote.

Judiciary Committee chair Jerry Nadler, a Democrat, responded to Loudermilk on the floor. "The president was given the opportunity to come and testify … to send his counsel, to question witnesses," he said. "He declined to do so."
Not long after Loudermilk's remarks, Pennsylvania Rep. Mike Kelly compared the impeachment proceedings to Pearl Harbor, noting that the attack, like the upcoming vote, occurred in December.
"December 18, 2019, is another day that will live in infamy," he said on the floor.
Ahead of the vote, in a letter to House Speaker Nancy Pelosi Tuesday night, Trump had a metaphor of his own, comparing himself to the men and women who were accused of witchcraft and executed in Salem, Massachusetts in the late 1600s.
"More due process was afforded to those accused in the Salem Witch Trials," he wrote, a comment that prompted a response from Salem's current mayor.
"Oy vey...again," Mayor Kim Driscoll tweeted. "Learn some history: Salem 1692 = absence of evidence+powerless, innocent victims were hanged or pressed to death."
Trump, on the other hand, she said, is being impeached in the face of "ample evidence, admissions of wrongdoing+perpetrators are among the most powerful+privileged."
Loudermilk and Kelly's comments came in the midst of a marathon debate over the two articles of impeachment — one charging the president with abuse of power and another with obstruction of Congress — that the House will vote on later Wednesday evening. Trump is expected to be the third president in US history to be impeached by the House, setting up a Senate trial over whether to remove him from office, which will likely begin in January.