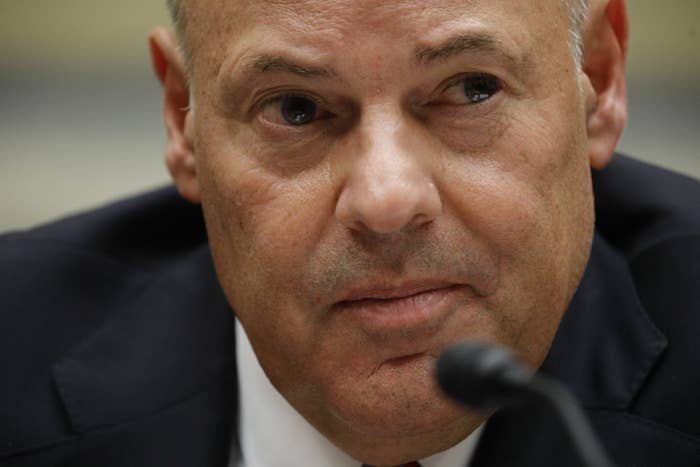 WASHINGTON — Postmaster General Louis DeJoy does not know the cost of sending a postcard, he said during a congressional hearing Monday, and could not answer several other questions about the agency he was recently appointed to run.
Rep. Katie Porter of California grilled DeJoy on several questions about United States Postal Service operations while the newly appointed postmaster general appeared before the House Oversight Committee, starting with the price of a first-class stamp.
"Fifty-five cents," DeJoy correctly said.
"Just wanted to check," Porter said before moving to the next question. "What about to mail a postcard?"
DeJoy couldn't answer.
"I don't," he said. (The answer is 35 cents.)
Porter also asked DeJoy the weight limit for priority mail (70 pounds, he answered correctly) and the starting rate for USPS priority mail (it's $7.50, which DeJoy did not know), before asking if he knew how many people voted by mail in the last presidential election.
DeJoy could not answer, and Porter asked if he could estimate to the nearest 10 million.
"I would be guessing, and I don't want to guess," he responded. (About 1 in every 4 voters, about 33 million people, voted by mail in 2016, according to the nonpartisan Vote at Home Institute.)
"So, Mr. DeJoy, I'm concerned," Porter said. "I'm glad you know the price of a stamp, but I'm concerned about your understanding of this agency. And I'm particularly concerned … because you started taking very decisive action when you became postmaster general."
Following the hearing, Porter quote-tweeted an earlier tweet of hers about the upcoming hearing, which read, "I hope the Postmaster General comes prepared. I know I will."

She followed it up Monday, writing, "Spoiler alert: he did not."
DeJoy's testimony Monday in front of the House committee comes days after he testified in front of the Senate Homeland Security and Governmental Affairs Committee Friday amid public outcry about mail delays and concerns about mail-in voting as the election approaches.
"As we head into the election season, I want to assure this committee and the American public that the Postal Service is fully capable and committed to delivering the nation's election mail securely and on time," DeJoy testified Friday. "This sacred duty is my number one priority between now and Election Day."
Within weeks of DeJoy taking up the post, the Postal Service removed sorting machines and collection boxes and ended overtime, among other changes that have resulted in mail delays. DeJoy denied in both hearings that he directed the changes, but could not say who did.
He suspended the changes earlier this month but said repeatedly during the hearings that machines and collection boxes that already have been removed will not be replaced.
"They're not needed," he argued Friday, and said during both hearings that he found out about the collection box removals "when everybody else was made aware" and that he "had no idea that that was a process."
In response to questioning from Rep. Ro Khanna of California on Monday, DeJoy did say whether he would restore the machines if Congress provided a billion dollars in funding to the USPS.
DeJoy's testimony comes as President Donald Trump has continued his attacks on mail-in voting and the USPS as a whole. During Monday's hearing, Trump tweeted, "All the Radical Left Democrats are trying to do with the Post Office hearings is blame the Republicans for the FRAUD that will occur because of the 51 Million Ballots that are being sent to people who have not even requested them. They are setting the table for a BIG MESS!"
It was the latest in a line of debunked conspiracy theories about the security of mail-in voting, and DeJoy reiterated Monday that he supports voting by mail after saying Friday that he casts his own ballot by mail.
DeJoy was also asked by Rep. Jamie Raskin of Maryland on Monday about earlier comments Trump made calling the USPS a "joke."
"The Postal Service is not a joke," DeJoy declared.