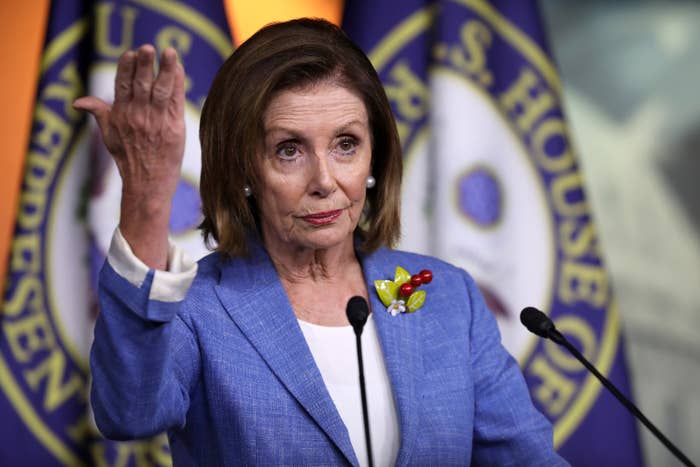 WASHINGTON — House Speaker Nancy Pelosi's impeachment dam is breaking as more than a dozen House Democrats — including many from more conservative districts — have announced their support for impeaching President Donald Trump in the last week.
The renewed calls for action come as reports that Trump pushed Ukraine to investigate former vice president Joe Biden's family have continued to unravel. The new members announcing their support for impeachment has brought the total to more than 150 Democrats, or nearly two-thirds of the caucus, in favor.
Most notably, in a Washington Post op-ed published Monday night, seven moderate first-term Democrats — all of whom but one are "frontliners," the group of the party's most electorally vulnerable members — pushed for an impeachment inquiry. Several of those members had not previously expressed support for impeachment.

The group included Reps. Gil Cisneros of California, Jason Crow of Colorado, Chrissy Houlahan of Pennsylvania, Elaine Luria of Virginia, Mikie Sherrill of New Jersey, Elissa Slotkin of Michigan, and Abigail Spanberger of Virginia. All of them are military, defense, and intelligence veterans. In the Post column, they called recent reports about Trump and Ukraine "stunning."

"If these allegations are true, we believe these actions represent an impeachable offense. We do not arrive at this conclusion lightly," they wrote, "and we call on our colleagues in Congress to consider the use of all congressional authorities available to us, including the power of 'inherent contempt' and impeachment hearings, to address these new allegations, find the truth and protect our national security."
Asked whether he was willing to potentially lose his seat over supporting an inquiry, Crow told BuzzFeed News on Tuesday morning that "politics is not going to factor into our decision." He originally announced his support for an impeachment inquiry in July.

"When it comes to the defense of our nation and upholding the Constitution, you know, we do what we have to do," Crow said. "We are facing an unprecedented scenario where the sitting president of the United States is alleged to have withheld foreign military aid to force a foreign government to open up an investigation against the political rival to gain an advantage in an election. That is shocking, and politics should not have a play in it."
For months, Pelosi has resisted supporting impeachment as calls from her own caucus have grown, saying that the party needs to gather all the facts before pursuing such a divisive measure. She has urged caution as her party has rallied around the move, concerned that pursuing impeachment could lose the party its House majority. She has focused particularly on vulnerable members, like the frontline Democrats who wrote Monday's op-ed.
But the House speaker's calculus may have changed now that many of the more conservative and electorally susceptible members are publicly supporting such a move. In an interview with CNN on Monday, Pelosi declined to say whether she would endorse an impeachment inquiry, but did say the party would have eventually "no choice" and that it would be a "big week."
Pelosi also called a 4 p.m. meeting of the entire Democratic caucus Tuesday, during which the party is expected to discuss impeachment.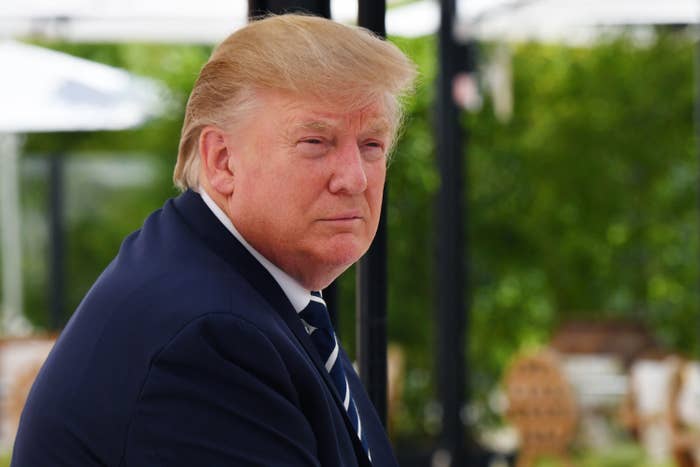 Senate Minority Whip Dick Durbin, the second-ranking Democrat in the Senate, also called for an impeachment inquiry Tuesday to allow Congress to get to the bottom of the Ukraine story. "As I consider the revelations that President Trump is using his office to extort Ukraine to support his political reelection campaign, I wonder why there's so much silence on the other side of the political aisle," he said on the Senate floor.

Several of Pelosi's closest allies in Congress, including Connecticut Reps. John Larson and Rosa DeLauro, have also said this week that they are open to impeachment if the Trump administration does not comply with Oversight Committee demands.
"The fate of the republic is coming down to a few days here," Maryland Rep. Jamie Raskin, a longtime impeachment supporter and Judiciary Committee member, said with a laugh during a brief interview with BuzzFeed News on Tuesday morning.
"People believe that this is just not a sustainable course of action for us to allow the president to get away with this continuing betrayal of his oath of office," he said. "And that's the key point. I mean, he has betrayed his office, he has betrayed the Constitution, and he has betrayed national security. … You know, you look 'impeachment' up in the dictionary, and you find a picture of what the president just did."
At the caucus meeting Tuesday afternoon, Raskin said he hopes to underscore to his colleagues that this is an "untenable situation" and that the party needs to act "decisively and quickly."
The House Judiciary Committee has spent months investigating the Trump administration, and chair Jerry Nadler acknowledged in early August that his panel was engaged in an "impeachment inquiry." The committee began the formal process of setting up an impeachment investigation earlier this month.
The Ukraine story has been reported in bits and pieces in recent days. On Monday, the Washington Post reported that Trump put a hold on $400 million in aid to Ukraine in the days before a phone call with Ukrainian President Volodymyr Zelensky. When the two leaders did speak, Trump reportedly pushed for information on Biden's son Hunter Biden, who had business in Ukraine.
Trump acknowledged Monday that he discussed Biden with Zelensky, but denied that he had offered the country money in exchange for information.
"I put no pressure on them whatsoever," he told reporters. "I could have. I think it would probably, possibly have been okay if I did. But I didn't. I didn't put any pressure on them whatsoever."
On Tuesday morning, however, the New York Times reported that Trump did acknowledge holding back aid funds for the country, but said it was because European countries have not paid their share of aid to Ukraine.
According to a Politico report Tuesday, House Democrats are considering a "select committee" on impeachment and considering a resolution condemning Trump (a formal condemnation that would not have the force of law).