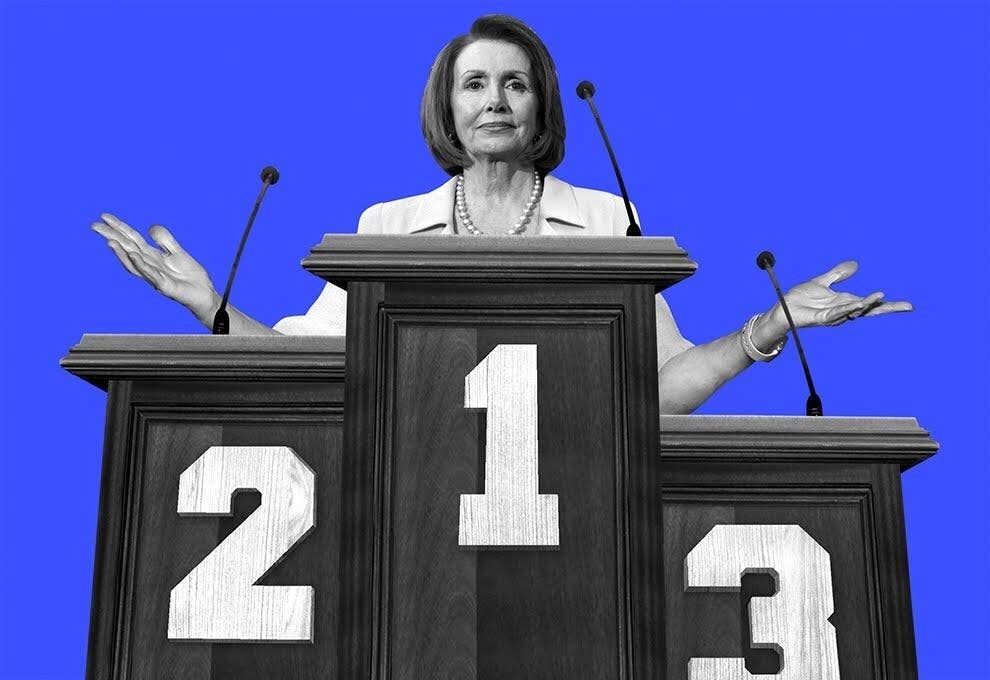 WASHINGTON — Two years ago, when Ryan Khojasteh was running for Congress, he made an unusual pitch to voters: When the general election came around, they didn't even have to vote for him. He just wanted to come in second place.
Khojasteh, who was 24 years old when he mounted his campaign, was challenging then–House minority leader Nancy Pelosi.
Pelosi, who represents one of the most heavily Democratic districts in the country, has never had to face a fellow Democrat in the general election, even with California's jungle primary system, which pits the top two candidates regardless of party against each other on the November ballot. For years, the powerful House leader has cast aside any Democrat who dared to primary her and then easily trounced Republicans in the generals.
So, Khojasteh told voters, if they wanted Pelosi to represent them, they could vote for her in the general election. But if they wanted a robust debate about Democratic values, they should vote for him in the primary.
This time around, a handful of progressive challengers are launching similarly Sisyphean races against Pelosi in a primary slated for next week. But they're not just focusing on trying to push the House speaker to the left. In some ways, they're running an entirely different race — one that's still two years away.
There have been rumors — sometimes fanned by Pelosi herself — that the speaker, now 79, will retire in 2022, opening up the seat for the first time in more than 30 years. If a Democrat can accomplish in next Tuesday's primary what Khojasteh had hoped to in 2018, it would not only give them an opportunity to push Pelosi on progressive issues through the general election, but it could also give that candidate a major leg up when the speaker retires.
"Being a member of Congress to represent San Francisco is a big deal," Khojasteh told BuzzFeed News. "I do think if you get second place [in 2020] it may help you."
For Shahid Buttar, a Pakistani American organizer and rapper challenging Pelosi this cycle, coming in second would be an opportunity to push the speaker for months to come on issues she's often dismissed at the national level, like Medicare for All and the Green New Deal.
Buttar also ran in 2018 and came in third behind a Republican candidate; he garnered about 8.5% of the vote. Running again in 2020 just made sense to him, he told BuzzFeed News last fall. A top strategist also said that, should the campaign fall short again in 2020, Buttar plans to run again in 2022.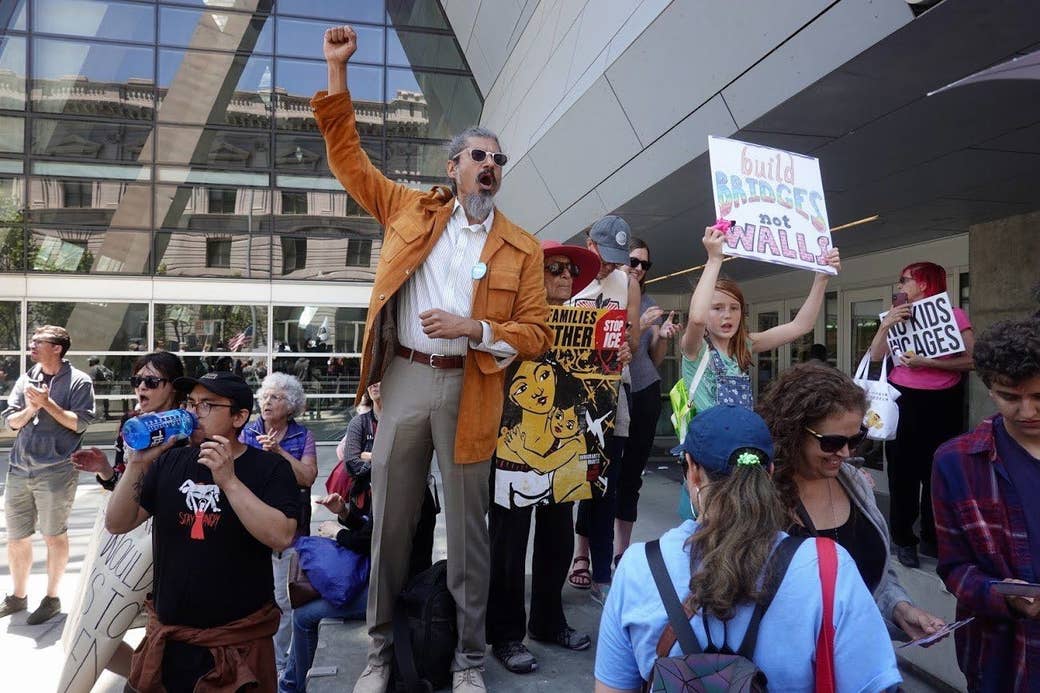 "I don't anticipate taking first [in the primary]," he told BuzzFeed News. "We're in a boxing match. We're just jabbing right now. We're finding the face."
And it looks increasingly possible Buttar could get his second-place win. He's put together a strong operation in the district, and he's raised more than half a million dollars to date — a hefty sum for a primary challenger. He said Tuesday that the campaign expects to raise more than $100,000 this month alone.
Agatha Bacelar, a 27-year-old Brazilian American immigrant, is also challenging Pelosi in next week's primary. This is Bacelar's first-ever race for political office, and she told BuzzFeed News the campaign has raised about $80,000 to date. It's had "very low lows" and "very high highs," she said, but if she has community support and professional help in two years, she'll run again.
But even if Pelosi does retire, she, Buttar, and other progressives are concerned they'll have to take on the name for years to come.
Rumors have long swirled that political strategist Christine Pelosi, the speaker's daughter, may eventually run for her mother's seat. Her name and connections mean she could raise enormous amounts of money, giving progressives all the more reason to start running years early.
Bacelar told BuzzFeed News she's open to the idea of running for the congressional seat in 2022, but she knows it could be a brutal race.
"I've heard that next cycle, there's going to be a ton of candidates running like Christine Pelosi … [and] potentially Scott Wiener, our state senator, and even two of the progressive members of our Board of Supervisors working in City Hall," she said Tuesday. "And if that were the case, that would be quite a challenging bloodbath of a race."
One particular challenge in recent months has been that some voters, Bacelar said, want to reward Pelosi for her role in the recent impeachment of President Donald Trump.
"[Impeachment] dampened efforts in some ways, and then it ended just pretty recently," Bacelar said. "Some of the common responses we get [from voters] if they are voting for Nancy Pelosi is 'Oh, I want to support her for having stood up to Trump or for having led impeachment.'"
That's frustrating for many progressives who spent months pushing Pelosi to get on board with the impeachment process, though the speaker resisted until late last fall. Buttar was among them, and he said he now believes the speaker mishandled the process.
Buttar told BuzzFeed News this week he thinks Pelosi should have impeached Trump for his alleged violations of the emoluments clause — for profiting from foreign and domestic government officials staying at his DC hotel — instead of narrowly focusing on Ukraine.
"She said [Ukraine] was the easiest thing to explain. It wasn't that either. It was the hardest thing for people to understand," he said. "Failing to remove the president is worse than having not shown up at all, because now he is emboldened. … Pelosi fired the one shot she had, and it was a weak one."
Running against the most powerful Democrats in the country has afforded both Bacelar and Buttar national attention that progressive challengers don't often receive. Both have drawn comparisons to Rep. Alexandria Ocasio-Cortez, who took down former representative Joe Crowley in 2018, and they're running on nearly identical progressive platforms to hers.
Khojasteh now works as a public defender, but he told BuzzFeed News he thinks any challenger would do well to adopt his strategy of being realistic with voters about winning a general election.
"We ran our campaign not so much believing that we would 100% win," Khojasteh said in a recent interview with BuzzFeed News. "Our goal was to get second place in the open primary because then … we could have a greater stage — a grander microphone — to talk about issues we're facing in San Francisco, the issues we're facing in the country, and the issues we're facing in the Democratic Party. … I found that to resonate with a lot of people."
Buttar told BuzzFeed News in September that he believes his third-place finish last cycle — behind Republican Lisa Remmer — is proof he's already the progressive choice.
"We established our position as the preferred progressive challenger in the race," he said. "The issues that prompted me to run in 2018" — such as Medicare for All and immigrant justice — "all of those issues in 2019, for the 2020 cycle, they have only grown worse in macro terms since 2018."
Buttar also said he sees a natural fit for himself among the ranks of "the Squad," as Ocasio-Cortez and Reps. Ilhan Omar, Rashida Tlaib, and Ayanna Pressley have come to be known on Capitol Hill.
"Much of our rationale is to remove the principal impediment in Congress to a progressive vision," he said, referring to Pelosi. "It's a matter of commitment to capital versus commitment to Americans. Principles and people instead of power and capital."
Bacelar told BuzzFeed News her campaign is also inspired by Ocasio-Cortez and other women of color who have challenged Democratic incumbents.
"But that is a question I am grappling with — because for some people, it's like a really easy connection. 'Oh, you're the West Coast AOC' or 'Oh, you're challenging Pelosi; you're a young Latina,'" she said. "But I also want to respect how everyone is different. We can all bring different things to the table. I also acknowledge that our districts are very different."
Pelosi's district is significantly whiter and wealthier than Ocasio-Cortez's, and Bacelar acknowledged that the speaker's fundraising prowess is a lot to contend with. Still, she said, she thinks her time in office is starting to come to a close.
"It became clear to me that challenging the leadership of the Democratic Party was ... important for the survival of the planet," she said. "Also, just now that I've spent more time being a candidate and talking to people in the district, it's not that shocking anymore, especially to people who are younger. They don't have that loyalty to Nancy Pelosi, and they're more interested in new ideas and in a new generation of leadership." ●