BuzzFeed News has journalists around the US bringing you trustworthy stories on the 2020 Elections. To help keep this news free, become a member.
WASHINGTON — The first blow came in Kentucky, where Amy McGrath, a retired Marine taking on Senate Majority Leader Mitch McConnell, raked in more than $88 million in donations. Mere minutes after the polls closed in the state, McConnell was called as the winner.
Despite the fact that McGrath raised more than $30 million more than McConnell, it wasn't even close: McConnell won by more than 20 points.

Similar results have played out in nearly every Senate race where Democrats had hoped to be competitive, as vote-counting has stretched beyond election night. Democrats took hope in the lead-up to Election Day in the fact that liberal challengers were outraising Senate Republicans in almost every race — and often leading in the polls, too. They spent months flooding the airwaves across not just Kentucky, where McGrath was always more of a long shot, but in North Carolina, Georgia, South Carolina, Maine, Iowa, and Arizona. In the days before the election, Democrats became the favorite to take over.
But by the time election week was over, it was clear that despite all that money and all that energy, the Democratic Party has come up all but empty. The party does still have a shot at winning back control of the Senate, but it's an increasingly small one: Democrats will need to win two races in Georgia, both of which are slated for runoffs on Jan. 5. While President-elect Joe Biden is currently leading in the state as votes are still being counted, both Democratic Senate candidates are running behind their Republican opponents.
On Tuesday, Decision Desk HQ officially called the North Carolina Senate race for Republican Sen. Thom Tillis, who came out on top in the single most expensive Senate race in the history of the United States.
It was another painful blow for Democrats: Cal Cunningham broke state records, raising $28.3 million in the third quarter, more than double what he raised in the second, and — despite a public scandal when it was revealed he'd had an affair — was leading in the polls as Election Day approached.
It didn't matter. Now Tillis, too, is headed back to Washington.
Democrats did pick up a Senate seat in Arizona, where former astronaut Mark Kelly ousted Sen. Martha McSally, and Democrat John Hickenlooper came out on top in Colorado. But Democratic Sen. Doug Jones lost his seat in Alabama, meaning that several hundreds of millions of dollars later, Democrats have netted just one Senate seat.
In South Carolina, Sen. Lindsey Graham cruised to reelection Tuesday, triumphing over Democrat Jaime Harrison, who had shattered fundraising records, bringing in $57 million in the last full quarter of the campaign, more than any Senate candidate in US history. Graham took to begging for money on cable news. "They're killing me, moneywise," he pleaded on Fox News. Graham appears to have won by 10 points, according to the latest totals.
In Montana, Democrat Steve Bullock put up similar numbers, raising $28.6 million in the same time period, while in Iowa, Democrat Theresa Greenfield raised $26.7 million from July to October. Both lost their races Tuesday.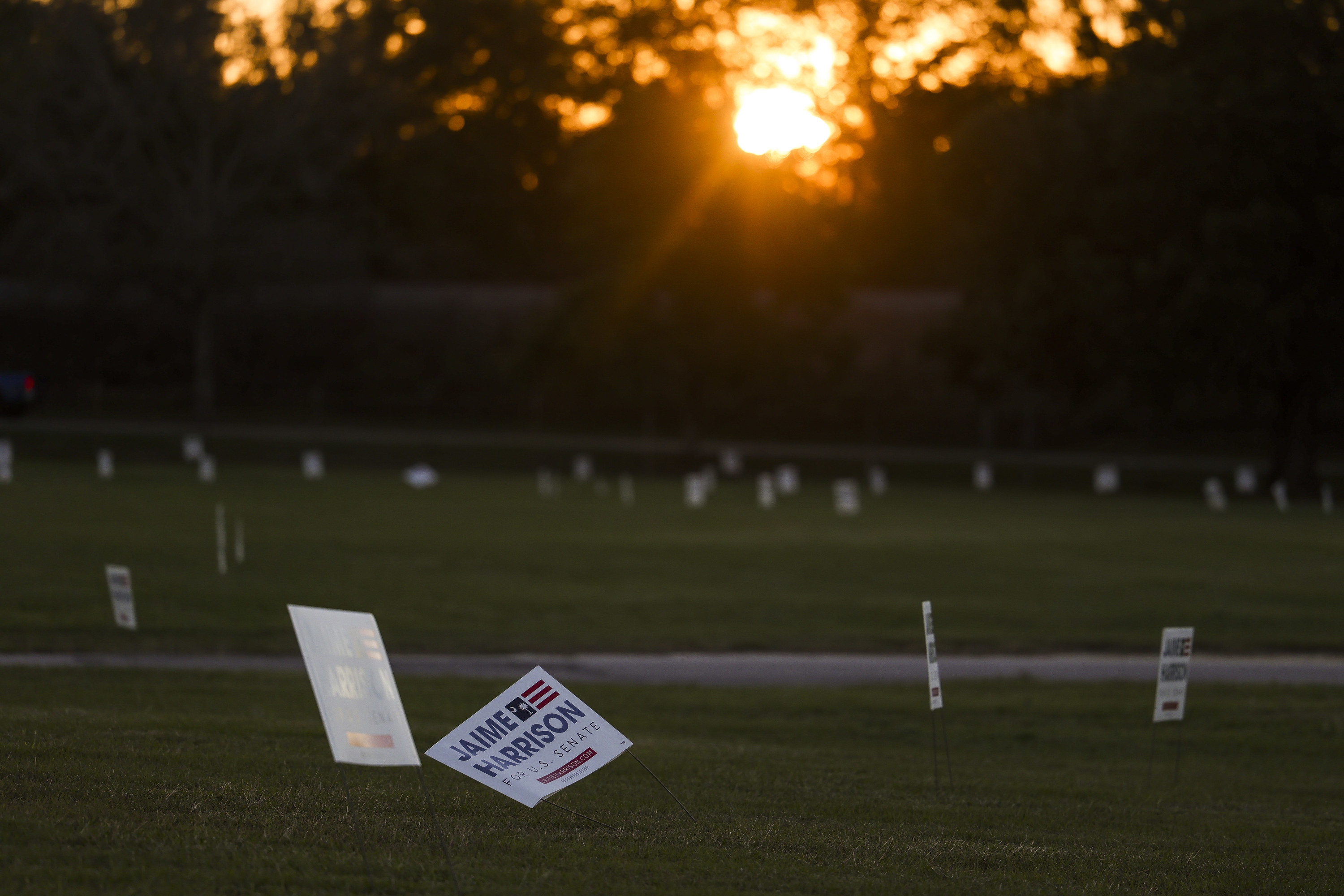 Michael Whitney, a former fundraiser for Sen. Bernie Sanders, said he thought that much of the money simply came too late in the race for Democrats to spend it effectively.
"When you think about kind of the major surges in ActBlue fundraising, it was after Kamala was announced, but virtually all that went to Biden. And then it was right after RBG died, which is late September, mid-September, and so at that point, I mean, you're two weeks away from early voting happening for a number of folks," Whitney said. "And while it was like hugely impressive numbers … if you get just kind of a dump truck of cash in a relatively small state with fully weeks to go, there's not a lot of options to spend that effectively."
The late influx of money, Whitney said, leaves candidates only one real opportunity to spend it, and that's on TV ads, which don't seem to be as effective at turning out voters as field organizing and other types of advertising.
Ultimately, many Democrats were just sitting on piles of cash, and Whitney said he's beginning to wonder if there's a point where the money in some races was just too saturated to be useful, especially late in the race.
"I was looking back at kind of the Bernie 2020 fundraising tools, and our most effective email — the emails that raised the most amount of money — all came after Super Tuesday," he said. "I think there's somewhat of a… 'Desperation' is not the right word, but it's kind of the vibe. When you're faced with the crisis and you're like, Shit, well, I don't know what I should do but I have some money, so I'm going to throw it. I think a lot of that is happening."
Instead, he said, Democrats should focus more on early money, when candidates can use it to build out their operations, and that campaigns should be thoughtful about the fact that money that comes with just weeks to go may not be effective — and certainly not determinative.
Kentucky, Iowa, Montana, and the Carolinas are usually reliable red states where Democrats have difficulty getting traction. That's one reason, National Republican Senatorial Committee press secretary Joanna Rodriguez said in an interview with BuzzFeed News on Wednesday afternoon, that Republicans were able to pull off victories across the country despite being heavily out-funded.
"One thing that folks need to consider is, ultimately, a lot of these states, the values the Democratic candidates were promoting and the agenda they were pushing just did not align with the values of the voters in those states," Rodriguez said. "No amount of money from — whether it was small-dollar donors or outside spending groups, dark money groups from the Democratic side [or] from Chuck Schumer's Senate Majority PAC and down — there was no amount of money that was going to convince these voters to back an agenda that they didn't support."
But in Maine, where Biden pulled off a win, Democrat Sara Gideon conceded to incumbent Republican Sen. Susan Collins Wednesday afternoon.
It was a shocking and painful loss for Democrats, who have worked tirelessly to oust Collins since 2018 when she voted to confirm Supreme Court Justice Brett Kavanaugh after he was accused of sexual assault during his confirmation process.
Gideon more than doubled Collins' overall fundraising numbers, having raised more than $63 million since launching her campaign last summer, while Collins raised about $25 million over the last two years. The race was so expensive that it helped at least one local paper, the Bangor Daily News, recoup losses exacerbated by the coronavirus pandemic.

If you have a news tip, we'd like to hear from you. Reach out to us via one of our tip line channels.
But, as the Bangor Daily News itself noted ahead of the election, money — especially money invested in ads — isn't always determinative in the state. In 2016, voters turned down a referendum related to background checks and gun sales, despite its significant financial backing by Everytown for Gun Safety, which is funded by billionaire Michael Bloomberg.
"To me, the smart investment for campaign money is always going to be in people in organizing," Whitney said. "I just really hope this doesn't discourage [donors] and people can just see the value of earlier money."
Rodriguez put it more bluntly. "If I'm a Democratic donor," she said, "I'm looking at Chuck Schumer and the DSCC and saying, 'Give me a reason to give you money, because ultimately, you threw it away.'" ●