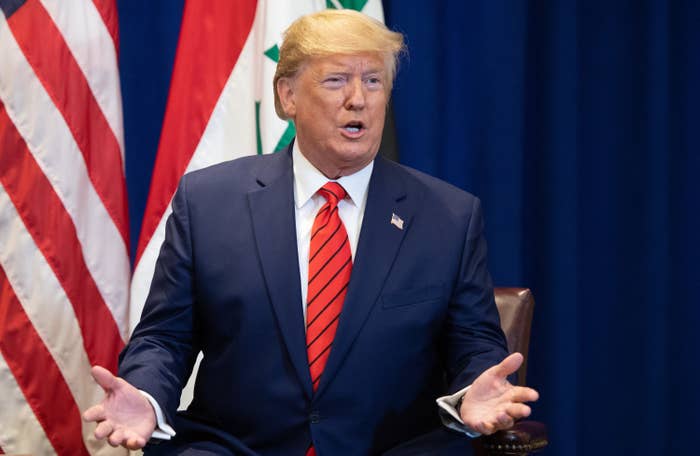 WASHINGTON — For months, impeachment supporters in Congress have been trying to convince their colleagues that President Donald Trump committed impeachable offenses, all detailed in former special counsel Robert Mueller's report.
Finally, they've been handed a gift: a simpler story they believe they can tell the American public, and one that's persuaded House Speaker Nancy Pelosi and many of her allies to join them.
On Tuesday, more than a dozen Democrats, including many high-profile leadership allies, announced their support for an inquiry. It was a "seismic shift" on Capitol Hill — as many members put it — that ended with a formal announcement from Pelosi that six House committees would pursue an official impeachment inquiry.
In the end, it had nothing to do with Mueller. Instead, the thing that has pushed so many Democrats over the edge was a series of reports that Trump withheld aid money from Ukraine and pressured its president to investigate former vice president Joe Biden's family ahead of the 2020 election. (This is something Trump has largely admitted to and insisted the two issues are not linked, arguing the call was "totally appropriate" and that he did nothing wrong.)
For Democrats, the Ukraine saga is less in the weeds than the 448-page Mueller report, and it's a story that several Democratic members said Tuesday was more blatant and easier to explain to the American public.
"In this case, he's skipping the middleman," Rep. Mark Pocan, a Wisconsin Democrat, said Tuesday. "He's just coming out and saying, 'Yeah, I did it, and yeah, my office held up the money, and let me save you any more time and just let's get to it. Let's dance.'"
At every town hall he holds, Pocan said, he asks his constituents who among them have read the full Mueller report. In total, just seven people have told him they have. Pocan said that the Ukraine story, on the other hand, is something Americans can understand by watching just a 30-second clip of Trump saying he did it.
"I do think it's a far more simple, straightforward case of the president's actions," Rep. Mark Takano said as he left an impeachment-focused meeting of the entire Democratic caucus Tuesday afternoon. "This speaks of a president that's swollen with power, drunken with power, and thinking he's above the law, and he's not."
The series of revelations about Trump's call with Ukraine began with a Washington Post report of a whistleblower complaint, which the Trump administration has refused to give to Congress. Pelosi called the efforts to block the complaint "a violation of law."
Following news of the whistleblower complaint, Rudy Giuliani, one of the president's personal lawyers, said on CNN that he asked Ukrainian officials to investigate Biden, and Trump acknowledged Monday that he discussed Biden with Ukrainian President Volodymyr Zelensky, but denied that he had offered to restore aid money to the country in exchange for information.
"I put no pressure on them whatsoever," he told reporters. "I could have. I think it would probably, possibly have been okay if I did. But I didn't. I didn't put any pressure on them whatsoever."
On Tuesday morning, however, the New York Times reported that Trump did acknowledge putting a hold on aid funds for the country, though he said it was because European countries have not paid their share of aid to Ukraine.
"I think for many of us that were in the weeds of the committee work on it, there was a pattern that was already established," Rep. Pramila Jayapal, a Judiciary Committee member, said Tuesday afternoon. "But this is different because it is him as a candidate, it is in broad daylight, and it is so egregious around, you know, directly asking a foreign leader and thwarting Congress's money that we have appropriated — and so it's brought a whole new group of people to the table."
Notably, among that group of new members at the table, is a handful of first-term Democrats representing more moderate districts, including Rep. Chrissy Houlahan of Pennsylvania, who, along with six of her colleagues, penned an op-ed in the Washington Post on Monday evening pushing for an impeachment inquiry.
"I don't necessarily know where the heartbeat of every one of my constituents is on this issue," Houlahan told reporters following Pelosi's remarks. "But I think it's time, you know, to move to the next step because of what is possible that has recently happened."
What exactly the next step is — and whether the full House will vote on impeachment — remained unclear Tuesday evening. Democrats reportedly considered forming a select committee on impeachment but dispatched the idea. At her announcement, Pelosi said she was directing six House committees to investigate Trump "under that umbrella of impeachment inquiry."
As she left the caucus meeting, Rep. Alexandria Ocasio-Cortez, a longtime impeachment supporter who has pushed Democrats to do more, said she believed that the "emphasis" has changed.
"I think the party is unified," she said, "and the power behind that, the weight behind that, adds an urgency and an expeditiousness."