Ferguson Protesters Feel A Loss As Holder Steps Down
During weeks of racial turmoil in Ferguson, Attorney General Eric Holder visited and sent FBI agents to the town.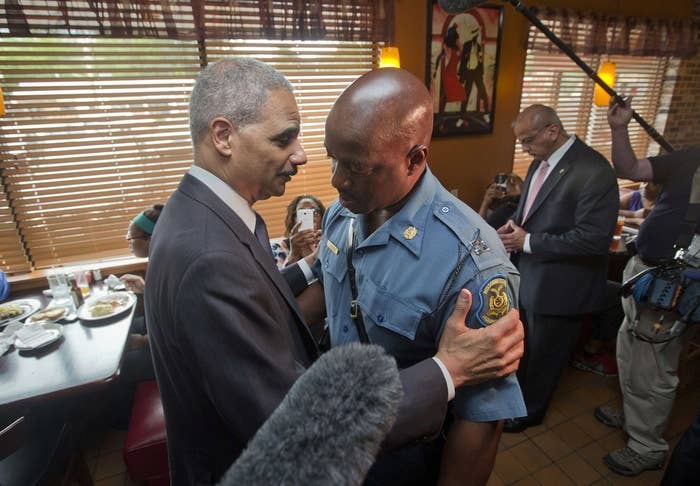 With Attorney General Eric Holder departing the Obama administration, Ferguson residents who protested the death of Michael Brown say they are losing a champion.
"I think he's awesome, and whoever comes behind him has large shoes to fill," said Patricia Bynes, a Democratic Party official from Ferguson, Missouri. "Him coming down here made it clear it wasn't just a dog and pony show, that there was a serious investigation going on."
Nine days into clashes between protesters and police following the Aug. 9 shooting of unarmed black 18-year-old Michael Brown by a white police officer, Darren Wilson, Attorney General Eric Holder announced he was heading to Ferguson personally. The day Holder announced his visit, the unrest seemed to be escalating. Night after night, a few rowdy protesters would hurl rocks and bottles at police, who would respond by firing rubber bullets and tear gas into the crowd.
Holder sent dozens of FBI agents to Ferguson, ordered an independent federal autopsy of Brown's body, and in early September announced an independent investigation into the Ferguson police force. With Holder stepping down, protesters in Ferguson are losing a man who let them know their voices were being heard.
"I'm disappointed to hear that he is leaving, I think he's been a good attorney general, and his involvement in the Ferguson situation has been a big help," said Antonio French, a St. Louis Alderman who chronicled the Ferguson protests firsthand through his Twitter feed. "At a time when people were not seeing much action or progress from state or local government, it was the federal government that stepped up and gave hope to people that justice might be served in this case."
Many Ferguson residents had lost faith in the ability of the St. Louis County Police, and County prosecutor Bob McCulloch, to properly investigate Wilson. As FBI began to fan out in Ferguson, interviewing witnesses and talking with residents, the people in Ferguson upset over Brown's death began to feel that someone was listening. Ferguson is mostly black, but its 53-member police force only has three black officers. For the protesters, Holder was a calming presence, a black man in a position of authority.
"I just had the opportunity to sit down with some wonderful young people and to hear them talk about the mistrust they have at a young age. These are young people and already they are concerned about potential interactions they might have with the police," Holder said in speech in St. Louis. "I understand that mistrust. I am the Attorney General of the United States. But I am also a black man."
Holder and the Justice Department's conduct was not universally praised — some conservatives were critical of Holder's presence in Ferugson.
French said that Holder's actions meant a lot to Ferguson residents. "It was the federal government that provided empathetic action on behalf of citizens here who felt the system was not working on behalf of them," he said. "That's real action, it's one thing for people give words of empathy, but having empathetic action is something different. So far it's only been the attorney general and the president who we've seen that from."
During his trip to Ferguson, Holder also met with members of the community, including Michael Brown's parents. "He met with them very early on, and I think this sentiment still remains true, they were comforted by his words and his visit," said Anthony Gray, an attorney for the Brown family.
Holder's visit "was pivotal, it set a very nice tone, it gave a sense of attention and focus that several people in the community were calling for," Gray said.
With Holder stepping down, the people of Ferguson are left to wonder whether his successor will be as dedicated.
"They have to make sure that the investigation in Ferguson remains a priority," said Bynes. "I would recommend that they come down here, too, and let people know that I'm the new attorney general, but this case is just as important to me."
Adam Serwer is the national editor for BuzzFeed News and is based in Washington, D.C. His secure PGP fingerprint is 883A 7AB8 4736 1BB9 A061 D26A F2B5 71C0 391A 0252

Contact Adam Serwer at adam.serwer@buzzfeed.com.

Got a confidential tip? Submit it here.