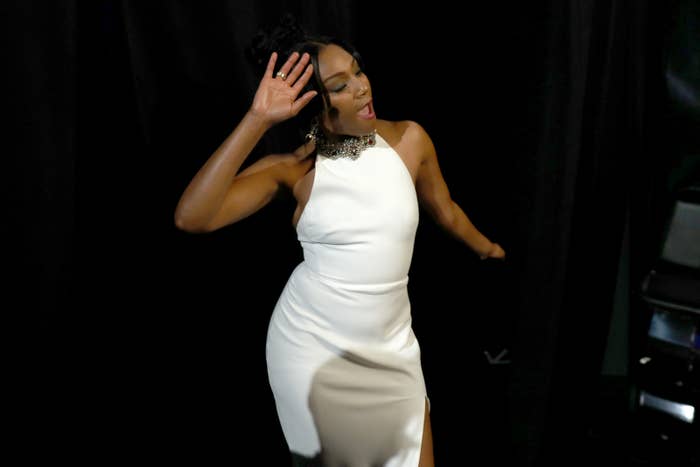 Tiffany Haddish stood in the middle of the Governors Ball Sunday night, basking in the afterglow of her debut at the Academy Awards. She'd worn her own Ugg slippers on stage in a comedy bit with copresenter Maya Rudolph. She'd continued her campaign to get Meryl Streep to play her mother in a movie. And, most important, by appearing on the Oscars, she'd accomplished one of the biggest goals she'd first set for herself 14 years ago, after fellow stand-up comic Kevin Hart realized she was living out of her car and implored her to make a list of accomplishments she wanted to achieve in her life, and then go after them.
"It's been one of those most magical nights of my life," Haddish told BuzzFeed News at the Governors Ball. "I've accomplished at least 15 of my goals." With a wide smile and her trademark enthusiasm, she noted that she got to wear a gown on the red carpet to honor her late father's Eritrean heritage, and that she once again wore the Alexander McQueen dress that she'd already donned for the Girls Trip premiere and her hosting gig on Saturday Night Live.
But when Haddish indicated her third outfit for the night, a neon green Brandon Maxwell dress, her eyes began to tear up.
"Right now I'm wearing this Brandon Maxwell dress, and I feel more beautiful than I've felt in my whole life," she said, her voice quavering. "And I'm just— I'm kind of overwhelmed with emotion, because I've never been this happy before. And I've been pretty happy!"
Haddish laughed, in the way people do sometimes to mask that they're about to cry.
"So, I just feel like God is out here showin' his ass tonight! Because he is blessing me with everything and…"
Haddish leaned over, and rested her head briefly on my shoulder.
"I'm sorry," she said. "I think I'm ovulating, I'm so emotional!" She laugh-cried again. "When I think about it, you know, I'm thinking like, Man, I used to live in a car and I used to dream about being at something like this, and being around these people."
Haddish became overwhelmed, and briefly paused to compose herself. "It's amazing," she said, finally. "It's amaaaazing. It's amaaaaazing."
I asked her who else she would want to meet that she hadn't yet. "Sandra Bullock, just so I could tell her she's dope as fuck," she said. "Michael B. Jordan, so I could tell him I'm ovulating. I'm just playing, I'm just playing. Honestly, I'm just happy to meet whomever wants to meet me, to be honest."
When I noted that it seemed like everyone would want to meet her, Haddish shook her head. "I don't know. Ain't nobody — just you and a few others have come up to me."
As if on cue, comedian Adam Carolla, who was one of the writers for the evening's Oscar telecast, stepped up to Haddish to tell her he thought she was "easily the best" presenter of the night.
"I just wanted to let you know, I loved you on Girls Trip," Carolla said. "Then I watched SNL. Then I watched tonight. Real deal."
Haddish broke into a familiar, playful grin. "Tell David Alan Grier I said, 'Nah nah nah nah nah!'" she told Carolla of his frequent podcast guest. "Because I used to tell [Grier], 'I'm going to be on the Oscars!' He was like, 'Tiffany. Keep dreaming big. Keep dreaming big, Haddish.' I can't wait to call him after this."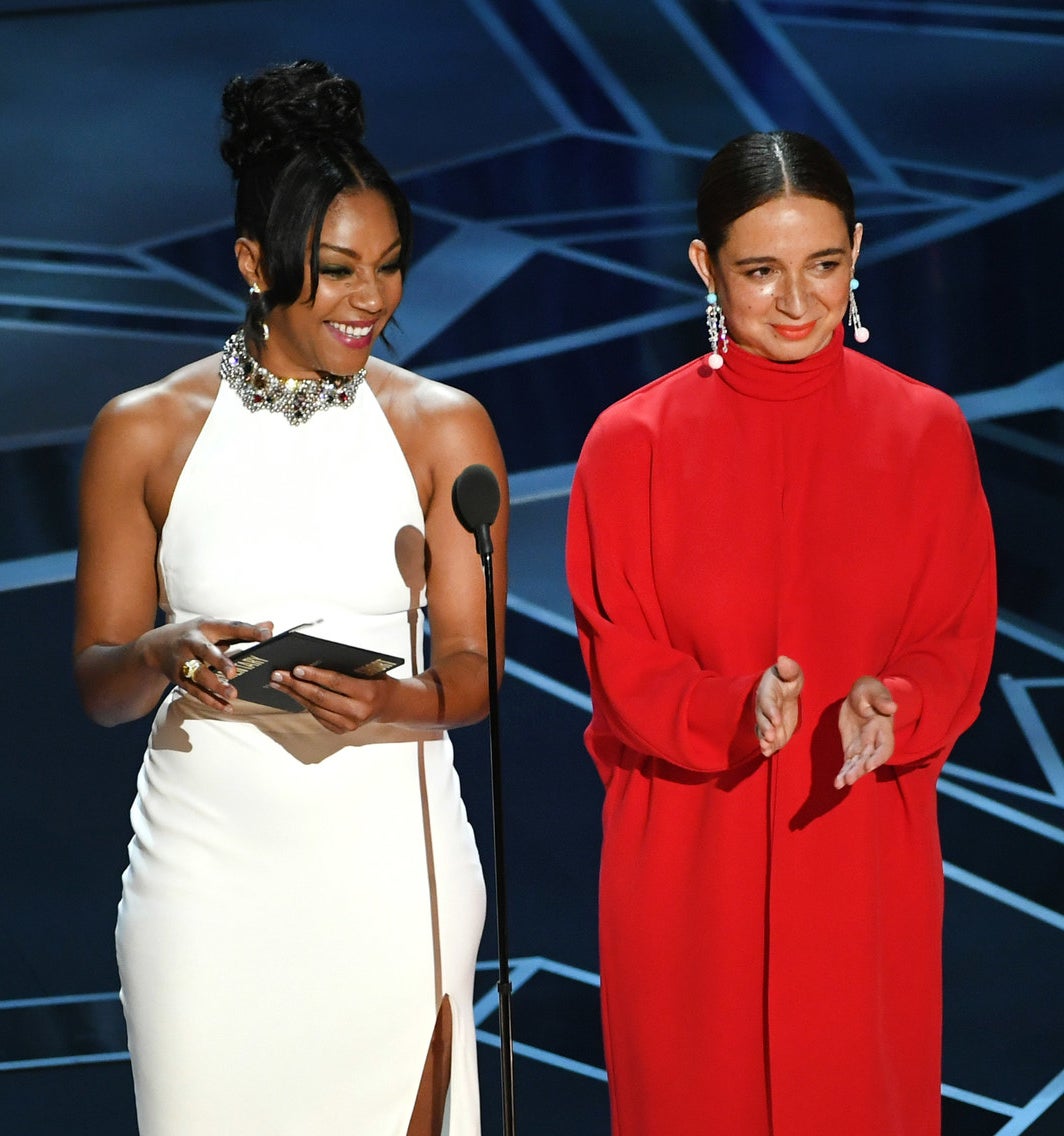 After briefly introducing Haddish to his young daughter, Carolla stepped away, and Haddish turned back to me, jumping up and down.
"OH MY GOD, ADAM CAROLLA JUST TOLD ME HE WAS PROUD OF ME!" she said, her face beaming.
I noted that she's been getting a lot of that kind of praise on Twitter, with many wishing she would host the Oscars next year. (She's already set to host the MTV Movie and TV Awards in June.)
"I would love to if they paid me to do it," Haddish said of hosting the Oscars. "I can't do it for free. I did this [presentation] for free. That's like an audition. I was happy with my audition. You know, you can't think about it no more. When you audition, you do your job, you have fun, you get out of the room, and whatever happens, happens. And that's what I did tonight."
One only hopes the Academy was paying attention.