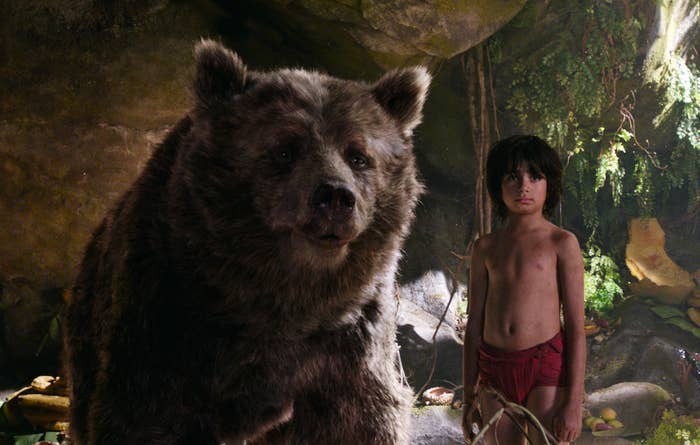 The Jungle Book roared into theaters this weekend, grossing an estimated $103.6 million in the U.S. and Canada. It's now the second largest domestic box office debut ever for the month of April, behind 2015's Furious 7.
The almost entirely computer animated movie — 10-year-old actor Neel Sethi plays the only major live-action character in the film — has also earned $187.4 million internationally since opening in some markets on April 7, for an estimated global take to date of $291 million.
It is the most successful example yet of Disney's recent strategy of extravagantly mounted, seemingly live-action remakes of its classic animated films, ever since director Tim Burton's fantastical reimagining of Alice in Wonderland earned more than $1 billion worldwide in 2010. In 2014, the studio's Maleficent — a revisionist take on its 1959 animated film Sleeping Beauty, starring Angelina Jolie — earned $758.5 million globally. The following year, director Kenneth Branagh's more straightforward remake of Disney's 1950 animated classic Cinderella earned $542.7 million worldwide.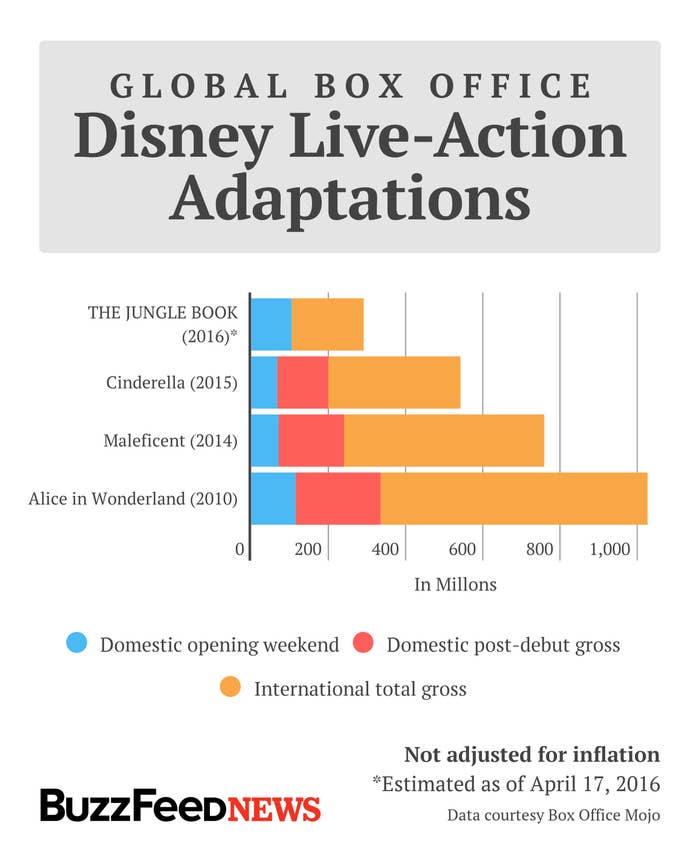 Given its "A" CinemaScore rating, international appeal, and lack of family film competition for the rest of the month, The Jungle Book, from director Jon Favreau, should easily surpass Maleficent and Cinderella's grosses, and earn back its reported $175 million budget.
That comes as welcome news for Disney's live-action division, which has struggled somewhat to earn the kind of astronomic grosses that its sibling divisions — Marvel Studios, Lucasfilm, Pixar, and Walt Disney Animation — have been raking in for years now. Titles like The Finest Hours, Tomorrowland, McFarland, USA, and Million Dollar Arm have proven to be either disappointing performers or outright flops, seemingly out of step with what has become the studio's overall approach of making only expensive potential blockbusters. But with audiences flocking to revisit beloved stories from Disney's vast library, the studio has already doubled down (and then some) with a live-action slate packed with remakes, reimaginings, and reboots.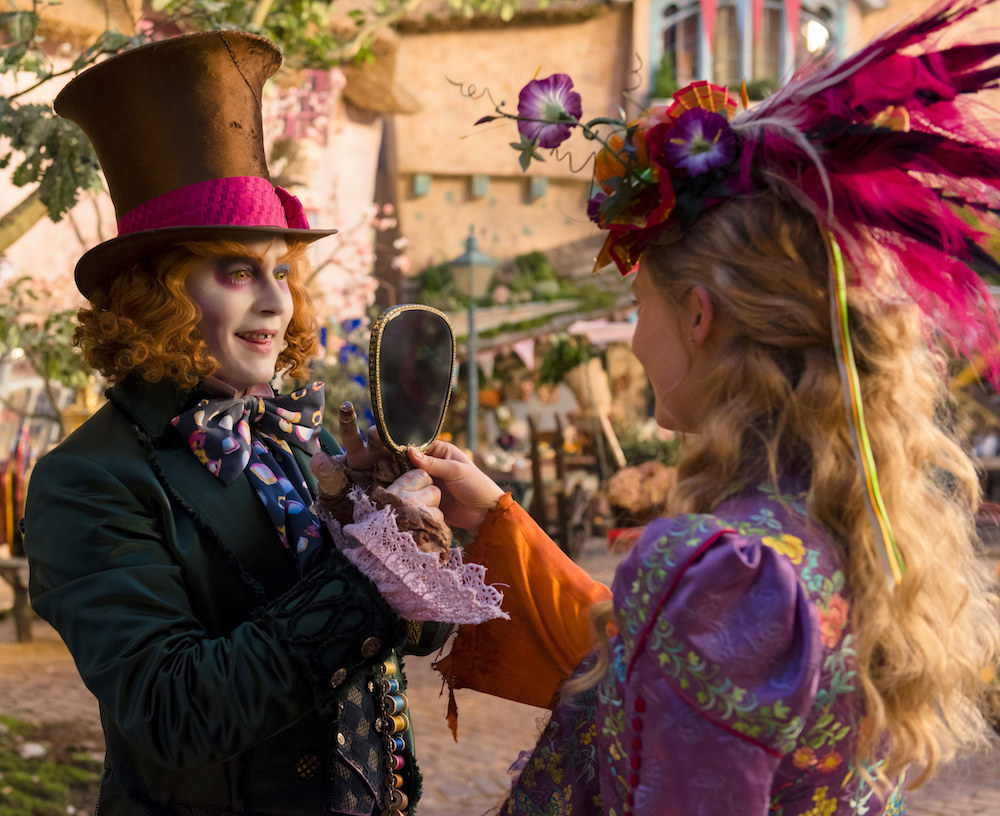 Over the next 12 months, the studio will release two more remakes of classic films — Pete's Dragon on Aug. 12, and Beauty and the Beast on March 17, 2017 — as well as the Alice in Wonderland sequel Alice Through the Looking Glass, on May 27.
Beyond that, Pete's Dragon director David Lowery has already been tapped to direct a live-action version of Peter Pan, which may or may not overlap with plans for Tink, a live-action Tinkerbell origin story starring Reese Witherspoon. Audiences could also soon see Emily Blunt singing in a sequel to the 1964 classic Mary Poppins, and director James Mangold (The Wolverine, Walk the Line) has been set to helm Captain Nemo, an adaptation of Jules Verne's 20,000 Leagues Under the Sea — which Disney first made into a film in 1954, starring Kirk Douglas.
And in keeping with Maleficent's exploration of classic Disney villains, Emma Stone could soon play a young Cruella de Vil in Cruella. Twenty years ago, Glenn Close also played that role, discovering previously unexplored limits of going over-the-top as the wicked fashion maven in the 1996 live-action remake of 101 Dalmatians. She made some major bank doing it: Adjusting for ticket price inflation, the film earned $264.9 million domestically.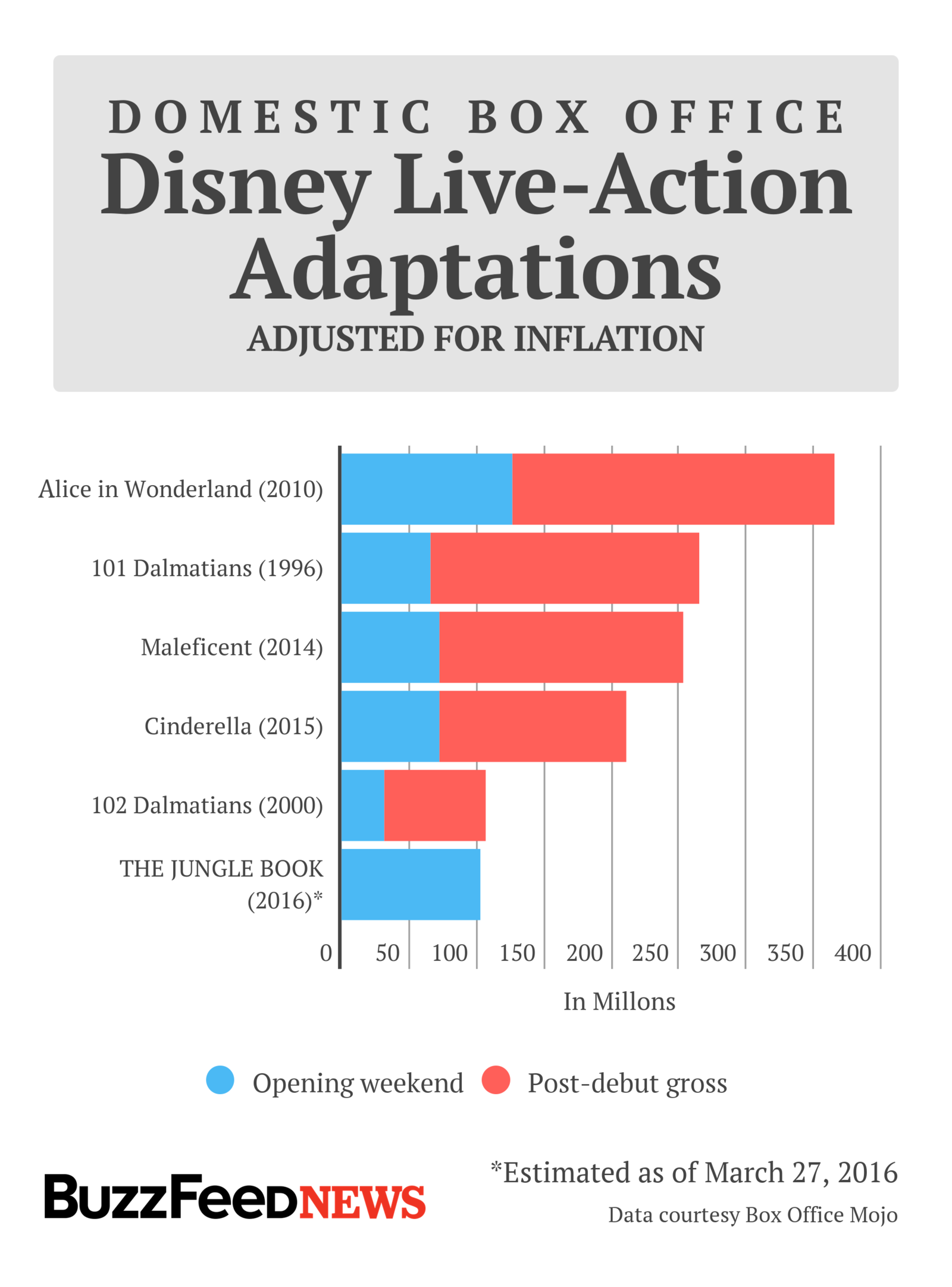 101 Dalmatians' success inevitably bred a sequel, 102 Dalmatians, in 2000, but that film was a relative flop, earning just $107.1 million in inflation-adjusted gross. The failure appeared to spook Disney, which did not attempt an extravagant live-action remake of one of its classic films again until 2010's Alice in Wonderland. 102 Dalmatians' box office failure suggests that audiences do have limits for seeing the same story rehashed over and over, and it also underlines the risk involved with Disney spending so much financial and creative capital on remaking its past hits.
The studio does not, for the moment, appear to be overtly concerned with those issues. Favreau and screenwriter Justin Marks are already working on a sequel to The Jungle Book — and that's with Warner Bros. also planning to release director Andy Serkis's rival film Jungle Book: Origins in 2018.

It is also worth considering that Disney's live-action remakes have made a fraction of the vast fortunes earned by the original animated classics over their lifetime runs at the domestic box office, when adjusting for inflation.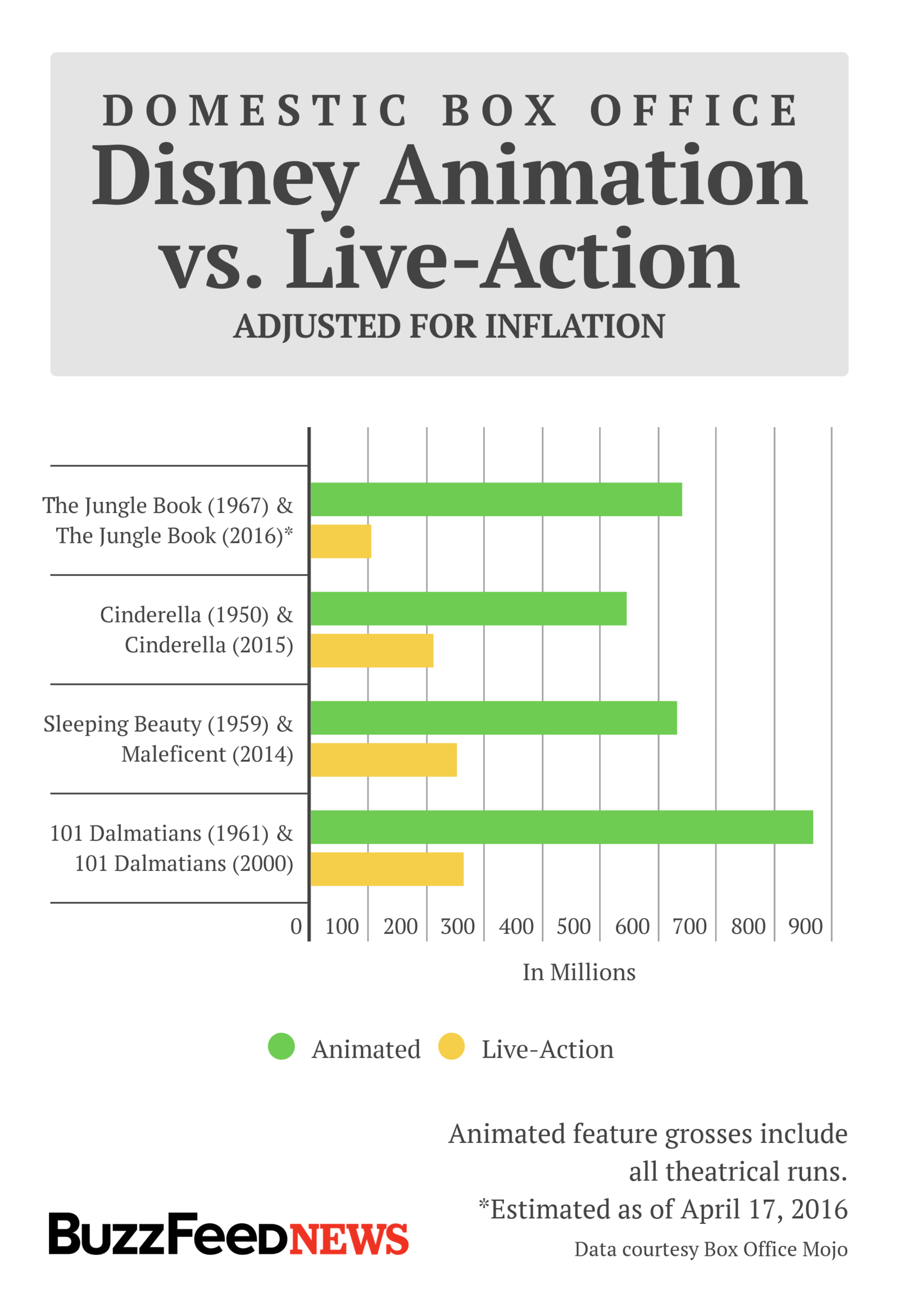 Those original films opened in a different era in Hollywood, when a single movie could play in theaters for years. Disney's theatrical re-releases years later also became major events in and of themselves — and that's not even factoring in the hundreds of millions of dollars the company has made on home video releases of its animated classics. Films like Cinderella, Sleeping Beauty, 101 Dalmatians, and The Jungle Book have earned audience adoration over decades, as generations of families have shared them together. It makes sense that those audiences would be keen to revisit those films through a live-action lens. But even in success, these remakes are by their very nature a diminishing return.

Here are the estimated top 10 box office figures for Friday to Sunday, courtesy of Box Office Mojo:
1. The Jungle Book* — $103.6 million
2. Barbershop: The Next Cut* — $20.2 million
3. The Boss — $10.2 million
4. Batman v Superman: Dawn of Justice — $9 million
5. Zootopia — $8.2 million
6. Criminal* — $5.9 million
7. My Big Fat Greek Weeding 2 — $3.3 million
8. Miracles from Heaven — $1.9 million
9. God's Not Dead 2 — $1.7 million
10. Eye in the Sky — $1.6 million
CORRECTION
Maleficent is a remake of Sleeping Beauty, not Cinderella as a previous version of this story stated.