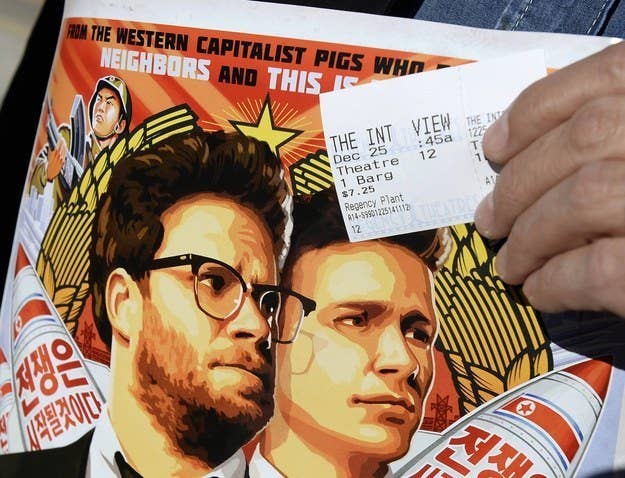 Sony Pictures announced on Tuesday, Jan. 20 that The Interview had earned more than $40 million in digital sales, with 5.8 million rentals and sales — for a per unit average of roughly $6.90. Including theatrical box office, that puts the film's total grosses at just under $46 million.
See original story below.
The Interview now ranks as Sony Pictures' top-grossing film online, according to a release from the studio. But with a reported $44 million budget — a figure revealed via the massive hack of the studio that plunged The Interview into this highly unusual release pattern in the first place — the movie still appears to have a long road ahead of it before it could be profitable for Sony.
Since debuting online on Dec. 24, The Interview has grossed over $31 million in on-demand revenue. It's been downloaded and rented 4.3 million times, according to the release. The rule of thumb for most theatrical releases is that a movie has to gross roughly double its production budget in order to become profitable, since over time, movie theaters keep about 50% of all ticket sales. The financial structure of VOD releases in general, however, remains much murkier — it is rare, in fact, for a studio to reveal any numbers at all for its VOD releases.
But even if VOD distributors kept 25% of total sales, The Interview would need to make nearly $60 million in order to make a profit on VOD alone. The film's limited theatrical release certainly isn't helping much — since opening Dec. 25, the film has grossed $5 million. And then there are marketing costs, which for major releases can equal or exceed The Interview's entire production budget.
The news of The Interview's VOD grosses is much less complicated, however, for theater owners: It's terrible. For years, exhibitors have successfully fought every attempt by major studios to erase the window between a movie's theatrical run and its availability at home. The circumstances surrounding The Interview's release are one of a kind, and there is no guarantee another studio film could make six times on VOD what it makes in a limited run in theaters. (One interesting calculation: The per-unit average for The Interview's VOD grosses to date is $7.21, which is 91 cents less than the average movie theater ticket price in 2014.)
Still, this is exhibitors' nightmare scenario. For the first time, a major studio movie will gross more money — much more money — in a first-run digital release than it makes in theaters. With ticket sales at their lowest in at least 19 years, that has got to make theater owners nervous as hell.