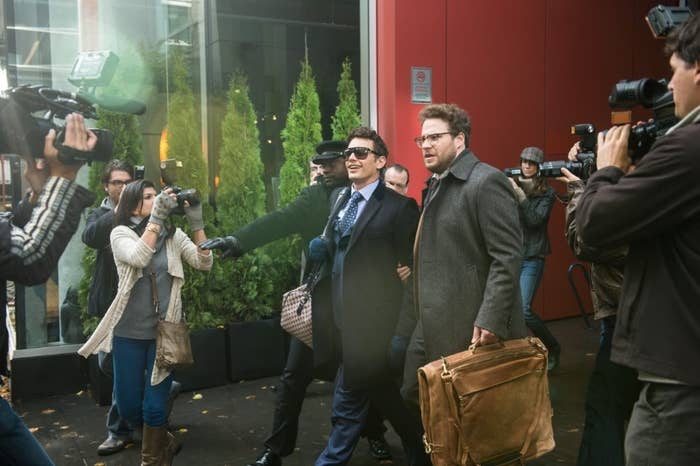 After becoming an international lightning rod en route to its wide release on Christmas, then getting pulled from theaters entirely, only to be reinstated in a much smaller number of theaters two days before Dec. 25, The Interview finally debuted.
And it did…fine. Or great, or terribly, depending on how you choose to look at it.
In 331 theaters, The Interview grossed an estimated $2.85 million over the four-day holiday, for a per-theater average of $8,613. Its three-day weekend grosses are a bit smaller — $1.8 million since Friday, with a per-theater average of $5,471 — but for the sake of argument, let's stipulate that roughly the same number of people would have seen it in a theater over the weekend had they not had the opportunity on Thursday.
With that in mind, a $2.85 million debut is on target with other buzz-y movies that have played in a similar number of theaters. Boyhood grossed $2.4 million when it expanded to 310 theaters in its fourth weekend of release. A Most Wanted Man, featuring one of Philip Seymour Hoffman's final performances, opened in 361 theaters with $2.7 million. Eventual 2013 Best Picture winner 12 Years a Slave grossed $2.1 million when it expanded to 123 theaters in its second weekend. Matthew McConaughey began his career resurgence with the indie drama Mud, which opened in 363 theaters with $2.2 million. And Enough Said, co-starring James Gandolfini in one of his final roles, grossed $2.1 million when it expanded to 227 theaters in its second weekend.
You get the point — The Interview's debut is on the top end of what one could reasonably expect from a limited release of that scope. The movie hasn't come close to breaking any limited-release box office records, but it remains in very good company.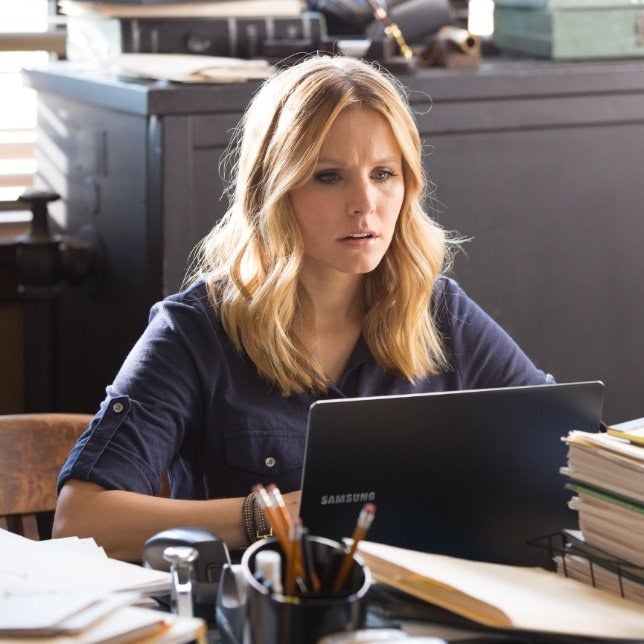 None of those aforementioned films, however, opened "day-and-date" with a digital debut at the same time as its theatrical debut. The Interview, by contrast, was available on YouTube, Google Play, Xbox Video, and a dedicated website starting at 1 p.m. ET on Dec. 24. Studios have been flirting with this kind of release for a while now, but major exhibitors have firmly resisted it, viewing day-and-date releases as an existential threat to their bottom line. Thanks to the extraordinary circumstances surrounding The Interview — starting with an unprecedented cyberattack on studio Sony Pictures and ending with a vague (and as yet empty) threat against theaters showing the film — the movie has become an unlikely and unique test case for a studio day-and-date release.
And on those terms, The Interview did handsomely. The only other major studio day-and-date release was Veronica Mars in March, which pulled in $1.99 million in 291 theaters, with a $6,833 per theater average. The other high-profile digital release this year, Snowpiercer, debuted on VOD in July after a two-week limited run in theaters, and its box office dropped 37% to a gross of $635,370, even though it had also expanded to 356 theaters. By comparison, The Interview's $2.85 million looks positively flush.
Snowpiercer's U.S. distributor, RADIUS-TWC, reported that it had grossed $6.45 million on VOD through the first weekend of September. But that kind of transparency for digital releases is rare, and Sony has indeed declined to release any digital revenue figures for The Interview. All Rory Bruer, Sony Pictures' president of worldwide distribution, would say in a release is that the movie "remains at the top of many [digital] charts." (UPDATE: After this story was published, Sony Pictures did release VOD numbers for The Interview. They are really good! See more in the update below.)
But if we use Snowpiercer's VOD grosses as a benchmark — which RADIUS-TWC touted as an example of a successful VOD run — then The Interview remains a financial calamity for Sony Pictures. There is little chance the studio stands to come close to recouping the film's budget and marketing costs, especially since it is highly unlikely major theater chains Regal, AMC, Cinemark, and Carmike will ever exhibit the film. And if The Interview's depiction of the assassination of North Korean dictator Kim Jong Un really is the catalyst for North Korea's alleged hacking of the studio (a claim by the U.S. government that remains in dispute), then between the workplace disruption, employee lawsuits, and embarrassing headlines, the story of The Interview could end up as a triumph for free speech that is also one of the costliest disasters in Hollywood history.
Sony Pictures announced late Sunday that The Interview had been rented and purchased online over 2 million times, with total digital revenue through Saturday hitting $15 million. That more than doubles what Snowpiercer grossed on VOD over two months, and puts The Interview's total grosses for the holiday weekend over $18 million.
Which, ironically, would likely be about what the movie would have made had roughly 2 million more people gone to see it in the theater for a wide release. (Before the hacker threats, The Interview was set to open in about 3,000 theaters.) That would certainly give credence to exhibitors' worst fears about day-and-date releases, but given the unprecedented nature of and attention to The Interview's release, there are still plenty of unknowns about how applicable its day-and-date experience would be to a standard studio film. (For one thing, Fox News pundits have been promoting seeing The Interview as every American's patriotic duty, which is not likely to happen again any time soon.) Still, whatever happens from here, this is a true Hollywood milestone.
As for The Interview itself, do its VOD grosses mean my aforementioned pronouncement that the movie is "a financial calamity for Sony Pictures" that "could end up ... one of the costliest disasters in Hollywood history" is premature? Possibly! It is easily the most positive development for the studio since the hacking nightmare began. But as much as it is impossible to know what The Interview's digital bounty could mean (if anything) for the future of theatrical exhibition, it's also incredibly difficult to gauge how much more money lies in The Interview's future. If the studio can maintain the film's momentum through the Jan. 1 holiday weekend and beyond, The Interview could at least become profitable for the studio. But that is a big "if."
Here are the estimated top 10 box office figures for Friday to Sunday, courtesy of Box Office Mojo:
1. The Hobbit: The Battle of the Five Armies — $41.4 million
2. Unbroken* — $31.7 million
3. Into the Woods* — $31 million
4. Night at the Museum: Secret of the Tomb — $20.6 million
5. Annie — $16.6 million
6. The Hunger Games: Mockingjay – Part 1 — $10 million
7. The Gambler* — $9.3 million
8. The Imitation Game — $7.9 million
9. Exodus: Gods and Kings — $6.8 million
10. Wild — $5.4 million
*Opening weekend