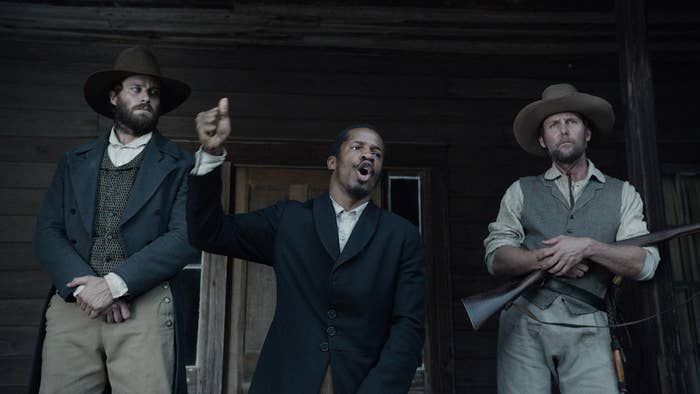 After enduring a sustained and emotional onslaught of hype and scandal over the past nine months, The Birth of a Nation finally opened in theaters, earning an estimated $7.1 million in 2,105 locations in the US and Canada.
It is, at best, a tepid debut for any wide release film, but it has to be especially disappointing for Fox Searchlight. The speciality division of 20th Century Fox purchased The Birth of a Nation at the 2016 Sundance Film Festival for a record-breaking $17.5 million, after the independently financed film premiered to widespread enthusiasm due to the power of its subject — the 1831 slave uprising led by Nat Turner — and the accomplishment of its director and star, Nate Parker.
A string of interviews Parker gave in August and September about a 1999 rape charge against him, however, has clearly tampered enthusiasm for his movie. And between its acquisition price and the marketing dollars Searchlight sunk into launching the film in wide release (as opposed to the slow platform release given to most Sundance films), The Birth of a Nation would have to make upwards of $50 million to begin to turn a profit.
That goal seems especially difficult to reach when considering the top-selling films out of Sundance earn far more humble box office returns — if they're lucky.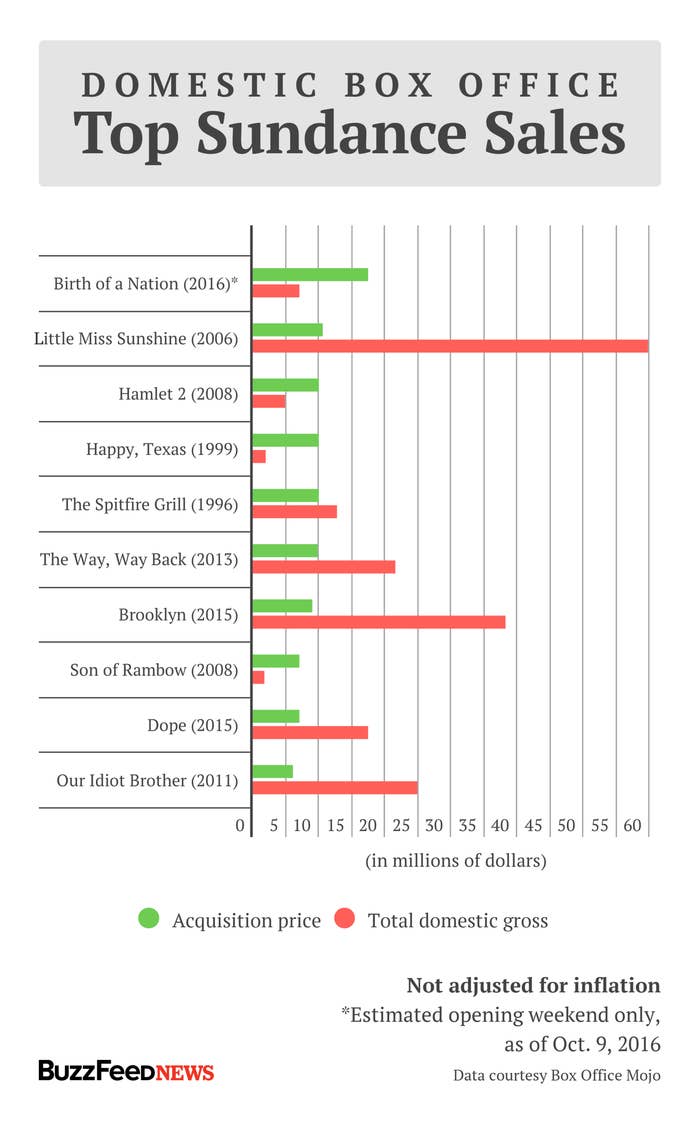 Again and again, the most hyped movies out of Sundance have failed to reach their lofty financial expectations once they leave the safe confines of Park City, Utah. Yes, Little Miss Sunshine was an unqualified sensation, but far more often the festival turns out films like Hamlet 2, Happy, Texas, and Son of Rambow that can't even earn back their purchase price. The Birth of a Nation has already out-grossed all of those films, and yet it still has a long road to go before it can earn back Searchlight's $17.5 million.
The Birth of a Nation is not just a Sundance movie, of course. Understanding the impact of its box office debut requires measuring the film against several yardsticks.
There have been very few major feature films that deal with the institution of slavery in some form, and feature black actors in prominent (if not leading) roles. But even in that exclusive company, The Birth of a Nation is struggling.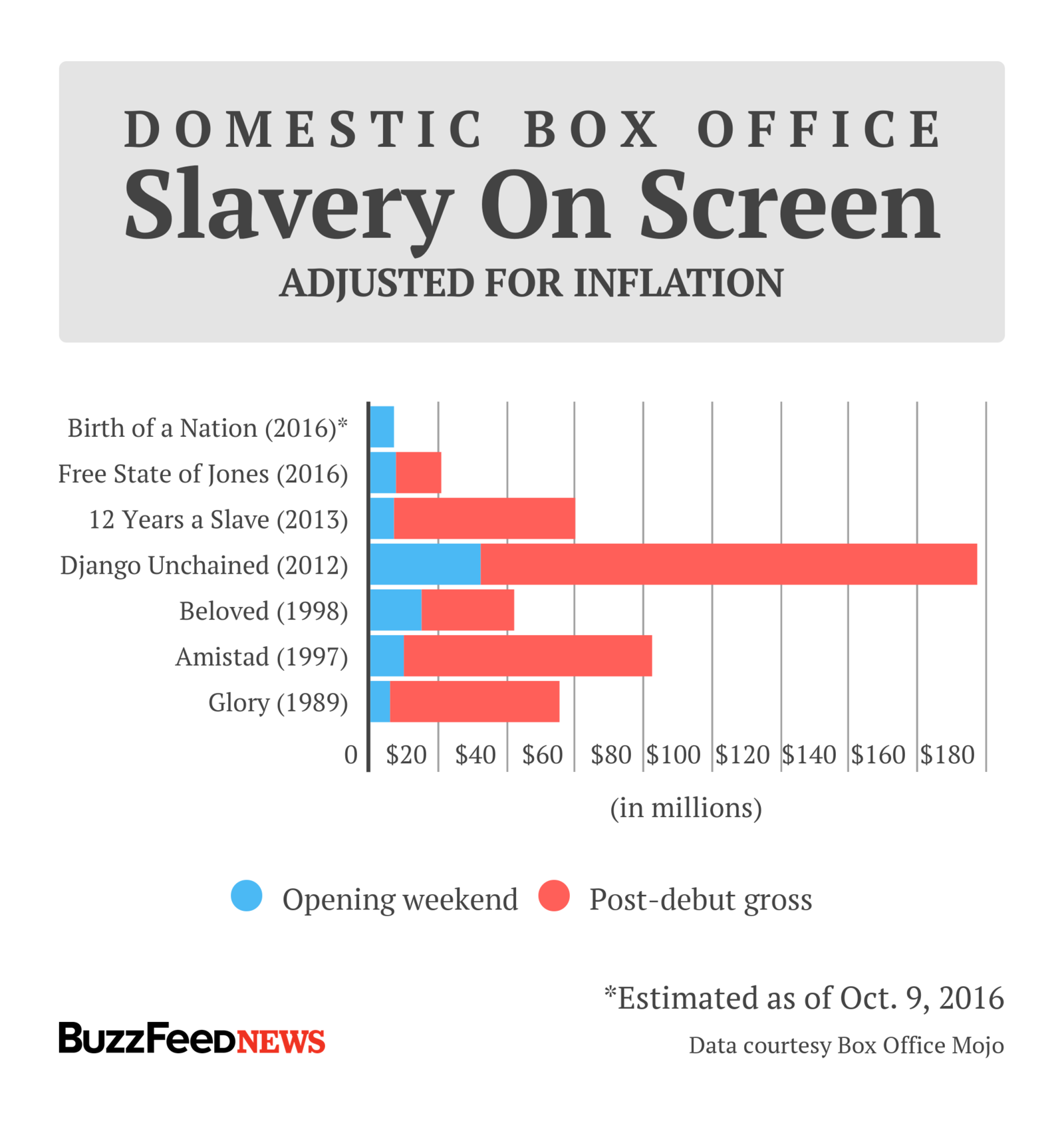 In 2013, 12 Years a Slave road a wave of superlative reviews, nine Oscar nominations, and a history-making win for Best Picture, to earn $56.8 million domestically (and $131.1 million overseas). With The Birth of a Nation's awards season chances diminished significantly over the past two months, the film would need a miracle to reach that peak, even with the strong word-of-mouth indicated by its "A" rating from audience-polling firm CinemaScore.
Consider that last June, Free State of Jones — starring Matthew McConaughey, Gugu Mbatha-Raw, and Mahershala Ali, about the uprising of white farmers and black slaves in Mississippi during the Civil War — opened with $500,000 more than The Birth of a Nation's debut, ultimately grossed $20.8 million domestically, and swiftly disappeared from theaters and memory.
Historical epics — based on the stories of real people and events, however embellished — have also been a rare genre over the past 30 years. And yet, once again, The Birth of a Nation is struggling to compete among them.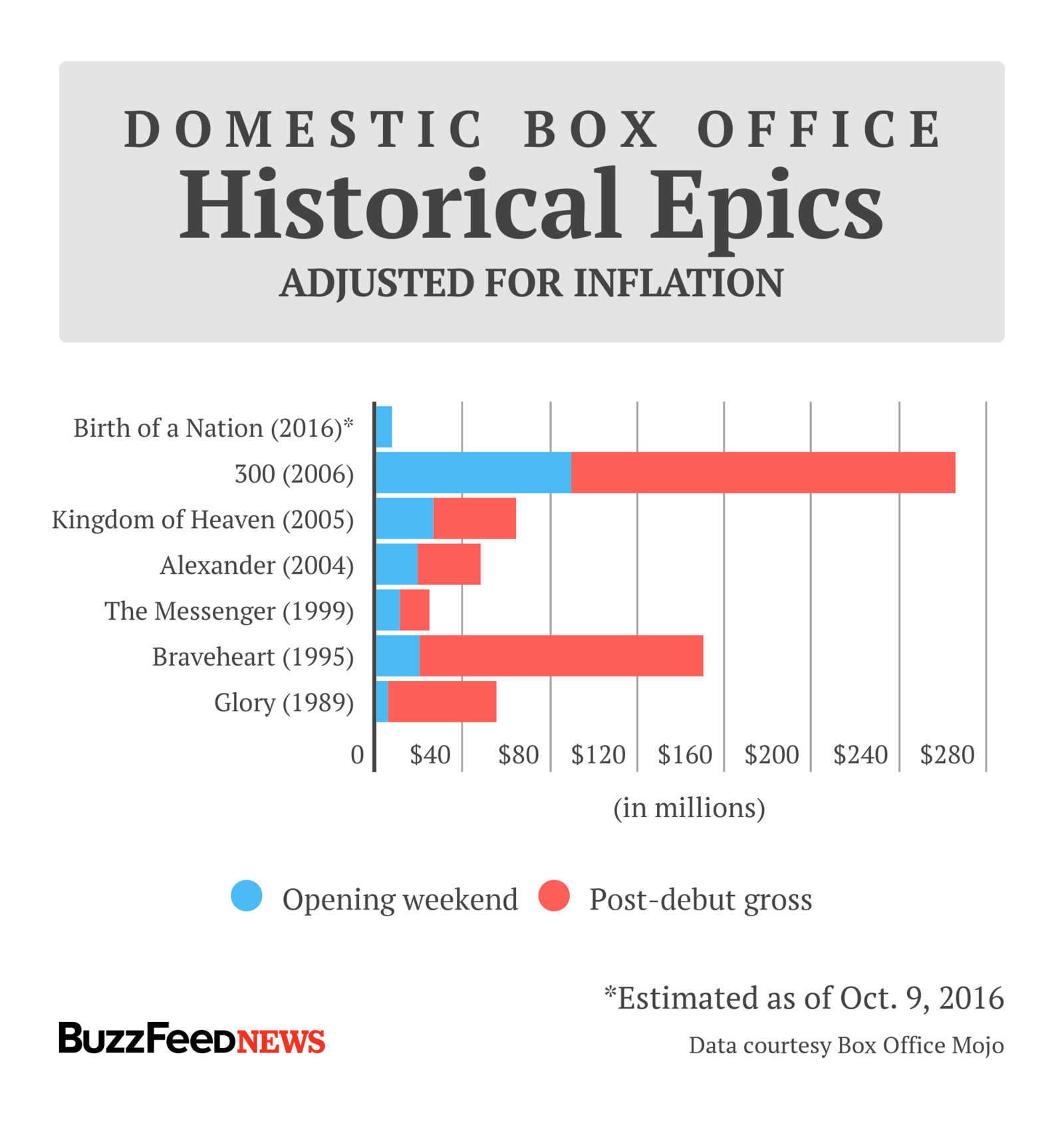 Modern audiences have not evinced much of an appetite for sweeping true stories about battles for freedom and glory — Zack Snyder's 300 had to inject music video editing, beefy men in homoerotic leather codpieces, and an onslaught of dramatic license into the Battle of Thermopylae to keep people's interest. Despite its comparisons to Mel Gibson's Oscar-winning Braveheart, The Birth of a Nation unfolds at a far more deliberate and thoughtful pace, and its reported $10 million budget kept the film's climactic slave uprising at a far more modest scope. Its box office grosses will likely develop in kind.
Speaking of Mel Gibson, Parker is also part of the ignominious club of filmmakers who had to open a film after a major personal scandal. On this score, he's actually doing (relatively) well.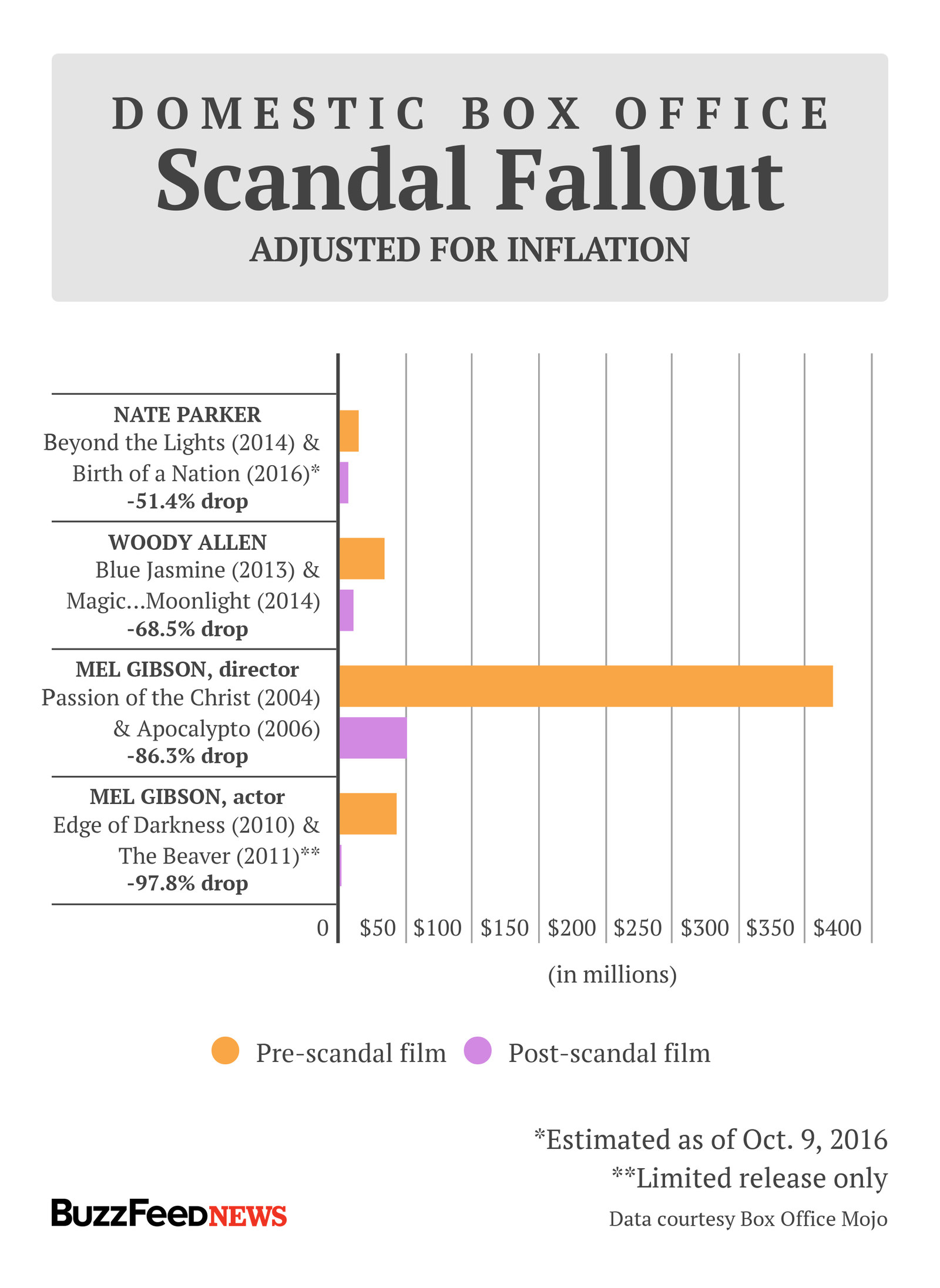 Parker's last film as an actor, 2014's romance Beyond the Lights (co-starring Mbatha-Raw), earned $14.6 million domestically, an amount that The Birth of a Nation will almost certainly surpass through the life of its box office run.
Compare that outcome to what happened to Woody Allen's box office after his daughter Dylan wrote an open letter to Hollywood in 2014 about her allegation that Allen molested her when she was seven. Or consider the precipitous decline of Gibson's career after his infamous 2006 arrest in which he allegedly said, "The Jews are responsible for all the wars in the world," and the 2011 release of recordings of Gibson spewing misogynistic and racist epithets at his ex-girlfriend Oksana Grigorieva. In each case, the commercial viability of Allen and Gibson's subsequent films dropped significantly, at least in part due to the fallout from their respective scandals.
Unlike Gibson and Allen, Parker has just started his career as a filmmaker — his body of work remains unknown to most audiences. That could easily dampen Parker's future prospects; Gibson and Allen's long pre-scandal careers have allowed them to continue to work, and often with A-list talent. Parker, by contrast, could have much more difficulty returning to the heights of that breathless debut at Sundance. But it also means he's had much less further to fall.
Here are the estimated top 10 box office figures for Friday to Sunday, courtesy of Box Office Mojo:
1. The Girl on the Train* — $24.7 million
2. Miss Peregrine's Home for Peculiar Children — $15 million
3. Deepwater Horizon — $11.8 million
4. The Magnificent Seven — $9.2 million
5. Storks — $8.5 million
6. The Birth of a Nation* — $7.1 million
7. Middle School: The Worst Years of My Life* — $6.9 million
8. Sully — $5.3 million
9. Masterminds — $4.1 million
10. Queen of Katwe — $1.6 million
*Opening weekend