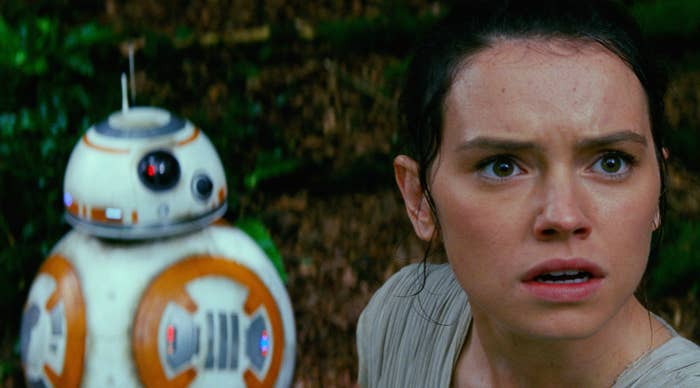 Breaking nearly every major box office record on the books, Star Wars: The Force Awakens debuted this weekend with $248 million at the North American box office, according to final box office returns released by Disney. The seventh film in the Star Wars saga has surpassed Jurassic World's $208.8 million domestic opening weekend record from June 2015, setting a massive new watermark for success at the box office, especially during the holiday season.
With The Force Awakens' debut, 2015 now features three of the top domestic opening weekends of all time.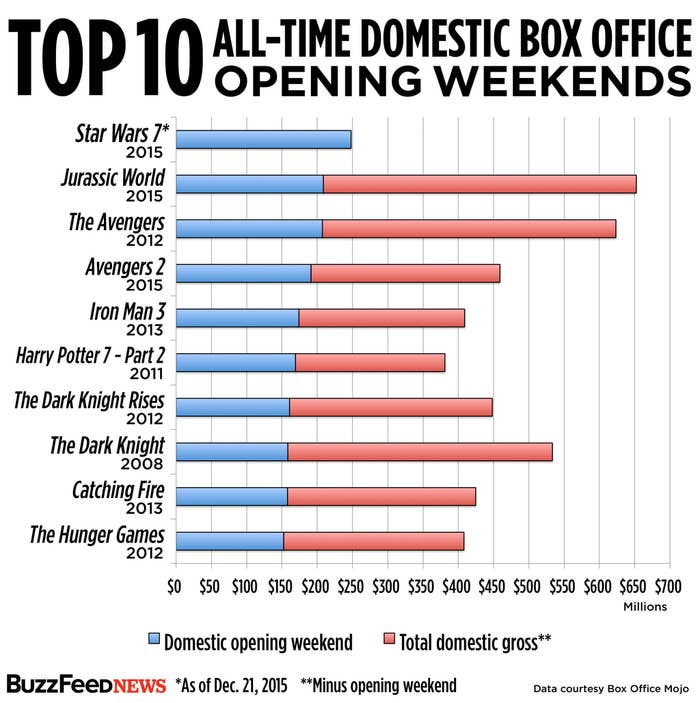 To fully understand the magnitude of The Force Awakens' box office achievement, consider that the film's record-setting $119.1 million opening day (including Thursday night's earnings) was already enough to give it the all-time best debut in December, surpassing the $84.6 million debut of 2012's The Hobbit: An Unexpected Journey. Until now, studios would never expect a summer blockbuster-style box office opening in the final month of the year, when holiday shopping and travel naturally syphons away potential ticket buyers.
Even when adjusting for ticket price inflation, The Force Awakens is handily the biggest domestic December release of all time.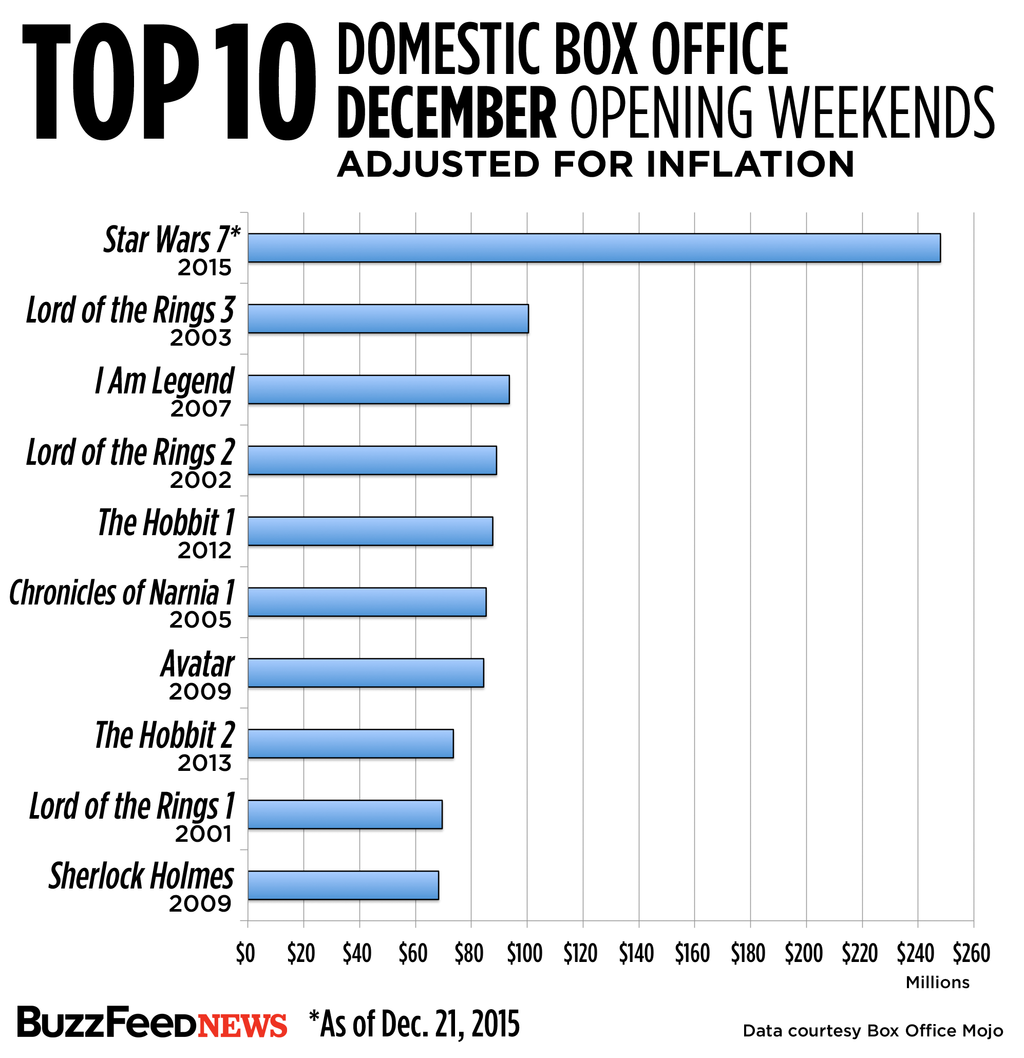 Internationally, The Force Awakens' debut has been similarly gargantuan, with an estimated $281 million, breaking all-time box office records in 18 countries, including the U.K. and Ireland, Germany, Russia, Australia, and New Zealand.
The Force Awakens does not open in China until Jan. 9, nor in Greece or India until next weekend, so it did not earn enough to surpass Jurassic World's record international debut of $316 million — which included roughly $99 million from Chinese box office.
But while estimates released on Sunday indicated that The Force Awakens would not beat Jurassic World's global box office record, the final grosses did in fact push the Star Wars film to the global record, even without box office returns from China.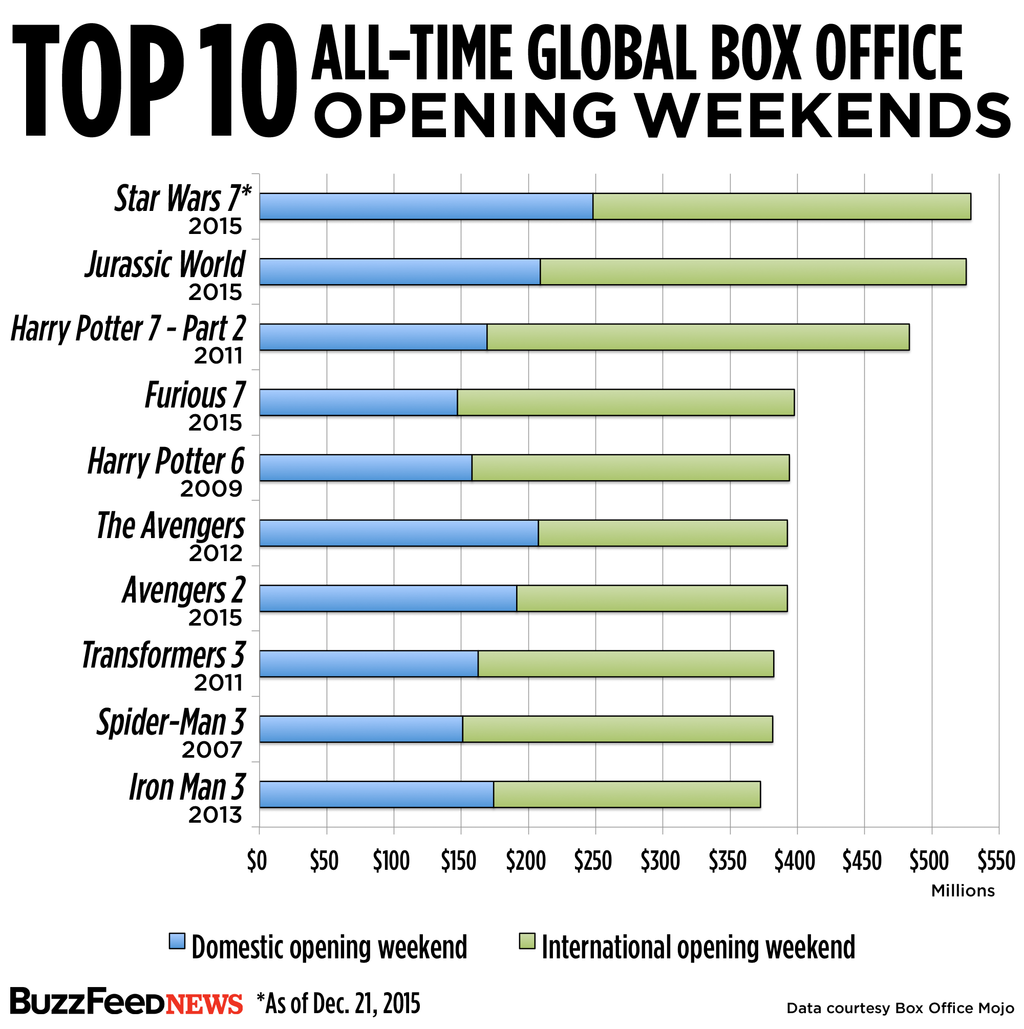 Coverage of The Force Awakens' box office potential, meanwhile, has been breathless, with ticket sales websites Fandango and MovieTickets.com issuing daily pre-sales updates.
Fearing some ticket buyers may stay home thinking theaters were sold out, Disney even felt compelled to include statements from movie theater CEOs stressing that there were still plenty of seats available to see the movie.
Opening weekends, however, are only the first step for a film's financial future. And for The Force Awakens to become one of the all-time highest-grossing films — as pretty much everyone on the planet expects it to be — audiences will need to see it a second, third, and fourth time.
And signs do point to a robust financial life for the movie. The Force Awakens earned an "A" CinemaScore rating, indicating strong word of mouth. Roughly 58% of initial ticket holders were male, and just 17% were under 17 years old, suggesting that women and families who sat out opening weekend crowds could choose to see the film this week and over the Christmas holiday.
But while The Force Awakens had by far the best debut for a Star Wars movie, it still has a long way to go before it will match the box office might of its predecessors.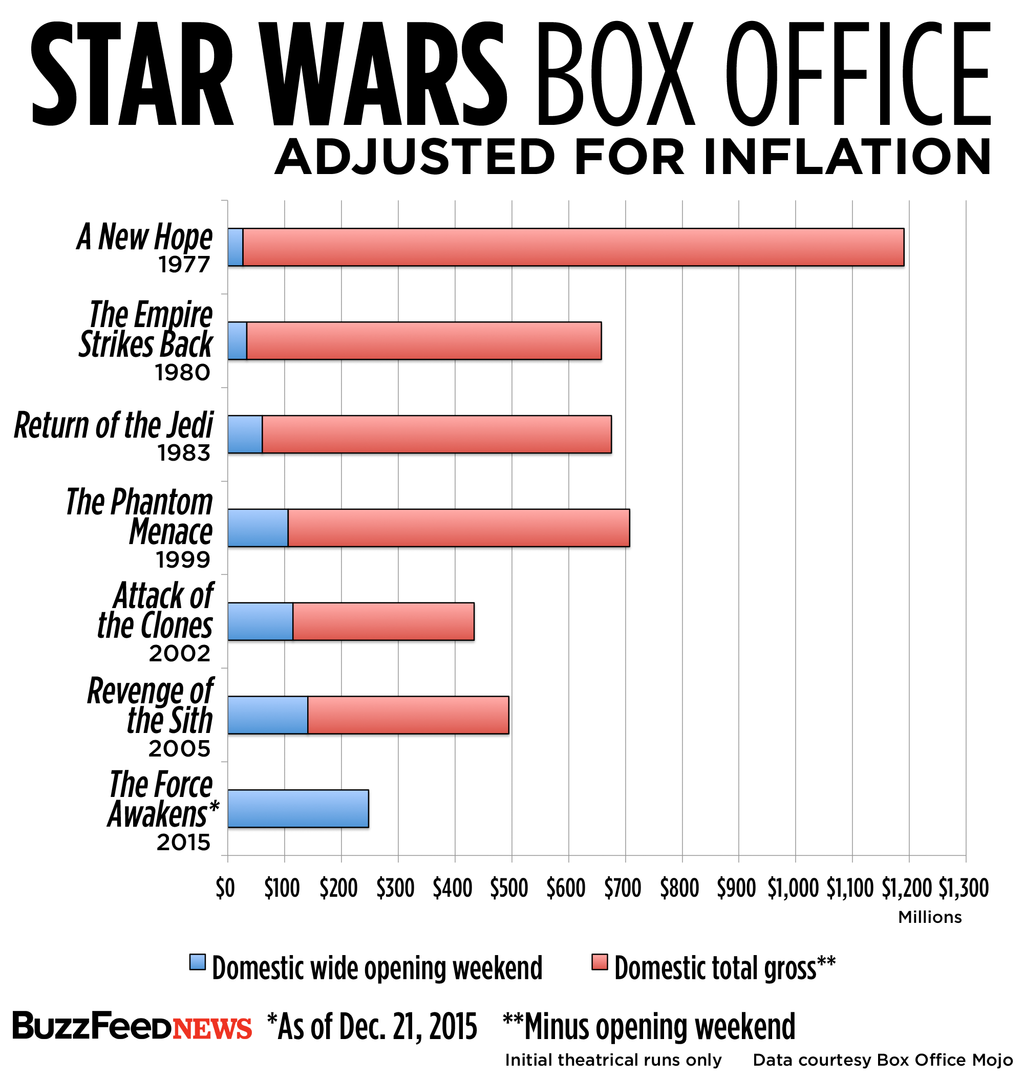 Still, the astronomic initial success of The Force Awakens — directed by J.J. Abrams from a script by Abrams, Lawrence Kasdan, and Michael Arndt — is great news for Disney CEO Bob Iger, who purchased Lucasfilm from Star Wars creator George Lucas for $4.05 billion in 2012, just months after Lucas retired and handed the reins to the company over to veteran producer Kathleen Kennedy.
Disney and Lucasfilm have already green-lighted four more Star Wars movies — including 2017's Episode VIII from director Rian Johnson (Looper) and 2019's Episode IX from director Colin Trevorrow (Jurassic World), as well as stand-alone Star Wars anthology films for 2016 and 2018. If the studio has its way, there will be at least one new Star Wars movie a year for the foreseeable future.
And, as was the case with the original Star Wars trilogy, the financial rewards from the movies' success will reach far beyond the box office. In August, Iger announced an aggressive expansion of Star Wars–themed lands at its Disney parks in Orlando, Florida, and Anaheim, California. According to one analyst, Star Wars merchandising already brought Disney an estimated $260 million in revenue in 2014, before any movies had been released.
With audience enthusiasm — and critical response — for The Force Awakens so high, Disney appears to have nothing stopping its long-term plans for the Star Wars media universe from hitting light speed.
Here are the actual top 10 box office figures for Friday to Sunday, courtesy of Box Office Mojo:
1. Star Wars: The Force Awakens* — $248 million
2. Alvin and the Chipmunks The Road Chip* — $14.3 million
3. Sisters* — $13.9 million
4. The Hunger Games: Mockingjay – Part 2 — $5.9 million
5. Creed — $5 million
6. The Good Dinosaur — $4.4 million
7. Krampus — $4.1 million
8. In the Heart of the Sea — $3.5 million
9. Dilwale* — $1.9 million
10. Bajirao Mastani* — $1.7 million
*Opening weekend
UPDATE
This story has been updated with final box office figures for the weekend, including for Star Wars: The Force Awakens — and all charts have been updated to reflect final figures.