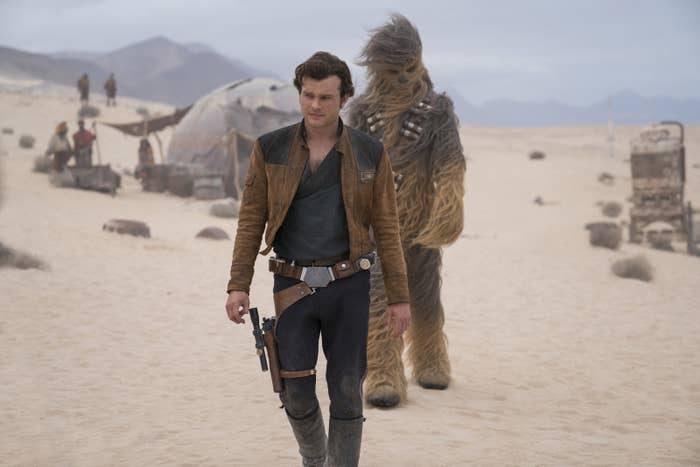 When Disney first acquired Lucasfilm in 2012 for $4.05 billion, there was wide speculation that CEO Bob Iger might have overpaid for the home of the Star Wars franchise. The Star Wars prequels, the thinking went, had so drained audience goodwill for lightsabers, Jedi, and the Millennium Falcon that there was no guarantee they'd come flocking back for a new suite of films set in a galaxy far, far away.
Welp, five years later, Disney's three Star Wars releases — 2015's The Force Awakens, 2016's Rogue One, and 2017's The Last Jedi — have already grossed $4.46 billion at the global box office, and that's not counting the revenue from merchandising, theme park tie-ins, and in-home sales. From a financial standpoint, buying Lucasfilm appears to have guaranteed Disney at least one billion-dollar blockbuster every year.
That is, until this weekend.
Solo: A Star Wars Story — depicting the origin story of galactic scoundrel Han Solo (now played by Hail Caesar! star Alden Ehrenreich) — debuted with an estimated $83.3 million at the domestic box office over its first three days, and a projection of $101 million through the Memorial Day holiday on Monday. It's by far the lowest domestic debut for a Star Wars movie in the Disney era, and that's before accounting for the limp $65 million Solo made internationally since Wednesday.
In fact, all three of Disney's previous Star Wars movies made more in just their domestic opening weekends than Solo's debut has made worldwide.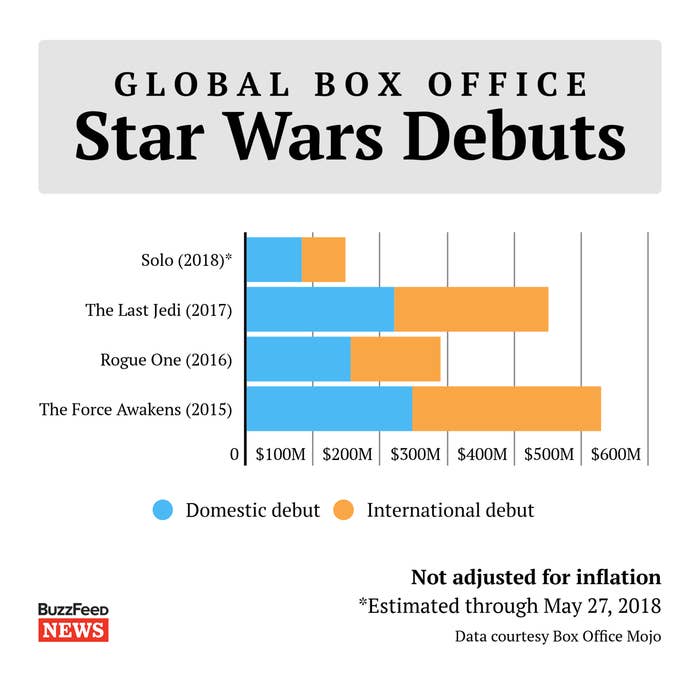 When looking at estimated ticket sales for all of the Star Wars movies, Solo's three-day opening weekend even falls behind the debuts of the prequels.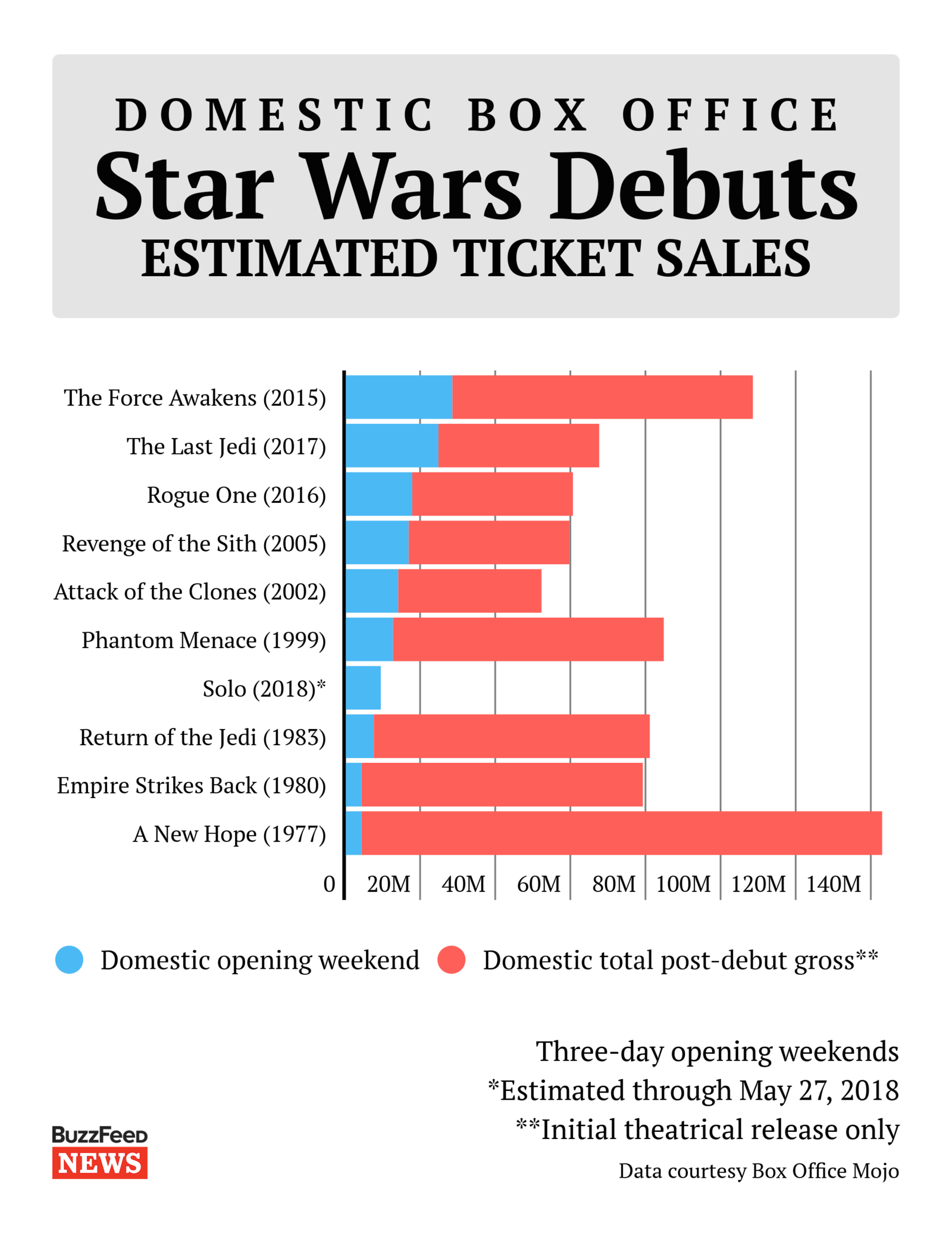 (Comparing Solo to the original Star Wars trilogy is also misleading, since 1977's A New Hope and 1980's The Empire Strikes Back both debuted in what was a common pattern for films of that era, opening first in a modest number of theaters and then expanding into a massive nationwide release over the course of several weeks.)

In fairness, Solo is the first of Disney's Star Wars movies to open during the summer, on a holiday weekend when many potential moviegoers are traveling or otherwise enjoying spending time outside.
But when looking at the top domestic debuts for the Memorial Day holiday, Solo still falls considerably short…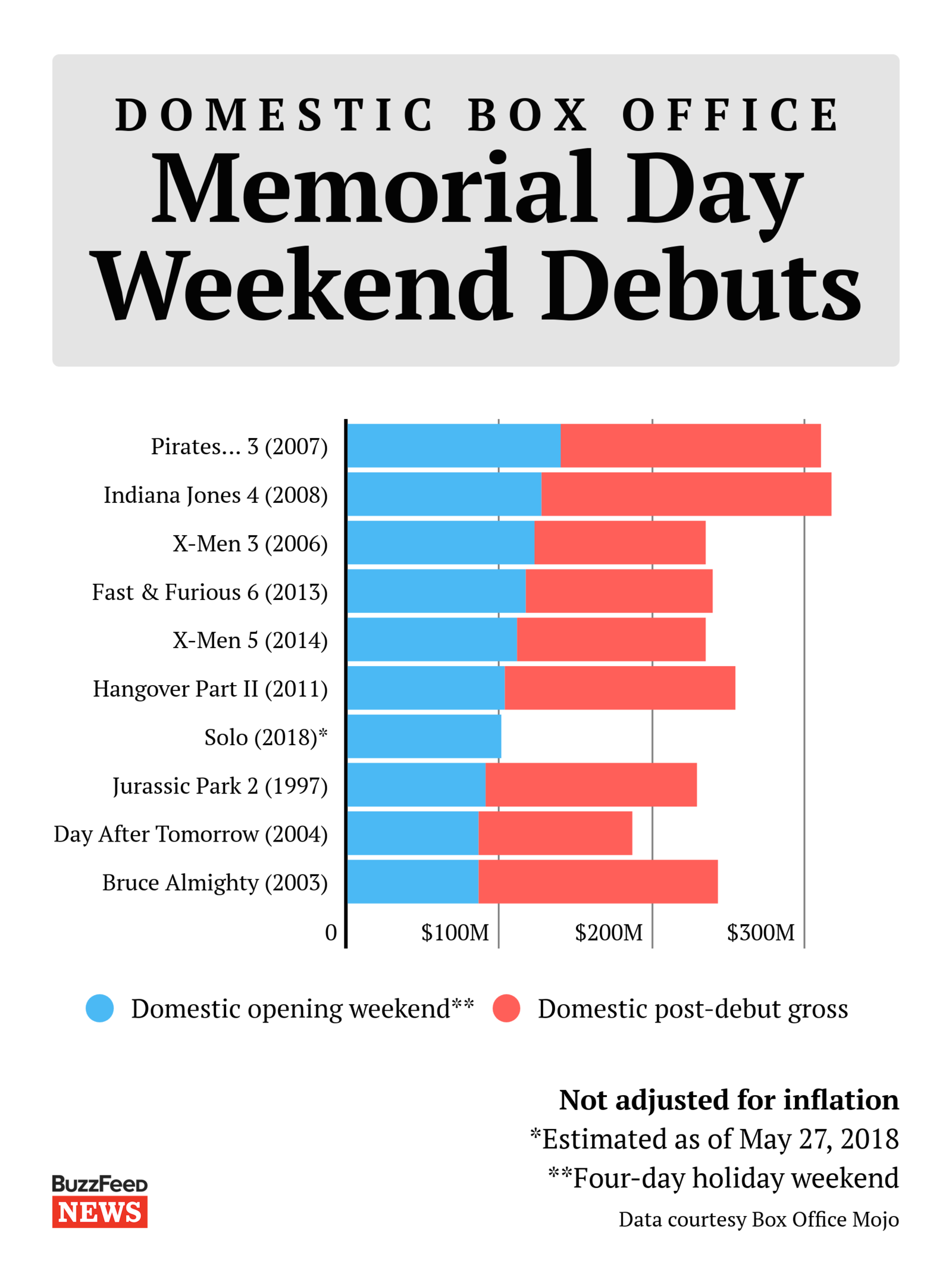 …especially when adjusting for ticket price inflation.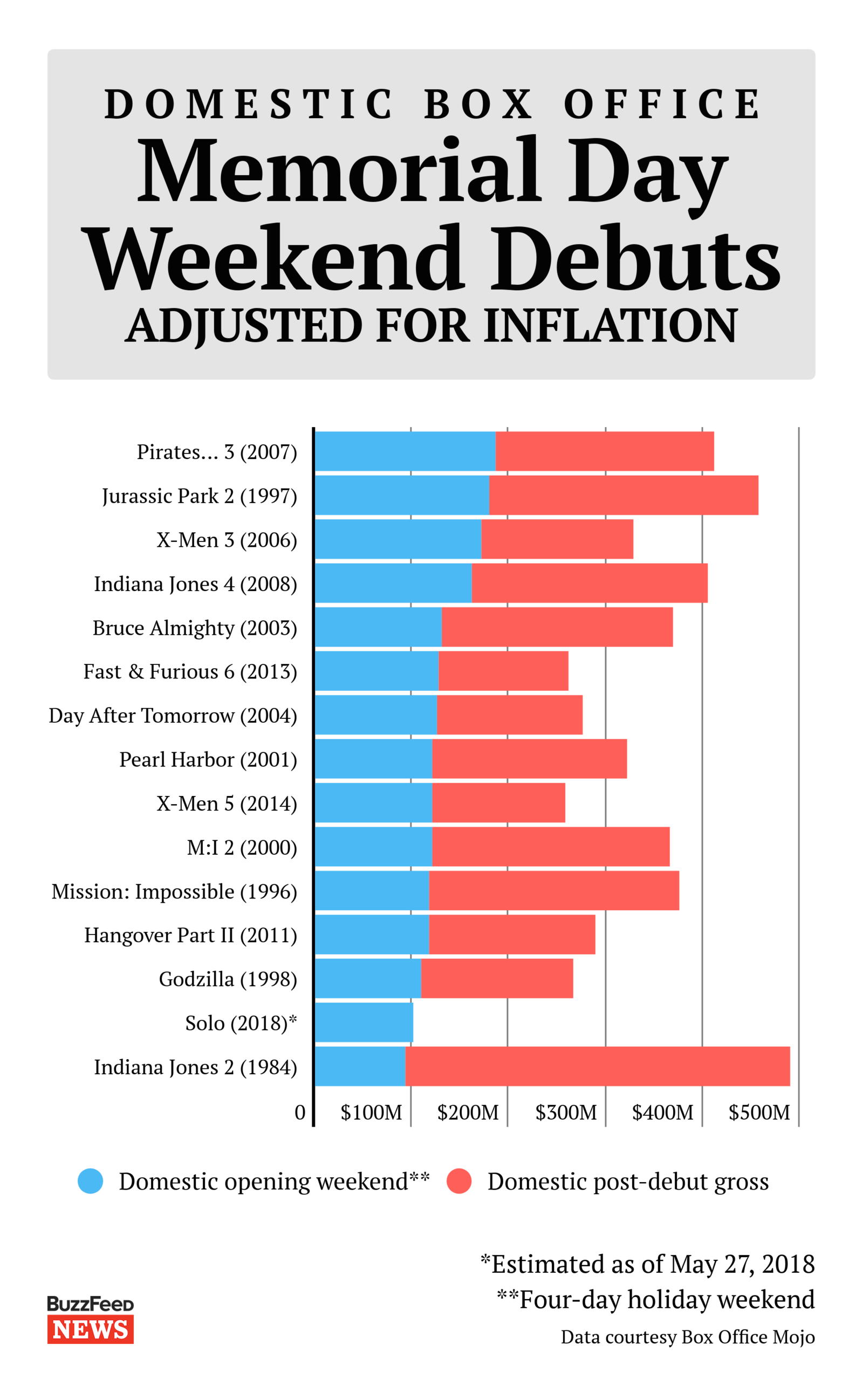 With a budget reportedly over $250 million, Solo will need to clear at least twice that amount globally in order to break even, which at this point is not at all foreordained.

So what happened?
The highly unusual decision to fire the original directors, Phil Lord and Christopher Miller, with just a few weeks remaining in the original shooting schedule certainly didn't help. The film's stars — Ehrenreich, Emilia Clarke, Donald Glover — as well as replacement director Ron Howard had to spend much of their promotional tour for Solo accounting for the drastic change, rather than hyping their movie.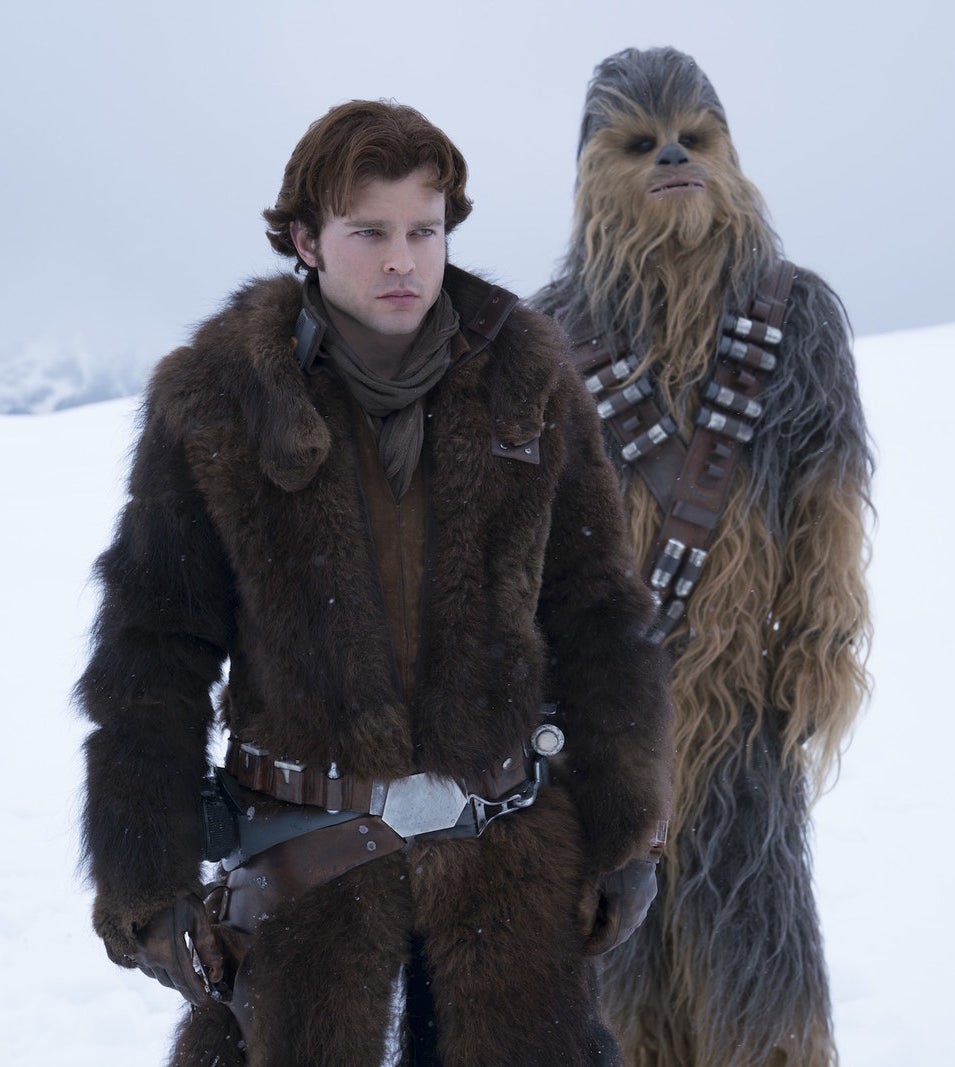 And with Solo opening just five months after The Last Jedi, it appears audiences might not yet have the same insatiable appetite for Star Wars movies as they do for films released by Disney's other behemoth live-action division, Marvel Studios — which has already released two of its three planned films for 2018, Black Panther and Avengers: Infinity War, both of which have earned well over $1 billion worldwide.
Another, even simpler reason: Not enough people cared to know all that much more about Han Solo, especially without the original star Harrison Ford in the role. Prequels are inherently tricky prospects, selling audiences on a story in which they already know the basic outcome — and in Han Solo's case, the final outcome. Lucasfilm, however, is reportedly pursuing spin-off prequel movies about Boba Fett and Obi-Wan Kenobi, two more characters who (ostensibly) died in previous Star Wars movies.
Marvel Studios, by contrast, built its gargantuan success by relentlessly moving its larger narrative forward and continually adding new characters and new flavors into its growing cinematic universe. Instead of continuing to dwell on its past, perhaps Lucasfilm could take a lesson from its corporate cousin and focus more on expanding its future.